A new Cable & Telecommunications Association for Marketing (CTAM) Pulse study tied to consumer awareness about the February 2009 digital TV transition offers a classic case of good news/bad news.

To the good: Awareness is growing.

To the bad: The group most in need of this education is woefully behind the awareness curve.

That group, of course, includes consumers who currently get their video signals exclusively from an over-the-air source, i.e., the local broadcasters. If they don't subscribe to a TV service from the local cable operator, telco, or a satellite TV company, or don't obtain necessary digital-to-analog converters, there's a solid chance that their analog TVs will be showing a whole bunch of nothing on Feb. 19, 2009.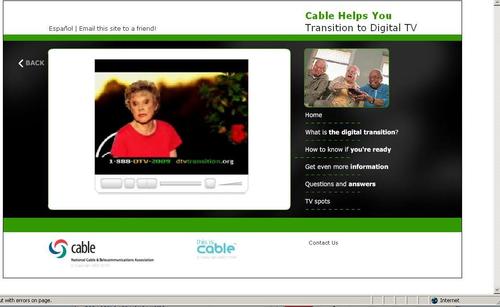 CTAM, which surveyed more than 1,000 U.S. consumers, found that 31 percent of households without TVs connected to a video service provider were the least familiar with the transition. Overall, 49 percent of those surveyed were aware of it, versus just 29 percent from a survey taken in July 2005.

So, word is spreading, but there's just little more than a year left before the transition is upon us. Some analysts have already chided the government for not spending more on DTV transition awareness campaigns. (See Pinching Pennies Over DTV Ed.)

According to the CTAM survey, the groups most familiar with the DTV transition include people who subscribe to broadband services (45 percent), digital cable service (40 percent), and basic cable service (39 percent).

But just being aware that something's going to happen doesn't necessarily mean knowing when it's going to happen. About 47 percent of those surveyed said they don't know the transition date, and 26 percent believed it would happen on a date other than Feb. 19, 2009. That's not so good.

Increased awareness of the transition could spark a pay TV subscription surge in the fourth quarter of 2008. For the most part, U.S. cable subs don't have much to worry about as long as their analog TVs are connected to a cable outlet. Recall that MSOs have to offer "must carry" broadcast channels in analog and digital format after the transition. That FCC order, however, is scheduled to sunset in 2012. (See FCC OKs Dual TV Carriage Rules.)

In the meantime, the cable industry, including support from CTAM and the National Cable & Telecommunications Association (NCTA) , has already pledged to help push the needle with an awareness campaign that includes tactics like educational videos and a Website dedicated to the cause.

— Jeff Baumgartner, Site Editor, Cable Digital News