Arris Group Inc. (Nasdaq: ARRS) and Verivue Inc. , Jim Dolce's new startup, struck a video server partnership in 2009, but recent competitive product launches are causing some to wonder if the two companies will remain together for the long haul.

Both just came out with new commercial, off-the-shelf products with content delivery network (CDN) and TV Everywhere aspirations -- Verivue's OneVantage Content Delivery Solution, a product of its CoBlitz acquisition, and Arris's XMS Flex streaming engine. (See Verivue Courts Carrier CDNs, Arris Streamer Targets CDNs, TV Everywhere and Verivue Buys CoBlitz to Help Telcos.)

Although Arris sells primarily to cable while Verivue is becoming more telco-focused, the new products are considered highly competitive, and could be taking some of the shine -- as well as some of the enthusiasm -- off their original relationship. (See Arris Pumps Up Video With Dolce's Verivue and Arris, Verivue Formalize Deal .)

There's some evidence that it's already happening. In a briefing earlier this year with Arris about the coming XMS Flex, Current Analysis Senior Analyst of Digital Media Infrastructure Yoav Schreiber was told that Arris, a Verivue investor, was no longer participating in the distribution part of its relationship with Verivue.

But Arris and Verivue insist that all is well and they are still friends.

"Nothing has changed in that relationship," says an Arris spokesman.

"It's still an active partnership. We remain committed to the relationship," adds a Verivue spokeswoman, noting that most collaborations between the companies are focused on the cable industry and video on demand (VoD).

Verivue, meanwhile, continues to put more focus on the telco market, signing Nokia Networks and Ericsson AB (Nasdaq: ERIC) as distribution partners. With Arris coming out with its new, more competitive product, Schreiber now wonders if it makes sense for Arris and Verivue to keep the relationship going.

"I could see some room for Arris continuing, though I don't see a business reason for it," he says.

The status of the relationship was further questioned when Arris, for a time, was not listed as one of Verivue's global distribution partners on its Website. Verivue says this was an oversight that came about during a site redesign. It has since added Arris to the page.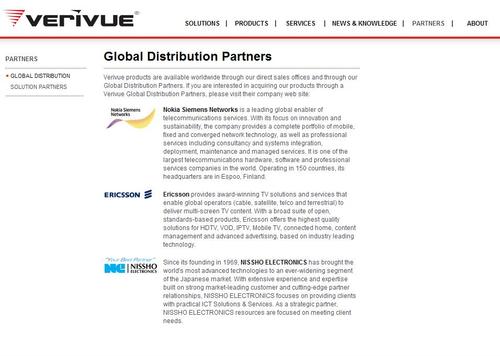 Even if the deal remains in place, there are fewer reasons now for either side to act on it, as Arris and Verivue have historically found themselves competing for the same deals, industry sources say. If Arris believes one of its own products fits the bill of a request for proposal (RFP), what kind of incentive does it have to sell Verivue's products? Comcast Corp. (Nasdaq: CMCSA, CMCSK), by the way, is Arris's largest customer, and an investor in Verivue. (See Verivue Surfaces With Comcast Backing .)

So far, there hasn't been much evidence that the partnership has produced a bunch of sales for either side. The lone public deal for that partnership is Shaw Communications Inc. of Canada, which picked Verivue gear following an RFP it put out about two years ago. Arris, which already supplied Shaw with its legacy VoD servers and back-office systems, served as the reseller. (See Verivue Tech Gets a Toehold at Shaw .)

— Jeff Baumgartner, Site Editor, Light Reading Cable