Comcast Corp. (Nasdaq: CMCSA, CMCSK) is deploying a legion of software-based video probes aimed at boosting the reliability of its video services much in the same way it has already has for its digital voice and high-speed Internet services.

Service reliability has become crucial for video and broadband service providers, said John Schanz, Comcast's executive vice president of national engineering and technical operations, who presented this morning at the UBS Global Media and Communications Conference in New York.

Rather than telling Comcast whether the video service is up or down (it already has this capability), the new probes, which will be installed in set-tops and will communicate with customer call centers, will examine impairments more closely and pinpoint their locations.

In other words, Comcast will know whether a problem, such as a video-on-demand (VoD) stream that refuses to start, is happening in just one house or the broader neighborhood. Schanz said the MSO is installing the probes across its entire operations.

The hope is that Comcast could defuse potential problems before they affect customers.

Schanz didn't specify who's making the probes, but IneoQuest Technologies Inc. , Mixed Signals Inc. , and Symmetricom Inc. (Nasdaq: SYMM) are among those that have jumped on the video quality bandwagon. (See Mixed Signals Beefs Up Video Monitoring, IneoQuest Probes SDV , and Symmetricom Expands Cable Play.)

Comcast has similar probes installed in its cable modems and embedded multimedia terminal adapters (E-MTAs) to keep close tabs on voice and Internet services. The MSO also is already checking the heartbeat of its 115,000 fiber nodes at all times, going as far as creating a scoring system that tells Comcast when network problems are emerging.

Solving cable's capacity crunch
Schanz also addressed how Comcast intends to manage bandwidth using a variety of tools, including node splits, "digital optimization" (acquiring high quality digital program feeds directly from the source and employing advanced video encoding), reclaiming analog spectrum, and employing switched digital video (SDV).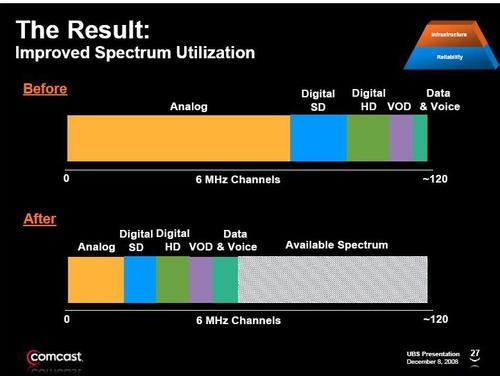 Mostly, he talked about Comcast's all-digital effort. Comcast has already completed its digital simulcast phase (replicating analog channels in the digital domain) and is starting to trim down the channels offered in analog. The regained spectrum is being applied to Docsis 3.0, expanded high-definition television menus, and a tru2way rollout. (See Comcast IDs First DTA Market, and Comcast Seeds Digital Shift With Free Boxes, Comcast Rolls Wideband in the Pacific Northwest, and Denver, Chicago First to Get Tru2way TVs.)

Comcast has been less aggressive with SDV, a technique that delivers channels in a "switched" tier only when customers in a given service group select them for viewing. Following initial tests in Cherry Hill, N.J., and Denver, there's been some evidence of trial work in the MSO's Minneapolis/St. Paul markets. (See Comcast Expands SDV Test Pool and Comcast Reveals SDV Test Beds.)

— Jeff Baumgartner, Site Editor, Cable Digital News