China Unicom Ltd., one of China's largest telecom service providers, reported earnings to the U.S. Securities and Exchange Commission (SEC) today, demonstrating the reasons why suppliers view this country as a stronghold of broadband spending.

For the six months ended June 30, 2003, China Unicom reported RMB30.64 billion (roughly the equivalent of US$3.7 billion) in operating revenues from services, up more than 80 percent from the same period last year. Operating profit for the same period was up 24.5 percent compared to the first half of 2002. Profit before taxation was up 12.4 percent.

China Unicom, one of the carriers formed in the late 1990s to divest China Telecommunications Corp. (NYSE: CHA) of its monopoly, showed most of its growth in wireless services, which China Telecom does not offer. Combined, the GSM and CDMA cellular service revenues for the carrier were RMB28.36 billion (about $3.4 billion), up 106 percent year-over-year for the first six months of 2003.

Other services grew, too. Internet access revenue rose 75.6 percent year over year, and while dialup access subscribers decreased, the number of broadband ones went up. Managed data services grew by 21.1 percent, and leased line revenues rose by 8.1 percent.


These results seem to tally with figures provided earlier this summer by China Telecom, indicating trends toward growth in China telecom services. China Telecom reported revenue growth of about 10 percent between 2001 and 2002, with the most growth (albeit not the most volume) in data and Internet services. China Telecom reported annual revenues of RMB75.4 billion in 2002 (about $9.15 billion).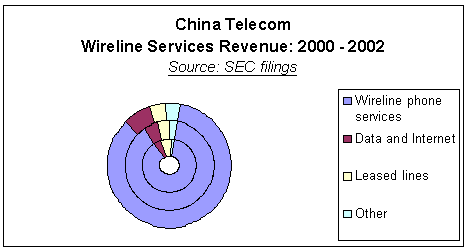 While some observers have warned against too much optimism about the Asia/Pacific region in general, results like these tempt belief that China's been relatively unaffected by the telecom downturn. But that's not so: In a prepared statement about the results, China Unicom CEO and chairman Wang Jianzhou labels them just "satisfactory," citing "intensifying market competition and the challenges posed by the SARS outbreak" as problematic this year.

Indeed, there are signs of stress: The company's EBITDA (earnings before interest, taxation, depreciation, and amortization), generally considered a measure of liquidity, dropped to 39 percent for the first half of 2003 from 48.8 percent for the same period last year, China Unicom reports.

China Unicom also is showing a ratio of capex to operating revenues of about 25 percent, considered high compared with the 16 percent estimated for most U.S. RBOCs by Infonetics Research Inc. (see Asia/Pac Carriers Pull Back).

China Unicom also doesn't have the spending scale of some other large international carriers: For the first six months of 2003, it spent about RMB8.14 billion (about $987 million), a fraction of what most U.S. RBOCs have spent.

— Mary Jander, Senior Editor, Light Reading