The future success of the Code Division Multiple Access (CDMA) industry is more dependent on network rollouts in emerging markets than any high-profile technological success in more developed regions, according to the latest Unstrung Insider report -- "CDMA Networks: Full Speed Ahead."

Despite existing CDMA subscriber levels being highest in North America and the Asia/Pacific region (see chart below), report author Gabriel Brown believes that emerging markets will soon become the most important sources of revenue for equipment vendors.

"Over the next several years, emerging markets are likely to prove much more important to the overall success of CDMA than the rollout of flashy 3G data services in developed economies such as Japan or the United States," declares Brown. "For CDMA vendors in particular, markets such as India, China, Indonesia, Eastern Europe, and Brazil are vital."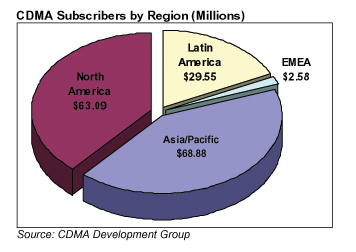 The reasons for such a view are twofold, Brown notes. "First, demand for new equipment and services is strongest in these regions. Second, vendors should seize almost any opportunity to ramp up volumes of basestations and handsets, the benefits of which -- in terms of lower unit costs -- will outweigh the pricing concessions required to win business in poorer countries."

Brown hails Qualcomm Inc. (Nasdaq: QCOM) -- the "inventor" of CDMA and holder of essential intellectual property -- as one network vendor that is leading the charge in bringing CDMA services to markets where there is high demand for telephone services and a relatively low penetration of fixed lines.

The U.S. vendor has a venture capital arm that has taken stakes in several innovative startups working in the CDMA market -- most notably AirPrime Inc., Airvana Inc., and Sierra Wireless Inc. (Nasdaq: SWIR; Toronto: SW) -- and has also adopted a strong vendor financing strategy to support struggling carriers and startups.

"This focus on emerging markets is crucial to all telecom equipment vendors," Brown intones.

— Justin Springham, Senior Editor, Europe, Unstrung

The report -- "CDMA Networks: Full Speed Ahead" -- costs $400. An annual subscription to Unstrung Insider is ordinarily $1,250, but is currently available at the special introductory price of $899. For more information, including subscription information and research examples, go to: Unstrung Insider.