Roku revenues, active accounts climb in COVID-marked Q2
Roku's overall business – from revenues to new active accounts to streaming volumes – got a big lift in Q2 as consumers hunkered down at home during the pandemic.
Aggregate Q2 2020 revenues climbed 42%, to $356.1 million, on a year-on-year basis. That rise was led by a 46% increase in revenues at Roku's Platforms business ($244.8 million), which comprises advertising, subscription revenue-sharing and license fees from TV makers that use the Roku OS. The Roku Channel – a piece of the Platforms business that's focused on free, ad-supported content and partnerships with subscription services – reached about 43 million people at quarter's end, the company said.
Although the pandemic has brought a surge of user engagement, Roku's advertising business remains murky in the near term. "The ad industry outlook remains uncertain for Q3 and Q4, and we believe that total TV ad spend will not recover to pre-COVID-19 levels until well into 2021," Roku said in a letter to investors.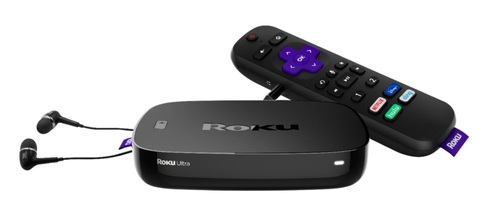 Roku's player business also enjoyed a healthy quarter, with revenues rising 35%, to $111.3 million, as demand for players jumped after shelter-at-home orders started in mid-March. The company said existing users added almost 3 million new Roku streaming devices to their accounts during Q2, with sales in Canada and the UK more than doubling year-over-year.
Keeping pace with Amazon Fire TV, Roku also added 3.2 million incremental active accounts in the second quarter, extending that total to 43 million. That growth contributed to a boost in streaming usage, as Roku's platform clocked 14.6 billion streaming hours in the period, thanks to a 2.3 billion-hour increase over Q1 2020 and a 65% increase on a year-over-year basis.
Roku was cautiously optimistic about whether the Q2 haul will continue through the rest of 2020.
"We believe the pandemic has accelerated the long-term trend towards all TV being streamed, but because the short-term outlook is both variable and uncertain, we are not issuing a formal outlook at this time," Roku said.
Update: Amid looming competition from Android and TV makers, the material slowdown in advertising impressions – from nearly doubling in Q1 2020 to just 50%-plus in Q2 2020 – "is a bit worrying" given the high level of stress being applied the TV ad market, MoffetNathanson analyst Michael Nathanson said in a research note.
Additionally, the lack of advertiser demand resulted in some unfilled ad inventory on Roku's platform, and Nathanson estimates that Roku's video ad growth decelerated to 35% in Q2.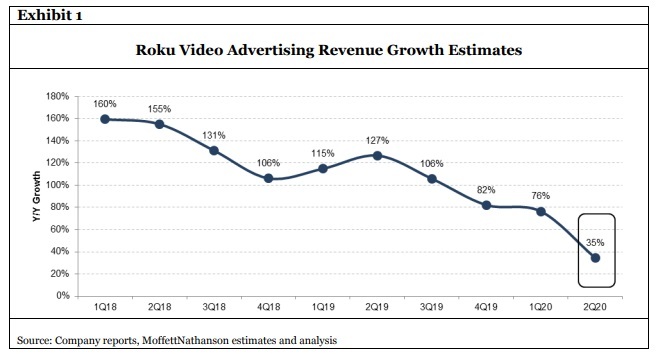 Roku ended the quarter with $887 million of cash, cash equivalents, restricted cash and short-term investments, and has about $70 million of available liquidity under its current credit facility.
Related posts:

— Jeff Baumgartner, Senior Editor, Light Reading
Like what we have to say? Click here to sign up to our daily newsletter
Cable Next-Gen Technologies & Strategies – Making cable faster, broader, deeper, better
If you want to know where the cable tech space is heading, we've got you covered. Join the biggest names in the industry in Denver, CO on March 14 & 15 for the latest edition of Light Reading's Cable Next-Gen Technologies & Strategies conference.
Back for a record 16th consecutive year, Cable Next-Gen is the premier independent conference covering the broadband technology market. This year's edition will tackle all the top tech topics, including 10G, DOCSIS 4.0, Distributed Access Architecture, next-gen PON, fixed wireless access, network virtualization, the Digital Divide and more
Get your free operator pass here.
PARTNER PERSPECTIVES
- content from our sponsors