MUNICH, Germany -- Operations Transformation Forum 2018 -- Orange will this year start the procurement process for 5G technology that will allow it to run a more automated network than is currently possible, it emerged here this week.
And the message for vendors is clear: If you can't support ONAP interfaces, don't bother responding.
The French operator will issue a request for proposal (RFP) to equipment suppliers before the end of this year, with support for automated processes, ONAP specifications and 5G all listed as key requirements, said Roberto Kung, Orange's senior vice president of quality operations and performance, during Huawei's Operations Transformation Forum Tuesday. (See Huawei's OTF 2018: Time to Go Digital.)
"We will request the supplier to provide automation on 5G -- that is a key criteria," he told conference attendees during an afternoon presentation. "On equipment, we are going to do an RFP at the end of this year for 5G" that will lay out the operator's automation needs.
He added that the broad industry support for ONAP has provided much needed clarity for the next-generation network management and orchestration sector and that Orange plans to use ONAP as the single interface to all automated processes.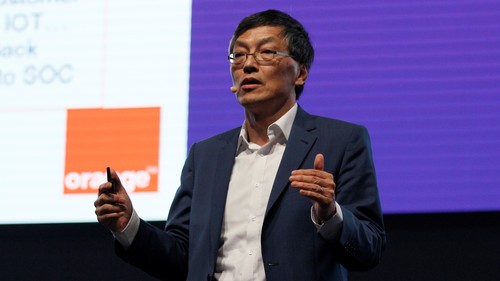 While further details have not been made available at this stage, automation has clearly become one of the industry's buzzwords during the last year as operators try to cut out human effort, improve service quality and reduce costs. The need for more automated systems may grow with the arrival of 5G networks, which will include too many configurable parameters for an operator to manage in the old-fashioned manual way, according to many equipment vendors and operators.
The demand for ONAP support is unsurprising given the strong backing that Orange (NYSE: FTE) has given to the open source platform, which, among other things, is designed to address some of the interoperability challenges operators have encountered in management and network orchestration (MANO). (See ONAP Says Its Beijing Release Is Market-Ready.)
Overseen by the Linux Foundation, and heavily sponsored by US telco giant AT&T Inc. (NYSE: T), ONAP continues to face rivalry from the ETSI-backed Open Source MANO (OSM) platform, which counts Spain's Telefónica as its chief supporter. Critics have also previously argued that ONAP is overly complex and, with its several million lines of code, poses a huge operational challenge. (See Telefónica Starts Hunt for OSM Integrator Amid Open Source Doubts.)
Despite this, it has now won over many of the world's biggest operators, and equipment vendors are following, says James Crawshaw, a senior analyst with the Heavy Reading market research group. (See NFV Orchestrator Vendors Flock to ONAP.)
Kung's revelation of plans at a Huawei Technologies Co. Ltd. event suggests the Chinese equipment giant could play a prominent role in Orange's 5G deployment, although it has not yet been named as one of the vendors participating in Orange's trials of 5G technology.
---
For all the latest news from the wireless networking and services sector, check out our dedicated mobile content channel here on Light Reading.
---
Earlier this year, Orange revealed it was working with European vendors Ericsson AB (Nasdaq: ERIC) and Nokia Corp. (NYSE: NOK) on 5G trials in France. It has also teamed up with Kathrein, a German antenna specialist, during those trials. (See Orange's 5G Plan: Definitely, Maybe and Standalone or Non-Standalone? 5G Trials Will Help Orange Decide.)
In Romania, the French operator's local subsidiary has been collaborating with Cisco Systems Inc. (Nasdaq: CSCO) and Samsung Corp. on trials of 5G as an alternative to fiber for residential broadband services. (See Orange Ups 5G Broadband Stakes in Romania.)
Orange has talked about launching its first commercial 5G services in the 2020 timeframe as it looks to relieve congestion on networks in busy urban hotspots. The telco has yet to secure new 5G spectrum licenses, although French regulator Arcep recently indicated plans to hold an auction of frequencies in the 3.5GHz band this month.
The call for an RFP, a traditional way of selecting suppliers, comes as some parts of the industry question if RFPs are an outdated practice in the age of software and "DevOps."
HGC Global Communications, a fixed-line Asian telco, indicated in May that it would not issue an RFP when choosing vendors to overhaul its billing and operational support systems. Instead, the operator is exploring a different kind of collaboration model and prefers to describe its suppliers as "partners" on future network projects. (See NFV Is Down but Not Out.)
— Iain Morris, International Editor, Light Reading