 "As we know, there are known knowns; there are things we know we know. We also know there are known unknowns; that is to say we know there are some things we do not know. But there are also unknown unknowns -- the ones we don't know we don't know."
So said Donald Rumsfeld, then US Secretary of Defense, during a news briefing on Iraq in 2002. At its recent 5G briefing in Paris, Orange (NYSE: FTE) had less cause for shifty behavior than a controversial US politician plotting a potentially illegal war in the Middle East. But there was a Rumsfeldian rumble to its ruminations about mobile 5G: a smattering of definites and a drumbeat of maybes and don't knows.
Figure 1: Orange Hopes 5G Will Be Fruitful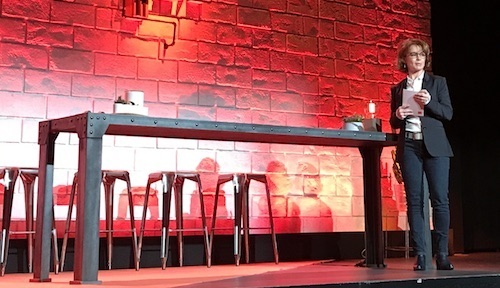 Mari-Nöelle Jégo-Laveissière, Orange's executive director of innovation, marketing and technologies, says the French operator will introduce its first 5G services in 2020 or 2021.
Fair enough. The next-generation mobile technology is still in development. Its rollout could take many years. Nobody knows how 5G will ultimately shape up or be received by the market. Few operators, and hardly any in Europe, have divulged details of their 5G strategy. T-Mobile US Inc. is perhaps the only one to have attached a date -- 2020, in its case -- to any kind of "nationwide" commitment. (See Is T-Mobile's 5G Plan Just a Pipe Dream?)
Even so, besides sharing a few concrete details in Paris about its 5G plans, Orange did shed some light on the uncertainties that still surround 5G development. The unknowns are less unknown, Rumsfeld might have said. That contributes to an understanding of how France's biggest operator will launch 5G services, and build the networks to support them. It might even hold clues about the way Europe's other big operators are approaching 5G. (See Huawei Frozen Out of Orange's 5G Paris Party.)
Known knowns
What the industry now knows for sure is that about 200 engineers in Orange's 152,000-employee organization are testing and carrying out 5G trials with a range of network partners. In Romania, in alliance with Cisco Systems Inc. (Nasdaq: CSCO) and Samsung Electronics Co. Ltd. (Korea: SEC), Orange is to look at using 5G instead of fiber to support residential broadband services. When it comes to mobile 5G, it has teamed up with Ericsson AB (Nasdaq: ERIC), Nokia Corp. (NYSE: NOK) and a German antenna specialist called Kathrein.
A radio project involving Nokia and Kathrein holds particular interest. The two vendors are currently designing a new smart antenna that will be installable at existing mobile sites. Their idea is to come up with a product that can manage 5G as well as older network technologies. If small enough, these could help to cut down on space and power needs, bolstering the 5G investment case.
While Kathrein develops the "passive" antenna technology that goes with 4G (as well as 2G and 3G), Nokia is contributing its expertise in "smart" antennas and a 5G technology called massive MIMO. This boosts performance by dramatically increasing the number of data streams that can be sent over a radio channel. With an "active" antenna component, signals can be concentrated like the beam of a torch on end-user devices, instead of blanketing an area like a floodlight.
"The goal is to integrate the new 5G antenna as quickly and discreetly as possible so there is just one antenna per site managing all of the technologies," said Pascal Agin, the head of Nokia's 5G radio access networks (RAN) business.
For all the latest news from the wireless networking and services sector, check out our dedicated Mobile content channel here on Light Reading.
Nokia, it emerged, is also collaborating with Orange on artificial intelligence (AI) and its application to 5G. Networks based on machine learning could make predictions about usage levels and adapt capacity to suit the immediate needs, said Mari-Nöelle Jégo-Laveissière, Orange's executive director of innovation, marketing and technologies. "We could adjust the 5G network depending on the population that is there and the events that might happen," she said.
Nokia's Swedish rival Ericsson has a prominent role in the opening act of Orange's 5G drama, too. In the towns of Lille and Douai, it will be the chief protagonist in "end-to-end" tests of 5G technology that Orange carries out this year. These will rely partly on spectrum in the 700MHz range, which Orange acquired during a government auction in 2015, when it paid €932 million ($1.13 billion) for a 10MHz allocation. Spectrum between the 3.4GHz and 3.8GHz ranges, which authorities have yet to license, will also be used.
The Lille and Douai tests, analysts and reporters were told, will partly explore the virtualization of the RAN. Most of today's operators process radio signals using baseband gear at mobile sites. With virtualization, they could do it off X86 servers in a form of edge computing, whereby IT resources are housed not in central data centers but at smaller facilities much closer to end-user devices. The move could hold economic and service attractions. (See Facebook's TIP Seizes vRAN Initiative From 3GPP.)
Trials will initially focus on the non-standalone (NSA) version of 5G technology. That means using the 5G New Radio specifications, which were frozen at the end of 2017, in tandem with a 4G core network. For the new 5G core, Orange would need the standalone (SA) variant due to be locked down in June. NSA technology will not support the fancier features that come with SA, but it may allow operators to introduce 5G more quickly. (See 5G Is Official: First 3GPP Specs Approved.)
Next page: Known and unknown unknowns
Known and unknown unknowns
The disclosures leave many 5G questions unanswered, and raise some new ones. For starters, there is still no indication of how much 5G will cost. Across its entire footprint, Orange plans to spend €7.4 billion ($9.1 billion) this year, up from around €7.2 billion ($8.8 billion) in 2017. But the increase is explained largely by a decision to expand fiber networks in Spain, where revenues have grown fast. Capital expenditure is expected to start declining in 2019. (See Orange Capex to Peak at €7.4B in 2018 and Orange Spain CEO Puts 5G Squeeze on Ericsson, Nokia.)


Nationwide 5G rollouts will prove costly, though. As one of Europe's more fiber-rich service providers, Orange might already have much of the fixed-line infrastructure needed for 5G "backhaul" -- the connections between its basestations and core network. But any reliance on higher frequencies providing weaker signal coverage, including the 3.4GHz to 3.8GHz bands, may force it to build new sites. And the active antennas that Orange touts are expensive, say analysts.
Figure 2: Revenues & Capital Expenditure at Orange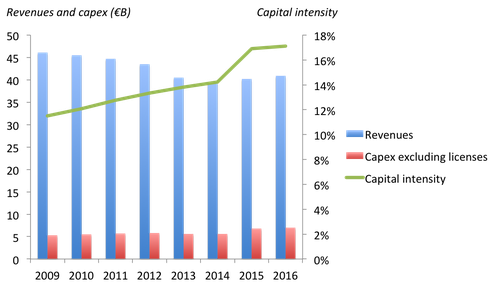 (Source: Orange)
The revenue case is worryingly hazy. Operators including Orange hope 5G will eventually support new services in non-traditional markets, such the automotive and healthcare sectors. But this remains doubtful and will certainly not happen for several years. "The first business model is to keep delivering quality," said Jégo-Laveissière. The 5G standard is also ten times more cost-efficient than its 4G predecessor, said Johan Wibergh, her counterpart at rival operator Vodafone, during a conference in late 2017. That will help the business case, even if it does not bedazzle investors. (See Vodafone CTO: 5G Is Overhyped & It's Mainly About Cost and The Growing Pains of 5G.)
All of this points to a very gradual 5G deployment starting in 2020 or 2021 and lasting perhaps seven to ten years. "This won't happen in one big bang at the start," Jégo-Laveissière told an audience of reporters, analysts and company executives in Paris. "It will be needs-focused and demand-led."
What Orange cannot possibly know for sure is how regulation and technology will develop. Because regulators have not yet licensed frequencies between 3.4GHz and 3.8GHz, the operator lacks spectrum it wants for tests in Lille and Douai. "If we aim to start in mid-2018 we do not have the right frequencies because of the auctions situation," said Jégo-Laveissière. "The auctions should happen at the end of 2018 or in early 2019 and so we are negotiating to experiment before then."
The French regulator seems unlikely to block testing. The real concern is over how much European authorities charge operators for spectrum concessions. Even if the fees are lower than in previous auctions, as analysts anticipate, governments risk slowing down network rollout with lofty spectrum prices that leave operators short of funds. Germany's telcos are outspokenly worried. Chinese equipment giant Huawei Technologies Co. Ltd. last week slammed European governments for squeezing operators on spectrum. (See Germany's 5G Auction & the Gigabit Dream and Huawei's $800M 5G Budget Piles Pressure on Ericsson, Nokia.)
Another regulatory concern is about the emotive issue of "net neutrality," the vague principle that all Internet traffic be treated equally. With a new 5G core, operators should be able to provide many different virtual network services over the same physical infrastructure -- a low-latency, ultra-reliable connection for self-driving cars, say, and a superfast link for mobile gaming. But this "network slicing" could fall foul of the European Commission's net neutrality legislation. (See Net Neutrality Is Not a Rational Debate.)
"We are in talks so that we can develop the new use cases we want to implement," said Jégo-Laveissière guardedly when asked if net neutrality rules could threaten 5G. "We have to look at European regulations to see how we can develop specific services."
Figure 3: NSA or SA?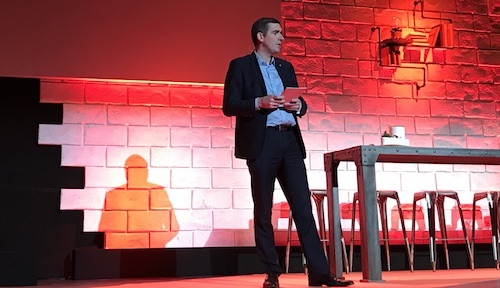 Arnaud Vamparys, Orange's senior vice president of radio networks, is still weighing his 5G options.
Network slicing is, in any case, not going to arrive before 2022 and the rollout of standalone 5G, says Emmanuel Lugagne Delpon, a senior vice president of Orange Labs Networks. "What we believe is that if we start on NSA, then progressively we will have to move to SA to deliver the slicing promise, and it may take some years," he told reporters. (See Orange Eyes 5G Network Slicing in 2022.)
It will not be straightforward, either. SA equipment will not be ready until at least a year after standardization. Orange would then need to carry out further tests and make sure old and new technologies work in harmony. Migrating from NSA to SA could be a challenge, according to Lugagne Delpon, and there is currently no industry consensus on how it should be done. That is perhaps why Orange remains undecided on whether to roll out NSA at all. "Most probably we will," said Lugagne Delpon.
Want to know more about 5G? Check out our dedicated 5G content channel here on
Light Reading.
RAN virtualization is a further complication because there are various options for splitting radio functions between a centralized facility and one at the network's edge. Some barely count as virtualization, says Gabriel Brown, a principal analyst at the Heavy Reading market research firm. Orange is still weighing its options. The number of next-generation data centers it is planning might offer clues about its intentions, but Orange does not want to publicize those details.
Perhaps the biggest unknown is what role AI and automation will play in 5G, and how they will be introduced into networks. The need is evident, says Huawei: 4G networks have only around 200 parameters that need configuring; in 5G, that number rises to about 10,000. Yet Orange's AI work with Nokia does not form part of any 5G standardization process, which could fuel concern about interoperability in multi-vendor networks. Huawei, which is introducing an AI system called Atlas, has acknowledged that it will be "challenging" to use AI in a multi-vendor environment. (See Huawei Commits Up to $20B for Annual R&D, Fleshes Out AI Pitch.)
Then, of course, there is the AI threat to jobs. Operators are fond of arguing that automation will create new opportunities for people, and free up staff for more interesting work. But the profitability imperative makes this all sound unconvincing. Even before the dawn of AI, the world's biggest telcos have been slashing headcount in pursuit of greater efficiency. Orange's own staff numbers had shrunk to about 152,300 at the end of September, from 156,200 in 2015 and more than 170,000 back in 2012. The development of highly automated 5G networks does not bode well for employees. The great unknown is just how big its impact will be. (See Efficiency Drive by Major Telcos Has Claimed 74K Jobs Since 2015.)
— Iain Morris, News Editor, Light Reading
Subscribe and receive the latest news from the industry.
Join 62,000+ members. Yes it's completely free.
You May Also Like
---