Efficiency Drive by Major Telcos Has Claimed 74K Jobs Since 2015
Efficiency Drive by Major Telcos Has Claimed 74K Jobs Since 2015
Research carried out by Light Reading shows the scale of job cuts in the telecom sector during the last two years, as major telcos look to maintain sales with a smaller workforce. The 20 largest telcos with headquarters in Europe and North America slashed more than 63,000 jobs last year, and ten of them have cut nearly 21,000 roles in 2017, as companies automated operations and bolstered efficiency metrics.
The headcount reductions by the ten operators to have disclosed jobs data in 2017 represent more than 6% of their combined workforce in 2015, with cuts totaling almost 74,000 jobs at those companies since then. Between 2015 and 2016, the layoffs were accompanied by an increase of nearly 5% in the average figure for revenues per employee, which rose from about $448,000 to roughly $470,000 annually, using current exchange rates.
Figure 1: Headcount
Sources: Companies
In some cases, the cuts and efficiency improvements were dramatic. US telco giant AT&T Inc. (NYSE: T), for instance, cut 12,910 jobs last year and has so far this year slashed another 11,740 positions. In total, that equals about 8.8% of AT&T's workforce in 2015, when it acquired satellite company DirecTV.
AT&T has also witnessed one of the biggest leaps in revenues per employee, from about $522,000 in 2015 to $610,000 last year.
Figure 2: Revenues per Employee ($)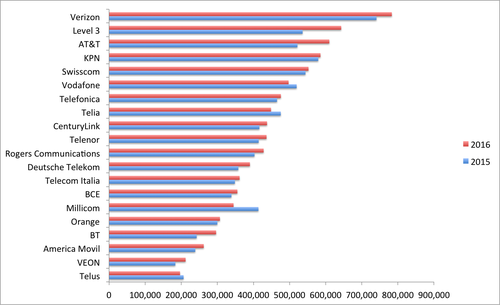 Source: Companies
In other major findings:
Of the 20 operators that Light Reading examined, 16 cut jobs in 2016 and the same number increased their per-employee revenues that year.

AT&T and Verizon Communications Inc. (NYSE: VZ) have together slashed 42,250 jobs since 2015.

Europe's incumbents have also made hefty cuts: Deutsche Telekom AG (NYSE: DT), Orange (NYSE: FTE), Swisscom AG (NYSE: SCM), KPN Telecom NV (NYSE: KPN), Telecom Italia (TIM) and Telefónica -- the European telcos that have published details of employee numbers this year -- have cut 23,770 jobs since 2015, or 4% of their combined workforce that year.

On the basis of revenues per employee, Verizon was the most efficient operator in the ranking, generating more than $783,000 per staff member in 2016.

Canada's Telus Corp. (NYSE: TU; Toronto: T), one of the few operators to have increased its headcount since the start of 2016, came last on that measure, generating about $196,000 per employee last year.

As a percentage of its overall workforce, VEON made the biggest cuts in 2016, slashing nearly one in five jobs excluding its operations in Italy (where it recently merged its Wind subsidiary with 3 Italia to create a joint venture called Wind Tre).

Bolstered by its takeover of mobile operator EE, the UK's BT Group plc (NYSE: BT; London: BTA) saw the largest percentage increase in revenues per employee last year, with the figure up nearly a fifth, to more than $296,000, despite an increase in employee numbers.

Driven partly by merger and acquisition activity, staff reductions have happened as operators have discovered new ways of automating processes thanks to recent technological advances. Germany's Deutsche Telekom, for example, has recently outlined its vision of developing networks it can manage "with no human involvement" through a process of "brutal automation." Together with Spain's Telefónica, it has just launched a new working group within the Facebook-led Telecom Infra Project that will look at using artificial intelligence (AI) and machine learning to improve network management. (See DT: Brutal Automation Is Only Way to Succeed, Facebook's TIP to Launch AI Working Group and 'Brutal' Automation & the Looming Workforce Cull.)

AI is affecting other telco divisions, too. Vodafone UK, for instance, has been investing in so-called "chatbots" that eliminate the need for customer services staff during messaging-based interactions with subscribers. (See Chatbot Takes Charge: Vodafone's Customer Services Overhaul.)

Next page: Efficiency boost

Efficiency boost
One of the most obvious benefits that such automation should deliver is an increase in revenues per employee, with staff numbers falling while sales development continues as normal. Facebook and Google (Nasdaq: GOOG), two of the most heavily automated companies in the world, generated revenues per employee of $1.6 million and $1.4 million respectively in 2016 -- way in excess of any telco.

However, telcos are wary of drawing a connection between automation and job cuts amid concern that technological advances will leave millions of people without employment in the next few years. Automation's champions have argued that staff will be redeployed on service development and other less routine chores, instead of being made redundant. But this move would not lead to any improvement in revenues per employee unless it spurred sales growth, which seems unlikely in saturated markets for communications services.

Telco spokespeople have either downplayed the effect that automation has already had or denied it is responsible for headcount reductions, although Deutsche Telekom did acknowledge that technology is having some impact on the workforce.

"Sure, there is a skill shift as part of the transformation in the telco industry," said a spokesperson for the German operator when asked whether automation was responsible for a recent increase in revenues per employee. "That's influenced by RPA [robotic process automation] and other factors, but you cannot just say that RPA has led to employee headcount reductions."

In September, a Deutsche Telekom consulting subsidiary called Detecon said the operator had realized cost savings equal to about 800 full-time employees through investments in RPA since 2014. (See DT Trumpets Automation Savings Worth '800 Employees'.)

Designed to automate simple tasks, much like a macro does in Excel, RPA is described as one of three key aspects of intelligent automation by James Crawshaw, a senior analyst with the Heavy Reading market research business. (See Colt: Automation's 'Silent Killer' Is Poor Quality Data.)

The other two, he says, are machine learning and natural language processing, whereby computers are engineered to understand human language.

Want to know more about cloud services? Check out our dedicated cloud services content channel here on Light Reading.



While both are in their relative infancy, AI is now developing at a much quicker pace than anyone had thought possible a few years ago. Outside the telecom sector, Google last month unveiled a new and improved version of AlphaGo, an AI system that in 2016 was taught to play Go, a complex board game with origins in ancient China, and then went on to defeat Lee Sedol, one of the world's best players. AlphaGo Zero, the latest iteration, appears unbeatable and learned the game without any human intervention. (See AI Threat Is Tech's Fart in the Room.)

Deutsche Telekom's spokesperson describes revenues per employee as a "key metric" for the company and one it would like to improve further. Its annual reports show that its headcount fell from about 225,000 in 2015 to around 216,500 at the end of September, a reduction of nearly 4%. Per-employee revenues increased from about $358,000 in 2015 to $390,000 last year, and have risen from just $295,000 in 2012, fueled partly by sales growth in the US market.

The German telco is trying to realize cost savings through its pan-net project, which aims to replace the discrete systems it has used in particular countries with a single, highly automated European network. In early 2015, Deutsche Telekom said its ambition was to reduce annual operating costs by €1.2 billion ($1.4 billion, at today's exchange rate) by 2020, a target that would seem to have implications for headcount. Questions about the impact the pan-net project would have on employee numbers went unanswered by Deutsche Telekom. (See DT's Pan-Net Still at Start of the Marathon.)

AT&T, which snapped up satellite company DirecTV in 2015, was much cagier than Deutsche Telekom when asked about targets for revenues per employee, saying it could not speculate on this figure.

"As we continue to do everything we can to better serve our customers and reduce costs, there are some areas where restructuring is necessary to operate more efficiently," it said in a statement emailed to Light Reading. "And like many companies, we continue to evolve along with technology."

AT&T rival Verizon, which has been similarly acquisitive in the past few years, has also made sharp reductions to employee numbers, cutting 17,600 jobs since 2015, or about 10% of its headcount that year. Between 2015 and 2016, its annual per-employee revenues rose by 5.7%, to more than $783,000.

But a Verizon spokesperson denied that headcount reductions had anything to do with automation. "I'm not surprised the employee number is going down, mostly because of the steadily shrinking landline business," said the company's spokesperson. "A majority of our employees are in that business and it is a declining business with the exception of the fiber-based services we provide. The metric is not attributed to automation and we can't give guidance on the trend."

Spain's Telefónica said that recent employee cuts formed part of a restructuring plan announced in 2015 and agreed with labor unions, without sharing further details of the changes that are underway. It has cut more than 11,600 jobs since the start of 2016, or about 8.4% of its workforce in 2015. Revenues per employee at the company increased from about $465,000 in 2015 to nearly $476,000 last year.

Next page: Owning up

Owning up
Other telecom firms have revealed that automation is allowing them to reduce employee numbers.

During a recent Light Reading workshop on automation, Colt's Fahim Sabir, the director of architecture and development for the enterprise telco's on-demand business, acknowledged that automation was leading to headcount reductions in "network provisioning."

Swedish equipment supplier Ericsson AB (Nasdaq: ERIC) has also revealed that automation is helping it to reduce staff numbers within its service delivery units. The struggling vendor cut about 3,000 jobs between July and September, or 3% of its entire workforce, as part of a strategic effort to boost margins. (See Ericsson CFO: Automation Is Helping Us Cut Jobs.)

Sources have also told Light Reading founder Steve Saunders that AT&T plans to use automation to eliminate about a third of its workforce. Other operators believe they can reduce their headcount by more than a half through automation, Saunders writes. (See The Revolution Will Be Automated .)

Such reductions would lead to a massive increase in revenues per employee if sales remained at current levels. If AT&T reduced its headcount by a third, but maintained revenues at the 2016 level of $163.8 billion, it would generate more than $950,000 per employee.

As a measure of efficiency in the era of automation, the revenues-per-employee metric is attracting investor scrutiny. A story published in Fortune magazine earlier this year contrasted highly automated tech giants like Facebook and Google with the major car manufacturers, which continue to rely more heavily on human labor.

Smaller tech companies have also generated publicity because of their per-employee revenue metrics. In April this year, Business Insider wrote about a Dutch payments provider called Adyen, which has received support from Facebook CEO Mark Zuckerberg and generated about $1.4 million per employee last year. CEO Roelant Prins said the figure came from increased automation within the company. "We're hyper focused on automating as much as we can," he is reported to have said.

In preparing this story, Light Reading examined annual and quarterly reports, as well as filings with the US Securities and Exchange Commission, for the 20 largest telcos by revenues with headquarters in Europe and North America (including Canada, Mexico and the US).

While those companies are active largely in Europe and North America, a number of them have operations in other parts of the world. UK-based Vodafone has businesses in Africa and India, for example, while Mexico's América Móvil S.A. de C.V. runs networks across South America.

For most operators, the fiscal year resembles the calendar year, although in some cases it ends in March. A fiscal year ending in March 2017 has been considered alongside 2016 data from other operators for the purposes of this article.

Wherever possible, end-December employee figures have been used. If these were unavailable, year-average numbers were analyzed instead.

All currency conversions have been carried out at rates on November 13.

To access a read-only Excel file including all of the data that was compiled and generated during the preparation of this story, click here.

— Iain Morris, News Editor, Light Reading
Subscribe and receive the latest news from the industry.
Join 62,000+ members. Yes it's completely free.
You May Also Like
---