Colt: Automation's 'Silent Killer' Is Poor Quality Data
Colt: Automation's 'Silent Killer' Is Poor Quality Data
Colt executive draws attention to the pitfalls of automating operations and provides an update on the UK operator's progress so far. LONDON -- Automation & the New Carrier Network -- Colt has highlighted the risks of trying to automate systems and processes when dealing with poor quality or inconsistent data that is difficult to interpret without human intervention.
Fahim Sabir, the director of architecture and development for the UK service provider's Colt on Demand business, told attendees at Light Reading's inaugural automation event in London today that data quality has been a massive concern for Colt Technology Services Group Ltd as it has worked on automating parts of its business.
"Data quality is the silent killer… the thing that absolutely hurts," Sabir said during a keynote presentation this morning. "When you are doing a manual task you have to make sure the operational organization documents it in a way in OSS and BSS platforms so that things can be automated. No matter how smart computers get, human beings are smarter. They can take the information and work out what it should actually mean."
Figure 1: Automation for the People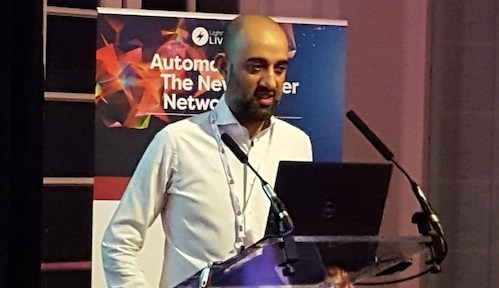 Fahim Sabir, the director of architecture and development for Colt on Demand, says telcos need to convince operational and delivery teams to trust automation. Sabir's comments draw attention to the dangers of racing to automate complex processes and tasks. In most cases, he says, operators need to work on changing those processes entirely before they start to think about automating systems. "Automation is not that difficult with the right foundation," he said. "Unless you establish that it becomes hard." Like other telcos trying to reduce manual effort, Colt sees automation as a way of speeding up its time to market and making resources available for service development instead of fault resolution. As part of Novitas, its overarching network transformation project, it has already built an intelligence engine that takes advantage of so-called robotic process automation (RPA) to reduce the costs it incurs as a result of manual effort. James Crawshaw, a senior analyst at the Heavy Reading market research business, describes RPA as one of three key aspects of intelligent automation. "It's software that can automate tasks like a macro does in Excel," he said during today's automation event. "Then you have machine learning, which can spot patterns and provide insights, and natural language processing, whereby computers understand human language." While it remains early days for machine learning and natural language processing, Colt has also taken steps in the artificial intelligence area through a research project called Sentio. That initiative could help it to predict when network elements are about to expire, and allow it to reduce costs through more efficient network planning, according to Sabir. (See Colt Preps AI-Enabled Network Management.) Want to know more about cloud services? Check out our dedicated cloud services content channel here on Light Reading. Colt has already been able to realize some of the benefits of automation through process changes, but Sabir says the operator has inevitably encountered some resistance among operations staff affected by the overhaul. "Operational teams have been working for decades in a manual way and now we are saying you have to trust this engine to do the job you were doing manually," he explains. "We have had a big fight to convince the operations organization that the engine works and they can trust it." Colt is not alone in arguing that automation could free up staff resources for development purposes, but concern has grown that automation could lead to widespread job losses in the next few years. (See 'Brutal' Automation & the Looming Workforce Cull and The Revolution Will Be Automated .) "The more [operators] can automate the less people they will need," said Crawshaw. "But the staff that keep jobs will do more interesting stuff." While industry executives often talk about the need to retrain existing telco staff as networks become more software-based, Sabir reckons that in-house programmers already have the requisite skills -- in many cases -- but spend most of their time on fixing faults rather than service development. Asked about the impact of automation on jobs within Colt's operations organization, Sabir said: "For employees in provisioning activities and soft provisioning, absolutely the idea is to reduce costs in that area and that is an accepted reality." However, Colt's operations workforce mainly comprises field technicians whose job is to install equipment, and Sabir does not expect automation to have much impact on these individuals. — Iain Morris, News Editor, Light Reading
Subscribe and receive the latest news from the industry.
Join 62,000+ members. Yes it's completely free.
You May Also Like
---