Apple Outdoes Itself with iPhone 4

6/25/2010

Comment (10)

Apple Inc. (Nasdaq: AAPL) sold 1.5 million iPhone 4s yesterday, one and a half as many iPhones as it sold in the first three days of the iPhone 3G and iPhone 3G.

This is the initial estimate from Oppenheimer & Co. Inc. analyst Yair Reiner, who admits that it's still just a guessing game until we hear it from the Cupertino, Calif., powerhouse itself. But, here's how Fortune breaks down Reiner's math:


There were 600,000 iPhones pre-ordered from both Apple and AT&T Inc. (NYSE: T) in the US.
At an average of 500 per store, there were 100,000 non-reserved units sold day of at Apple stores.
Best Buy chipped in another 50,000 iPhone 4s, according to Oppenheimer's checks.
To account for the rest of world, multiple it by two, Reiner says.


In terms of where users came from, Reiner says 76 percent were upgraders already with AT&T and 21 percent were new to AT&T with 41 percent of those coming from
T-Mobile US Inc.
and 28 percent from
Verizon Wireless
.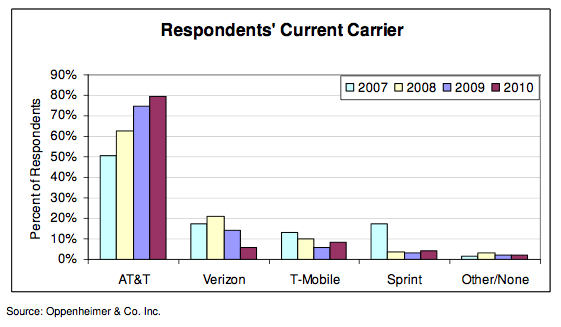 Piper Jaffray & Co.
researchers added some color to Apple's launch-day numbers, noting that 77 percent of iPhone 4 purchases were upgrading, a full 38 percent more than did for last year's 3G S model. In 2009, 56 percent of iPhone 3GS buyers were upgrading on launch day and, in 2008, 38 percent did so, Jaffray says.
For those who weren't existing AT&T iPhone users, Jaffray says 6 percent switched over from BlackBerry, 3 percent from Android, and 2 percent from
Nokia Corp.
(NYSE: NOK).
Apple's chart-topping sales day suggests what consumers have already confirmed: Apple has an unmatched brand cache that even AT&T can't muddy. Less consumers may be jumping ship from other carriers and devices to get the iPhone 4, but those who have Apple products remain loyal.
"Apple has in three years built brand loyalty in the phone market that compels users to upgrade to the latest version and wait in line for one to six hours to pick up their iPhone," Piper Jaffray analyst Gene Munster said in a
note
to clients. "While we think Apple will sell between 1.0 million to 1.5 million iPhones in the first three days (including preorders), the actual number is largely irrelevant. Apple is tapping into the global consumer spending sweet spot, mobile, and as a result iPhone numbers are going higher in the coming years."
See more of our iPhone 4 coverage below:
— Sarah Reedy, Senior Reporter,
Light Reading Mobile

(10) |