3:20 PM -- I got a chance to see Tandberg ASA (OSE: TAA)'s telepresence service a couple of weeks ago and while the features it comes with were pretty much in line with the other services I've seen, I did for the first time get to see a multipoint conference live in action.

One noteworthy difference: Tandberg's top-of-the-line room comes in at a lower price point -- in the $200,000 range -- than comparable rooms from competitors that typically cost around $300,000. The company says a number of factors lower the price for it including its system having lower power requirements than some competitors.

Tandberg admits that one of its shortcomings is speaking from one end of the room to the other. If you're seated in the right-most chair and are talking to someone on the left-most video screen, the eye contact is not very realistic. "Every system has its Achilles' heel," says Ed Naybor, vice president of global accounts for Tandberg.

Click the slideshow below for more details on what Tandberg has to offer. Here are the stories and slideshows of the other telepresence services we've demo'd thus far: Nortel Trumps Cisco?, Cisco, Nortel Tee Off in Telepresence, Cisco's Telepresence, Teliris Trash-Talks TelePresence, and Oldest. Telepresence. Ever.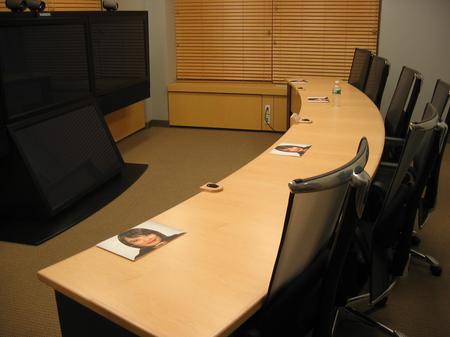 — Raymond McConville, Reporter, Light Reading