Wireless enterprise device maker Symbol Technologies Inc. (NYSE: SBL) was in New York City today to show off a slate of new ruggedized products just a week after the firm said that Motorola Inc. (NYSE: MOT) plans to buy it for $3.9 billion in cash. (See Motorola Confirms Symbol Buyout.)

The No. 2 enterprise WiFi player had a new outdoor 802.11 mesh box on show as well as an updated wearable computer and an RFID reader. Various VPs and directors from the Holtsville, N.Y-based company were also on hand at the so-called "Extreme Mobility" show to bash, dunk, and drown their products in a bid to show just how tough they are.

Mesh Symbol has updated its mesh hardware with a new outdoor WiFi box aimed at users who want to extend connectivity to outdoor loading bays and other bruising open-air environments. The 5181 is based on Symbol's first mesh product -- the 5131 -- and should be available sometime in the first quarter of 2007, according to Andrea Palisca, product manager at the wireless infrastructure division.

Anthony Bartolo, vice president and general manager of Symbol's wireless infrastructure and RFID divisions, tells Unstrung that he envisages users such as shipping giant UPS finding applications for the mesh boxes. "They have loading ramps that their planes pull up to that are pretty far away from the main buildings," he says. "They need hardened equipment."

Indeed, Symbol showed off just how hardened the 5181 is by running it while nearly fully immersed in a tank of water. "I wanted to have a fish in there," chuckles Bartolo. "But some people thought that might upset PETA or whoever."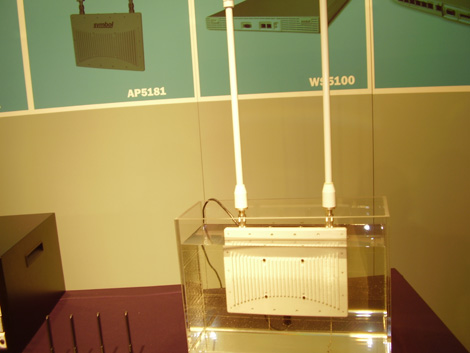 Wearable Computers The company has a new wearable computer coming in October called the WT4000. The devices are typically used in warehouses for loading and picking operations. Building on Symbol's 14 years in the wearable computer business, the WT4000 can be worn on the arm or the hip and be operated by text or speech. Brian Viscount, VP at Symbol's mobile computing division, adds that the device has a larger display and offers better battery life.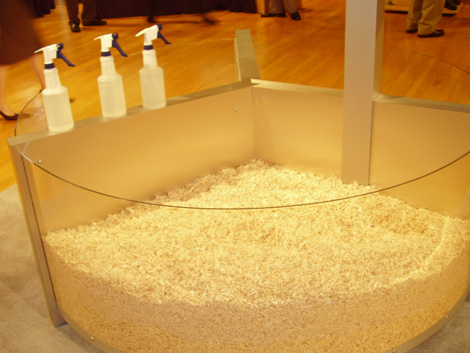 RFID Readers Symbol is claiming the recently unveiled RD5000 RFID reader as a first in the industry. The wireless device is designed to be installed on forklifts and other product-moving devices so that goods can be detected and tracked around the warehouse supply chain rather than only at "choke points" such as doorways where tradition RFID readers are installed.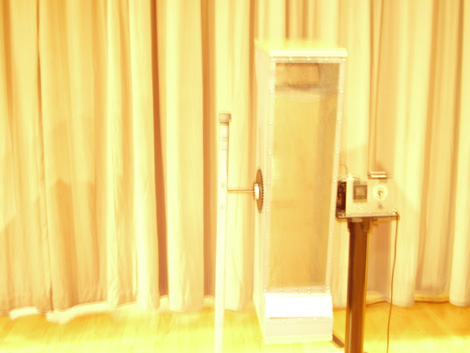 WiMax Though Symbol didn't have any WiMax products on show in NYC, Bartolo didn't rule out wireless MAN products becoming part of the firm's roadmap when Unstrung asked him about it today. Motorola already has an extensive WiMax roadmap underway.

"I look forward to being able to share some of that stuff with you when we are through the close of the two companies and we start adding more products to our roadmap," he says.

Potentially any WiMax products could be managed via Symbol's new WiNG architecture, which is already designed to aggregate WiFi, cellular and RFID traffic in the enterprise.

— Dan Jones, Site Editor, Unstrung