Big Telcos Have Slashed 107K Jobs Since 2015
Big Telcos Have Slashed 107K Jobs Since 2015
M&A activity, automation and other efficiency measures are taking a heavy toll on the operator community workforce, and there may be worse to come. More than 107,000 jobs have been cut during the past two fiscal years across 20 major telcos tracked by Light Reading, a figure that equals 6% of total jobs at those companies before the period in question.
The headcount reductions, which took place at the 20 biggest telecom operators by revenues with headquarters in North America or western Europe, are the troubling result of telco efforts to boost efficiency through automation, merger activity and other cost-saving measures.
With the publication of Vodafone's annual report earlier this month, Light Reading has been able to calculate headcount reductions totaling 44,192 in the past fiscal year across the 20 companies it monitors. Those cuts follow a net loss of 63,344 jobs in the previous year. (See Vodafone Rewards Top Brass as Thousands of Staff Are Axed.)
Overall staff numbers topped 1.8 million at those 20 companies between late 2015 and early 2016, with some operators reporting annual results based on the calendar year and others to the end of March.
Figure 1: Headcount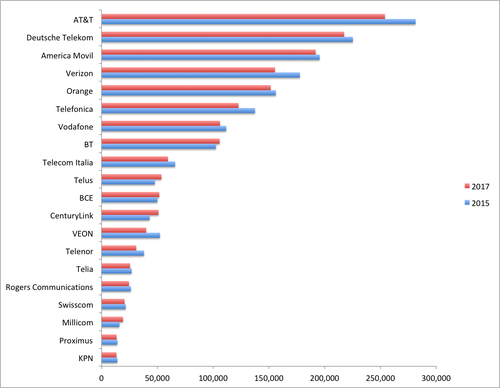 Source: Companies. Much of the attrition during the past year was the result of takeover activity in the sector. Last year, AT&T Inc. (NYSE: T) was still shedding staff following its $48.5 billion acquisition of DirecTV, a pay-TV provider, in 2015. The US telecom giant accounts for as many as 14,540 of the industry jobs that vanished in the most recent fiscal year. Some operators in our Top 20 list, it is worth noting, have reported lower employee figures not because they have axed staff but because they have sold certain operations and transferred employees to other companies. Telenor Group (Nasdaq: TELN) sold an Indian subsidiary with about 4,000 employees to Bharti Airtel, for example. And Vodafone Group plc (NYSE: VOD) merged a Dutch unit that had more than 3,000 employees with a cable company owned by Liberty Global. (See Indian M&A: And Then There Were 5? and Vodafone, Liberty Global Form Dutch JV.) Those staff, of course, might then be subject to job cuts -- such reductions, though would not show up in our analysis. But there is an approaching wave of sector consolidation that is likely to impact the headcount statistics of our Top 20 operators. Pending regulatory approval, the industry could soon witness a Vodafone takeover of Liberty Global Inc. (Nasdaq: LBTY) assets in Germany and other European countries, as well as a merger between Sprint Corp. (NYSE: S) and the T-Mobile US Inc. business owned by Germany's Deutsche Telekom AG (NYSE: DT). (See Vodafone Pounces on Liberty Cable Assets in €18.4B Deal and T-Mobile & Sprint: Marriage made in hell.) Vodafone expects to realize annual cost savings of €535 million ($631 million) through a tie-up with Liberty. Deutsche Telekom is targeting $6 billion in annual US savings, starting in 2024, although it insists "the larger company will employ more staff than the previous companies put together." (See Vodafone Pounces on Liberty Cable Assets in €18.4B Deal and T-Mobile, Sprint Combo Could Threaten German Digitization.) Labor unions are dubious, having previously warned that a US merger could lead to the loss of 20,000 jobs. Bengt Nordström, CEO of the Northstream consulting business, reckons the Deutsche Telekom statement is designed to overcome political opposition. "It is the wrong time to talk about redundancies but the idea of merging two companies without it resulting in redundancies is quite remote," he told Light Reading during a recent interview. "In theory it should be one network and one organization. You don't need two core network managers." Merger activity could affect some of the other tracked companies, too. France's regulatory authority recently suggested it might give up its resistance to any consolidation that would reduce the number of national service providers from four to three. That could potentially open the door for a merger between the French operations of Altice and Iliad, with Orange (NYSE: FTE) or Bouygues picking up some of Altice's European assets to address competition concerns. (See French Telcos Gain on M&A Signals From Policy Wonks.) Following its recent takeover of Level 3, CenturyLink Inc. (NYSE: CTL) warned that about 2% of jobs would go, impacting about 1,000 employees at the combined companies. Richard Warley, the regional president of CenturyLink for Europe, the Middle East and Africa, thinks consolidation has yet to run its course in CenturyLink's European markets. "We will absolutely continue to look at opportunities as and when they come along," he told Light Reading in May. (See CenturyLink May Jump Into Europe's Merger Mania.) After absorbing Level 3, CenturyLink is left with 51,000 employees, up from 40,000 in 2016. A sharp fall in CenturyLink's revenues per employee -- down from $437,500 in 2016 to about $347,000 in 2017 -- is a statistical anomaly because Level 3 revenues did not show up in CenturyLink's last annual results. (The disappearance of Level 3 as a standalone business means that, in its place, Belgium's Proximus has been included in Light Reading's assessment.) Next page: The automation specter The automation specter
Industry consolidation is just a part of the story, however. When Light Reading last reported on headcount reductions at these companies in late 2017, relatively few had much to say about automation and its impact on the workforce. (See Efficiency Drive by Major Telcos Has Claimed 74K Jobs Since 2015.) But in recent months, operators including BT Group plc (NYSE: BT; London: BTA), CenturyLink, Deutsche Telekom, Telenor Group (Nasdaq: TELN), Telecom Italia (TIM) and Vodafone have emphasized the strategic importance of automation, with several indicating it will lead to job cuts. BT, notably, plans to slash 13,000 mid-level management and back-office jobs as it streamlines processes and automates tasks. While it also aims to recruit another 6,000 workers for network rollout and customer services, the question is whether such positions will last once new networks are built and as digital assistants, or "chatbots," play more significant roles in customer service departments. (See BT to Slash 8% of Jobs in Efficiency Drive.) These moves come on top of an earlier BT plan, announced in May 2017, to cut 4,000 jobs at its global services division and within various back-office functions. (See BT Cuts 4% of Jobs, Plans Global Services Overhaul.) The UK operator's annual report shows how little progress it has made so far, with overall staff numbers falling by just 600, to 105,800, in the last fiscal year. BT's slow progress could partly reflect the difficulties of replacing ageing telco technologies with more up-to-date digital systems. Deutsche Telekom has fallen well short of its own cost-saving goals, it emerged in late May, after failing to shut down all PSTN systems by its original 2018 deadline. It has also struggled with its so-called "pan-net" transformation, which entails replacing national European networks with a single, regional "cloud." (See DT Targets €1.5B in Automation Savings, Misses Former Target.) "The top-down project is seldom rooted in the realities of the operation," Nordström recently told Light Reading. "In the back end of the business there are legacy platforms and processes that are hard to change." (See DT's Epic Undershoot Reflects Transformation Woes.) As it wrestled with digital transformation, Deutsche Telekom cut only 992 jobs in 2017, or less than 0.5% of its global workforce. But much bigger cuts are planned as part of a new cost-saving initiative over the next few years. While it will not say how many jobs could disappear, Deutsche Telekom is aiming for $1.5 billion in annual cost savings by 2021 (compared with its operating expenses for 2017), and says around $750 million of those savings will come from headcount reductions as it automates processes. Want to know more about automation? Check out our dedicated automation content channel here on Light Reading. Automation will also be responsible for some of the job cuts planned by CenturyLink, the company has indicated. Norway's Telenor, meanwhile, expects around one fifth of its jobs to vanish in the next three years because of automation and investment in digital systems. (See Downsizing Telenor Pins Margin Hopes on Automation.) Despite these moves, some operators still deny automation will lead to widespread job losses. While technology could free up staff for more rewarding activities, and even create new roles, those denials may be disingenuous. Executives, after all, will be naturally wary of publicizing plans to substitute machines for people, knowing it could trigger a political backlash. Ignoring the divestment of its Dutch business, Vodafone cut around 2% of group-wide jobs last year but strenuously denies it is using automation to reduce headcount. Its main automation objective, according to a company spokesperson, is to improve customer services and ensure employees are not spending their time on mundane and repetitive tasks that can easily be done by machines. (See Vodafone Prioritizes Automation as Efficiency Bolsters Margins.) Although CenturyLink expects automation to claim jobs, Warley does not foresee any workforce upheaval caused by artificial intelligence. "There is no reason to think about this as a cliff that we are going to fall off," he told Light Reading. "If you want to get to the point where 15% of employees leave and go and do something else, there is no reason for precipitous changes. You can get to that point in a measured way without doing anything that interferes with people's choices." Next page: Streamlining Streamlining
For some operators, staff cuts are linked to neither merger activity nor automation. Instead, they are happening as companies look at other ways of streamlining their operations in an effort to boost profits. The days of heady growth in revenues are in the dim and distant past for many telcos, forcing them to concentrate on efficiency improvements to satisfy investors. Vodafone is a standout example: Although its revenues shrank 2% in the last fiscal year, its operating profits soared 15.4% thanks to cost-cutting activities. European operators including Deutsche Telekom, Orange and Telefónica have been offering redundancy packages to employees or deciding not to replace some workers who retire. Orange cut nearly 3,650 jobs last year, or about 2.4% of its global workforce, while Telefónica slashed 4,600 jobs, equal to about 3.6% of total staff numbers. "The headcount reductions are largely due to natural attrition and not M&A or automation," said a spokesperson for Orange. One of its programs allows employees to work on a part-time basis as a transitional step toward early retirement. Orange does have plans to recruit 2,800 people in France this year, but its spokesperson says these are "not necessarily like-for-like replacements. You have to factor in how the industry is transitioning into new technologies and a more digital approach to customer relations." The French operator, notably, is replacing only about one in three people who retire in its domestic market. Investors can thank such efforts for a gradual increase in revenues per employee -- a metric that may become increasingly important in an automated future -- across most of the companies Light Reading examined. Figure 2: Revenues per Employee ($)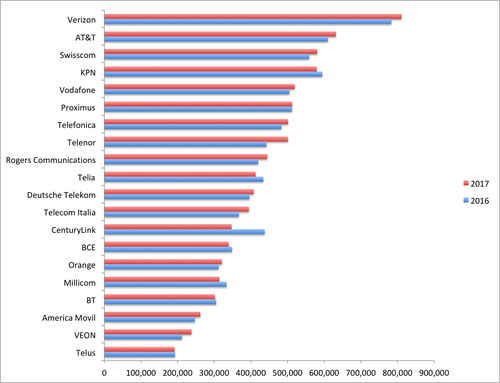 Source: Companies. Stripping out the distorting effects of CenturyLink and Level 3, average revenues per employee rose from about $424,000 in the 2016 fiscal year to around $435,000 in 2017, an increase of about 2.6%. For some operators, the improvement was greater. AT&T managed a 3.6% uptick in revenues per employee, to about $632,000, despite a 2% dip in sales. The biggest gainer was VEON with a 12.2% increase in per-employee revenues, to around $238,000. The emerging-markets operator managed to boost sales even as it was slashing headcount by nearly 5%, or more than 2,000 employees. Of the companies Light Reading examined (and ignoring CenturyLink), only BCE Inc. (Bell Canada) (NYSE/Toronto: BCE) and Telus Corp. (NYSE: TU; Toronto: T) from Canada and Luxembourg-headquartered Millicom International Cellular SA (Nasdaq: MICC) grew their headcount in the recent fiscal year. All three, unsurprisingly, witnessed a fall in per-employee revenues. Only three other companies saw a decline. Those included the UK's underperforming BT and Sweden's Telia, which is struggling to offload various central Asian assets it now treats as "discontinued operations." Dutch incumbent KPN also suffered after a headcount reduction failed to offset a sales decline, although it continues to generate higher per-employee revenues than most other telcos. (See Telia Flogs Georgia Biz, Cuts More Jobs.) Worryingly, for industry employees, the focus on efficiency metrics such as per-employee revenues will get stronger if operators cannot unearth new sources of revenue growth, and as they are increasingly compared with Silicon Valley's highly automated technology giants. Last year, Google generated about $1.38 million in revenues for every worker, while Facebook had per-employee revenues of $1.62 million. The best any operator could manage was the $811,000 at Verizon. In preparing this story, Light Reading examined annual and quarterly reports, as well as filings with the US Securities and Exchange Commission, for the 20 largest telcos by revenues with headquarters in North America or western Europe (including Canada, Mexico and the US). While those companies are active largely in Europe and North America, a number of them have operations in other parts of the world. UK-based Vodafone has businesses in Africa and India, for example, while Mexico's América Móvil S.A. de C.V. runs networks across South America. For most operators, the fiscal year mirrors the calendar year, although in some cases it ends in March. A year ending in March 2018 has been considered alongside 2017 data from other companies for the purposes of this article. Wherever possible, fiscal year-end employee figures have been used. If these were unavailable, year-average numbers were analyzed instead. All currency conversions have been carried out at rates on June 7, 2018. To access a read-only Excel file including all of the data that was compiled and generated during the preparation of this story, click here. — Iain Morris, International Editor, Light Reading
Subscribe and receive the latest news from the industry.
Join 62,000+ members. Yes it's completely free.
You May Also Like
---