T-Mobile & Sprint: Marriage made in hell
T-Mobile & Sprint: Marriage made in hell
Consumers, industry employees and equipment vendors must all hope that regulators block a T-Mobile merger with Sprint. Wild-haired, wild-eyed, and preferring a pink T-shirt and leather jacket to the usual business attire, T-Mobile US CEO John Legere looks the antithesis of corporate America. For several years, he has lived up to the image. An uncontrollable nuisance for US telecom dignitaries AT&T and Verizon, or "dumb and dumber," as he prefers to call them, Legere has blown up the model of convention and danced cackling on the wreckage.
This has paid off nicely for the US consumer. T-Mobile's service and pricing innovation has forced dumb and dumber to get smart. Its desire to build a state-of-the-art 4G network, and planning for a 5G successor, have kept bigger rivals on their toes. Having once trailed Europe in mobile, the US is today at the forefront of the industry, poised to launch 5G services later this year.
Figure 1: The Wild Man of US Telecom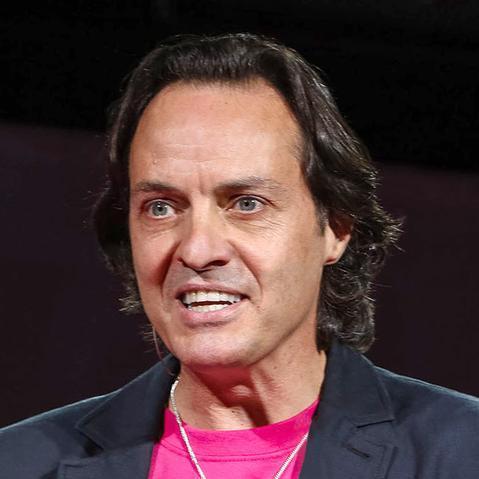 John Legere, the CEO of T-Mobile US, would lead a mobile operator serving 127 million customers should authorities approve a merger with Sprint. This golden age of US telecom is now under threat. Following several days of press reports, T-Mobile US Inc. confirmed at the weekend plans for a $26 billion, all-stock merger with the ironically named Sprint Corp. (NYSE: S), which it has overtaken in the last few years to become the number-three mobile operator by customer numbers. If the plans go ahead, Legere will lead an enlarged entity with more than 126 million customers, behind AT&T Inc. (NYSE: T) with 142 million and Verizon Communications Inc. (NYSE: VZ) with 150 million. (See T-Mobile to Buy Sprint for $26.5B to Create US 5G Powerhouse, T-Mobile, Sprint Agree to Merge and T-Mobile, Sprint Close to Merger Deal – Reports.) Legere's wild-man looks may remain. But just as a buzz-cut robbed the biblical Samson of his legendary strength, so the corporate makeover of a merger could tame the long-haired Legere. Instead of poking fun at his rivals, and concocting devilish schemes to poach their customers, he will have to prioritize the far less glamorous job of integrating two businesses that look very different from both a cultural and technology perspective. The days of fleet-footed growth, of being an incorrigible irritant to AT&T and Verizon, may be numbered. Why does the country's most dynamic mobile network operator want to marry its most knock-kneed? Germany's Deutsche Telekom AG (NYSE: DT) and Japan's SoftBank, the respective majority owners of T-Mobile and Sprint, argue that an alliance will give them muscle in the fight against AT&T and Verizon. They also point to the investment needs of 5G: Going solo, each might struggle to build the nationwide 5G networks that may prove economically vital in future. In that regard, this seems like a far better deal for Sprint than it does for T-Mobile. While the SoftBank Corp. subsidiary has been adding customers in recent quarters, it appears to have drawn interest mainly through price-cutting. For its third quarter, ending in December last year, average monthly revenue per user at its contract business fell about 9%, to $45.13, compared with the year-earlier figure. In the meantime, net debt works out to be around 2.9 times Sprint's earnings (before interest, tax, depreciation and amortization) in the 2017 calendar year, a level that looks high even by comparison with Europe's debt-burdened incumbents. The merger deal would put Deutsche Telekom outside its debt comfort zone for several years. Following its acquisition of 600MHz spectrum last year, T-Mobile already believed it had the resources to build a nationwide 5G network by 2020, or so Legere said. But Sprint comes with a swathe of spectrum in the 2.5GHz band, which could provide some fuel for higher-speed services. What's more, there have been signs of a slowdown in customer growth at T-Mobile. That might also have driven Deutsche Telekom to more seriously look at a merger. (See Is T-Mobile's 5G Plan Just a Pipe Dream?) By saddling Deutsche Telekom with debt, and ensnaring T-Mobile in an integration trap, that deal could be one the German operator eventually comes to regret. For just about everyone else apart from Sprint and a few rich men, it would be instantly regrettable. Next page: End of the golden age End of the golden age
That obviously includes customers. Legere insists the deal will not hinder competition, partly because of rivalry from cable operators developing mobile services, and even says it will force AT&T and Verizon to reduce their prices. But consolidation is generally understood to have the opposite effect. Legere would hardly deny that T-Mobile in its current shape has been responsible for much of the pricing pressure on the market leaders. If a merger with Sprint makes T-Mobile a less disruptive player, this pressure seems likely to ease. For industry employees, the impact will undoubtedly be greater. Based on their last annual results, T-Mobile and Sprint together would generate annual revenues of $73.9 billion with around 79,000 workers, or roughly $935,500 per employee. This would already make the new-look T-Mobile far more efficient, on this basis, than either AT&T or Verizon, which made per-employee revenues of about $632,000 and $811,000 respectively in 2017. Yet job cuts are evidently planned, with Deutsche Telekom eyeing cost "synergies" worth $43 billion. Figure 2: Revenues Per Employee ($)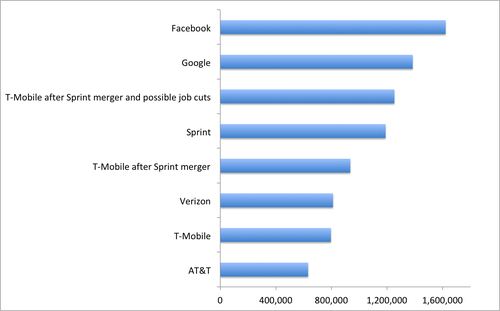 Source: Companies. Union representatives have lashed out at the plans. In a statement published last year, when the operators failed to agree merger terms, Communications Workers of America issued a statement warning that at least 20,000 jobs would go following a tie-up. "The massive job loss that this merger would cause is not in the public interest," said CWA President Chris Shelton in a statement at the time. "The Sprint, T-Mobile merger would enrich a few corporate owners and investors at the expense of workers and consumers." With just 59,000 employees, the enlarged T-Mobile would generate as much as $1.25 million per worker, assuming revenues stayed the same. Such metrics would be comparable with figures from Internet giants like Facebook and Google. That could put some pressure on AT&T and Verizon to further shape up, although both, it must be noted, operate more than just mobile networks. Between them, AT&T and Verizon cut more than 20,000 jobs in 2017, but still employed nearly 410,000 people at the end of the year. (See Efficiency Drive by Major Telcos Has Claimed 74K Jobs Since 2015.) Want to know more about 5G? Check out our dedicated 5G content channel here on
Light Reading. The planned merger also looks bad from the perspective of network equipment vendors such as CommScope Inc. "For the equipment vendors, it's clear that overall industry capital spending is maximized in an environment where there are a lot of operators in a competitive market environment," said George Notter, an analyst with Jefferies, in a research note. "The scenario, in theory, motivates each operator to build networks less efficiently [and] overall spending is higher." For CommScope, which is estimated to have derived about 5% of its sales from T-Mobile and Sprint last year, Notter sees the deal as a "modest, long-term negative." About the only justification for this deal is that it would reduce wasteful expenditure on parallel 5G networks. And the 5G investment burden could be considerable. Barclays has previously estimated that building a nationwide 5G network based on very high-frequency airwaves might cost as much as $300 billion in the US. Even with lower-range spectrum, the 5G bill for T-Mobile could be around $25 billion, according to Ovum Ltd. analyst Daryl Schoolar. Countries do not have parallel railroads or sewage systems. So why let operators build duplicate infrastructure at such immense cost? (See How Much Will 5G Cost? No One Has a Clue.) Unfortunately, this argument is not justification enough for allowing one of the biggest US retailers of telecom services to vanish. A "carrier neutral" approach, whereby one wholesale network supports a multitude of service providers, might address the problem. Such networks are already in deployment in Australia, Mexico and other parts of the world. But they have encountered criticism as well as support, and are not taken seriously in the US. (See Europe's Backhaul Black Hole Looms Above 5G, Can Mexico's Wholesale 4G Plan Defy the Odds?, Australia's NBN Seeks More Govt Cash to Cover Loss-Making Rollout and Trump's 5G Plan Is Not as Bonkers as They Say.) T-Mobile and Sprint first began talking about a merger in 2013, when Sprint still led T-Mobile on market share. Those talks fell apart when it became clear that regulators would oppose a deal. The change in administration has given encouragement to the deal's proponents, who see a more investor-friendly figure in Donald Trump than they did in Barack Obama. For the sake of the broader US telecom industry, one must hope the regulators have not changed their tune. — Iain Morris, International Editor, Light Reading
Subscribe and receive the latest news from the industry.
Join 62,000+ members. Yes it's completely free.
You May Also Like
---