LG Founders in Booming Smartphone Market
Smartphone sales will total 420 million units this year, accounting for 28 percent of the total handset market,
IMS Research
projected on Wednesday, but the gains are not being shared equally amongst the hardware makers.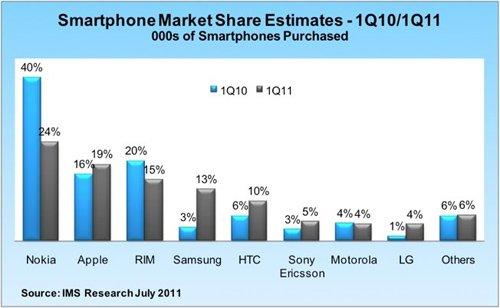 Nokia Corp.
(NYSE: NOK) and
BlackBerry
are two example of losers in this equation. (See
Euronews: Nokia Nearly Junk
,
Analyst: Nokia Faces Low-End Threat
,
RIM Cuts 2,000 Jobs
and
RIM Lowers Guidance Amidst Poor Q1
.)
And
LG Electronics Inc.
(London: LGLD; Korea: 6657.KS) could be another. Despite being the world's third-largest smartphone producer, it is struggling to keep up in the high end. The South Korean company's handset business dragged on its second-quarter earnings, reported Wednesday. The unit lost $49.8 million for the quarter on sales of $3 billion.
IMS Research analyst Josh Builta says that LG's lack of solid smartphones led to it capturing less than 3 percent share of the total smartphone market last year.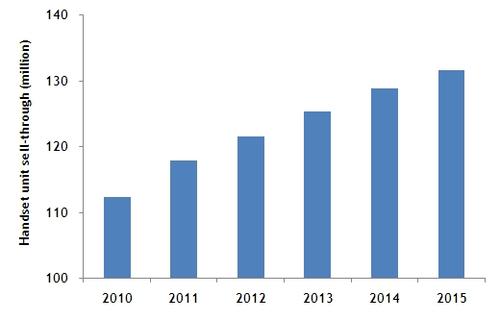 LG's low road to recovery
Competition from the current market leaders like
Apple Inc.
(Nasdaq: AAPL),
Samsung Corp.
and
High Tech Computer Corp. (HTC)
(Taiwan: 2498) has continued to hurt LG this year, but
research
from analysts at
Pyramid Research
suggests that smartphones may be the wrong focus for the handset maker.
Pyramid says that LG crippled itself by not committing to Android soon enough, expecting too much too soon from Windows Phone 7 and making two big missteps: 3-D and an out-of-left-field dual-touch-screen phone. (See
LG Launches Optimus 3D
.)
However, when LG has gone the cheap smartphone-lookalike route in the past, it has worked. In the second half of 2010, in several Western European markets, the company launched a below-€50 full touch-screen phone that was well-received in the youth demographic. Bokun expects this strategy to work well in emerging markets too.
"Instead of trying to fight the high-end masters in the smartphone space with an unproven technology such as 3-D and unnecessary features such as dual screen, LG should be playing in the space where they are stellar: high-end feature phones and low- to mid-tier smartphones," writes Senior Analyst Stela Bokun in a research note.
So far, though, LG seems to be bent on the smartphone market, where gains are higher. The company says it will continue to reduce its feature phone production in favor of smartphones like the 4G Revolution on
Verizon Wireless
even if that causes overall shipments to slip.
Based on LG's first-quarter results, Pyramid projected that LG would sell 117 million handsets this year. That projection has since gone down following an even worse second quarter. LG, itself, only expects to ship 114 handsets, 24 million of which will be smartphones, for the year. [Ed Note: Pyramid's second-quarter smartphone forecast will be out next week.]
— Sarah Reedy, Senior Reporter,
Light Reading Mobile
PARTNER PERSPECTIVES
- content from our sponsors