 When Rhonda Gass became chief information officer of Stanley Black & Decker, her first and foremost task was tackling inventory.
As with many Fortune 500 companies, Stanley Black & Decker grew through a series of mergers and acquisitions over decades. In 2009, a merger brought together the two brands Stanley and Black & Decker -- along with DeWalt -- to form the current company, which makes a wide range of hand, power and industrial tools.
Along with the growth came a multitude of different IT systems, which were inherited and sometimes forgotten. There were multiple contracts with SAP AG (NYSE/Frankfurt: SAP) and Salesforce.com Inc. , for instance. Gass, who previously worked at Dell Technologies (Nasdaq: DELL) and NCR Corporation, immediately started to investigate what was living inside the network.
Figure 1: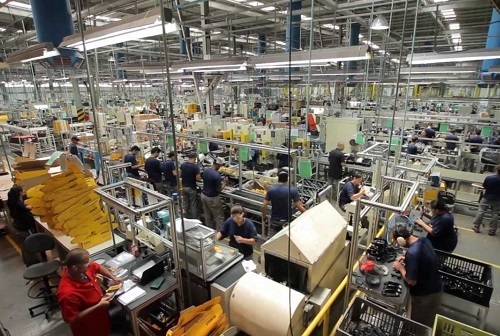 A Stanley Black & Decker factory
(Source: Stanley Black & Decker)
"When I came in to inventory the IT assets, it was quite surprising," Gass told Enterprise Cloud News in a recent interview. "No. 1, it was very difficult to do the inventory and find everything. Over the five years that I've been there, [we] have gotten pretty good at putting the CMDB in place, and to find some underpinnings that allow us to look at the technology footprint for the company."
Now, Stanley Black & Decker has about 12,000 applications, many of them in the cloud in a form of software-as-a-service. Under Gass, the company has also embarked on a multicloud strategy to help streamline its infrastructure.
Then there are the factories.
The importance of IoT
The company plans to build Internet of Things (IoT) capabilities in about 80 different facilities over the next five years as part of CEO James Loree's plan for a digital transformation. Already it has what Gass calls "lighthouse" facilities that serve as a beacon or example of what is possible.
The goals for the company's IoT and digital transformation are twofold. The first is to automate much of the process, which can help improve several different areas, including quality control. The second is to harness all the data flowing through the factories every day, and then use that data to find new efficiencies and advantages in the market.
As Gass describes it:
We already have sensors on a lot of our equipment, and what we need to do now is integrate that equipment and tie the workflow, if you will, across all of the different machines, and all of the different tooling in order to optimize it. While also looking at the skill-set changes that we need as you automate, not only for our site-support types who are in the IT organization, but also the manufacturing and engineering personnel. So there's a multi-pronged planning effort, if you will, underway.
When it comes to automation, Gass notes IT has been trying to automate back-end systems for years, and developments such as the cloud, in-memory computing, robotics and artificial intelligence are moving more and more companies in that direction at a much faster rate.
Keep up with the latest enterprise cloud news and insights. Sign up for the weekly Enterprise Cloud News newsletter.
"We've done lean manufacturing for years and have been very much focused on eliminating waste, improving working capital turns," Gass said. "And again, all of this automation, and the sensors, and the artificial intelligence can be applied there as well, and we're figuring out how to do that."
Right now, these lighthouse factories are very much in the experimental stage to show what the "art of the possible" is for the company, Gass said.
Data insights
For instance, in Atlanta the company has developed a team, called Digital Accelerator, which works with the IT department, as well as the businesses units, and has been creating an Amazon Web Services-based data lake.

Figure 2: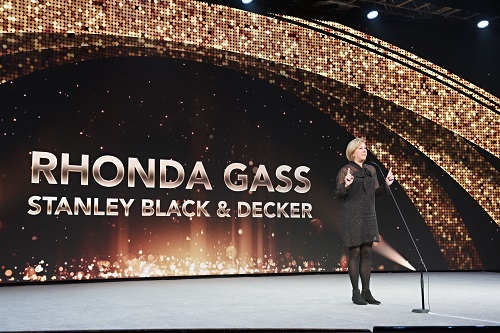 CIO Rhonda Gass speaking at a TBMC gathering
(Source: TBMC)
Currently, the team has been able to gather information for the data lake and is ready to move out of the exploratory phases and into a production environment to gain greater insights.
"That's part of that planning that we're putting in place around what our data lake production capability would be -- to service and support those factories," Gass said. "We've kind of envisioned an ongoing exploration, and then moving that into a production environment to run the operation in the current rev, while you continue to experiment. It's a very different approach from a traditional approach to do this project."
However, with any emphasis on IoT comes concerns about security, and who has access to data at any given time, especially when data lakes are being created. Add to those concerns new rules such as the European Union's General Data Protection Regulation (GDPR), which takes effect in May, and security becomes an even greater concern.
For someone in Gass's position, hooking an industrial-scale, toolmaking machine with a 30-year lifecycle into the Internet carries a unique set of concerns on the road to IoT.
These machines, such as a stamping machine, run on a 30-year lifecycle, which is very confined, and which may be running a very old operating system. That doesn't really matter if you patch it or not because it's not going anywhere. It's just kind of sitting there running. But if it's IoT-enabled, it's now something that needs to be patched more frequently on the same scale as your data center environment. Are the vendors that provide that equipment ready to adopt the new world of being on the Internet, or being connected, and ensuring the cybersecurity concerns?
This emphasis on IoT, including the security concerns, does not stop on the factory floor.
In fact, it extends to Stanley Black & Decker's customers as well. After all, if the factory is IoT-enabled, why can't individual tools and equipment be hooked into the Internet, too? These are the challenges that Gass and her team are willing to think hard about over the next several years.
"We're traditionally a mechanical/electrical engineering company, and we're now adding software skill-sets into our products," Gass said. "We're delivering IoT-enabled drills, or Bluetooth-enabled drills. What are the concerns around cybersecurity in that space that our traditional engineers are not used to thinking about? The IT group is assisting in helping put some of those policies and practices in place as well."
Related posts:

— Scott Ferguson, Editor, Enterprise Cloud News. Follow him on Twitter @sferguson_LR.
Subscribe and receive the latest news from the industry.
Join 62,000+ members. Yes it's completely free.
You May Also Like
---