Amazon Exec: IoT Reverses the Internet
Amazon Exec: IoT Reverses the Internet
The Internet is designed to deliver mass content from the center to the edge, but the Internet of Things needs to reverse that, says Sarah Cooper, Amazon Web Services general manager of IoT analytics and applications. Facial recognition on pigs is just a day in the life of Sarah Cooper, Amazon Web Services' general manager of IoT analytics and applications.
Recognizing individual pigs is important to figuring out when to feed and vaccinate them, and which ones to breed, Cooper noted in the opening remarks of her keynote at Open Networking Summit in Los Angeles Wednesday. It's a topic that comes up when she talks with farmers about the Internet of Things.
Amazon Web Services Inc. also gets called in to discuss how IoT can improve automotive manufacturing; tracking shipping containers, including containers containing crab meat, each of which is valued at $750,000, which makes tracking spoilage important, last mile delivery using drones and traffic flow through airports, Cooper said.
These kinds of applications can make IoT quite valuable, but IoT stretches the Internet in ways it was not designed, Cooper said.
"The Internet, originally designed by physicists to talk and communicate with each other, has developed into an extensive and powerful content delivery network," Cooper said.
The Internet today is designed to deliver mass volumes of content, particularly video, from the center to "masses of endpoints" that want to consume that content, Cooper said. IoT does the opposite -- it requires bringing masses of data from the edge inward. And that requires fundamental changes to Internet technology.
Figure 1: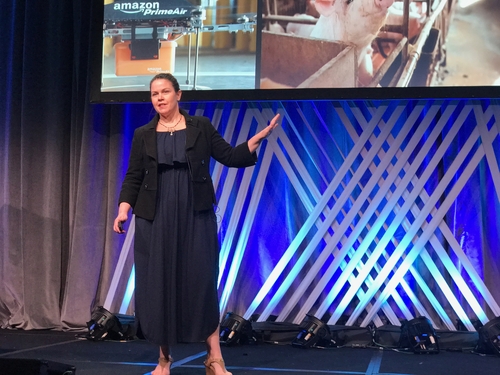 Amazon's Cooper.
Boost your knowledge of cloud-native software and innovations driving data center transformations! Join us in Austin at the fifth-annual Big Communications Event May 14-16. The event is free for communications service providers -- secure your seat today!
For example, a single oil refinery might have 130,000 sensors. "That's a lot of data running in the other direction," Cooper said.
And the content delivery part of the Internet doesn't go away. "I still have all my content delivery to do," Cooper said. "But now I also need to look at load balancing in the other direction."
Initially, it appeared that the Internet of Things would allow service providers to get new life from aging 2G and 3G networks. "That's like free money," Cooper said. Later, emerging standards such as LTE-M and LoRa created a "shouting match" among competing technologies on which could do a better job delivering data faster, better and more securely, Cooper said.
IoT presents challenges getting connectivity to remote locations. "Many global companies have assets in the middle of nowhere, without network connectivity," Cooper said.
And security raises additional concerns with IoT. The Stuxnet attack demonstrated that airgapped networks were no longer sufficient to achieve security, Cooper said.
Fortunately, the IoT solves some of the network problems it creates, for example by providing capabilities for over-the-air updates and remote device management, Cooper said.
Related posts:
— Mitch Wagner




Editor, Enterprise Cloud, Light Reading
Subscribe and receive the latest news from the industry.
Join 62,000+ members. Yes it's completely free.
You May Also Like
---