DANOS Fuels AT&T's White Box Binge
LOS ANGELES -- Open Networking Summit -- AT&T's plans to deploy white box routers in its mobile network beginning later this year will use a network operating system that is part of an open source project announced today, built on AT&T seed code, CTO Andre Fuetsch announced here today in a keynote speech. (See AT&T Preps White Box Routers for 5G.)
The white boxes will use software that AT&T Inc. (NYSE: T) developed and is releasing into open source to be the seed code of DANOS, the disaggregated network operating system open source project announced today by the Linux Foundation . (See LF Launches DANOS Project for New Disaggregated Network OS.)
"We are ready to move forward taking white boxes into our wireless infrastructure," Fuetsch said. "This will be based on an open hardware design and we will make the specifications available later this year so anyone can build it. We have a handful of these operating in our network, carrying live customer traffic today. But we think this is the future - flexible, scalable, upgradable and very cost-effective."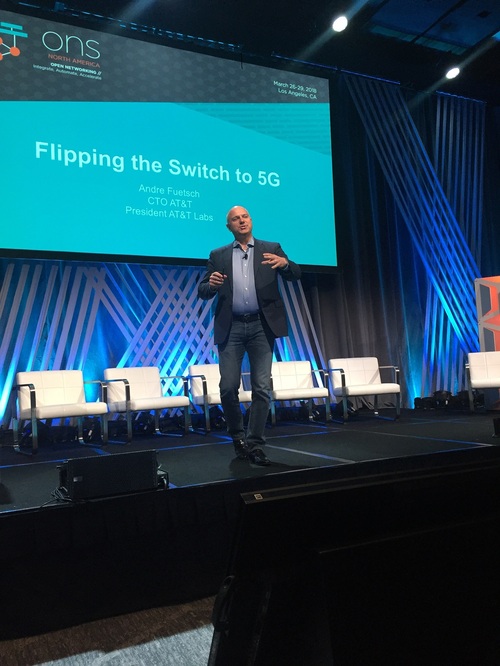 AT&T is pushing hard on this path because of the looming demand it expects to see on its network, which today carries 200 petabytes of traffic on a typical business day, up from 137 petabytes per day a year ago, he said.
By releasing DANOS into open source, AT&T expects to see the first public code available in the second half of this year, which Fuetsch called "a huge milestone."
"This is not just an operating system that handles the needs of the data center," the AT&T exec said. It has the capability to support carrier-grade protocols for things such as alarms, automation and other operational issues, and can fit multiple needs of communications service providers, both large and small.
AT&T's development of dNOS, which became the seed code for DANOS, was substantially aided by its acquisition of Brocade's Vyatta technology. Fuetsch gave a shout-out to the team of developers acquired in that deal. (See AT&T's Rice: White Box OS a Team Effort.)
This is the third year in a row that AT&T has used ONS to make a major splash. Two years ago, it first tipped its hand on willingness to bring its ECOMP software to open source, which is now part of ONAP. Last year, Fuetsch announced that AT&T was developing its own white box switches. (See AT&T Shares ECOMP Vision, Might Share Software and AT&T White Box a Disruptive Force)
---
Light Reading is bringing together all of the key players in the automation revolution for the first time at Automation Everywhere on April 4 in Dallas. Join us as we tackle the business and technology challenges behind driving network automation. The event is free for communications service providers -- register today!
---
Speaking ahead of Fuetsch, Arpit Joshipura, general manager of networking for the Linux Foundation, cited DANOS as an example of a new project that is coming in under the "Harmonization 2.0" phase, and is already being harmonized with two existing LF projects, FRRouting (free range routing) and OpenSwitch. In addition, LFN is in discussions with SONiC to "make sure we can get the Phy abstraction across all of this," and intends to work with P4 and Stratum as well.
— Carol Wilson, Editor-at-Large, Light Reading
PARTNER PERSPECTIVES
- content from our sponsors