Microsoft & IBM Partner With Red Hat: Why You Should Care
Sensible people tune out when vendors announce partnerships, but the deals Red Hat made with Microsoft and IBM this week are significant, and push forward Red Hat's ambitions to dominate cloud platform software, as well as driving containers and Kubernetes into the mainstream. (See Red Hat Partners With Microsoft & IBM for Hybrid Cloud Power.)
The partnerships are based on OpenShift, Red Hat Inc. (NYSE: RHT)'s Kubernetes container application platform that runs on both private and public clouds. Red Hat wants OpenShift to become the standard platform for enterprise containers, the way Red Hat Enterprise Linux (RHEL) is standard Linux for enterprise servers. Partnering with Microsoft Corp. (Nasdaq: MSFT) and IBM Corp. (NYSE: IBM) are big steps in that direction.

Microsoft Corp. and Red Hat are joining forces to bring OpenShift to Microsoft Azure cloud as a managed service. It's that last bit that's key. OpenShift was previously available on Azure, managed by Red Hat; now it'll also be available with Microsoft oversight. And Microsoft has more experience -- and street cred -- running cloud software on a global scale than Red Hat does.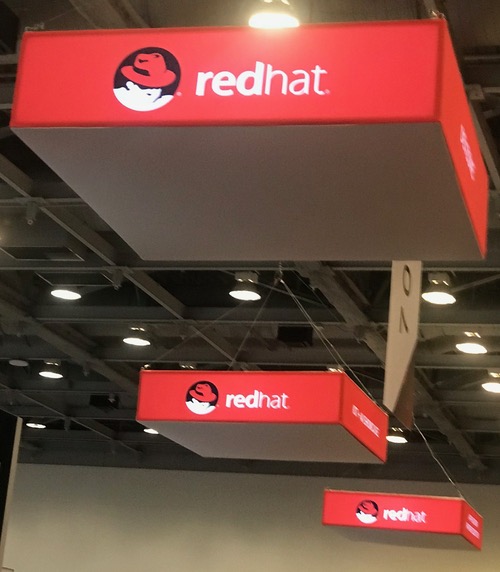 ---
Boost your knowledge of cloud-native software and innovations driving data center transformations! Join us in Austin at the fifth-annual Big Communications Event May 14-16. The event is free for communications service providers -- secure your seat today!
---
But wait there's more. Kubernetes container apps will be able to run on both Windows Server and RHEL. SQL Server will run as a Red Hat certified container on OpenShift, providing streamlined updates and application management, as well as a path to moving traditional SQL Server apps to containers.
The Microsoft partnership makes it easier for smaller enterprises, which don't have thousands of developers on staff, to get on board with OpenShift, Matt Hicks, Red Hat senior vice president of software engineering, tells Light Reading.
And OpenShift gives enterprises the ability to run containerized applications without cloud lock-in, as OpenShift supports multiple public clouds as well as private, on-premises infrastructure.
So the Microsoft partnership brings containers and OpenShift to enterprises running traditional Microsoft apps. The IBM deal does similar for enterprises standardized on Big Blue.
IBM is extending its IBM Cloud Private and IBM Cloud Private for Data services to OpenShift, bringing DB2 database, MQ messaging middleware and WebSphere web applications to the Red Hat container platform. As with the Microsoft deal, it provides a smooth on-ramp for traditional enterprises -- in this case, enterprises with a big IBM investment -- to get into containerized applications using Kubernetes.
Both Microsoft and IBM have legions of enterprise customers. The partnerships announced this week bring those customers closer to Red Hat.
Related posts:
— Mitch Wagner




Executive Editor, Light Reading
UPCOMING LIVE EVENTS
June 6-8, 2023, Digital Symposium
June 21, 2023, Digital Symposium
December 6-7, 2023, New York City
All Upcoming Live Events
PARTNER PERSPECTIVES
- content from our sponsors