Photos: Red Hat Gets Hot & Sweaty
SAN FRANCISCO -- Red Hat Summit -- I needed a Star Trek transporter this week, as there were at least six major cloud-related conferences worth covering. Because I can't be in more than one place at a time, I picked Red Hat Summit in San Francisco, and I'm OK with my choice. With one exception.
The conference featured updates on Red Hat Inc. (NYSE: RHT)'s march to the cloud, Kubernetes and serving bigger enterprises, highlighted by deals with Microsoft Corp. (Nasdaq: MSFT) and IBM Corp. (NYSE: IBM). Our coverage so far:
Like I said, I was mostly OK with my choice to attend Red Hat rather than the alternatives. My one complaint:
This conference has no cookies, pastries, or almond or soy milk for the coffee. #RHSummit pic.twitter.com/NyE5jlKez0

— (▀̿Ĺ̯▀̿ ̿) (@MitchWagner) May 9, 2018
Tech conference protip: When attending conferences, my rule is I wear jeans to events with the name "open" in the title, and otherwise wear a suit. Red Hat is a unique edge case -- the word "open" isn't in the title, but the company is founded on open source. On the other hand, it's enterprise focused, suggesting a suit as appropriate business attire. I went with a suit on day one, and jeans on day two.
When I was not running around working on articles, and feeling the pain of sugar/carb withdrawal, I found some interesting oddities in corners of the conference. Click on the slideshow below for some of what I saw.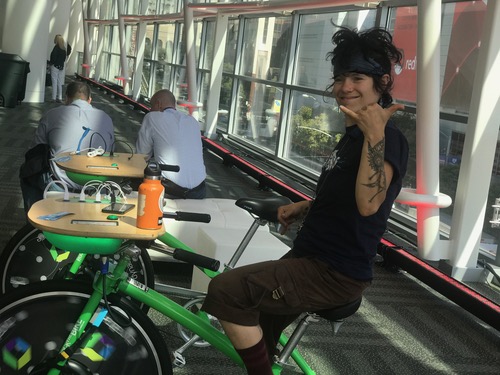 ---
Boost your knowledge of cloud-native software and innovations driving data center transformations! Join us in Austin at the fifth annual Big Communications Event May 14-16. The event is free for communications service providers -- secure your seat today!
---
— Mitch Wagner




Executive Editor, Light Reading
UPCOMING LIVE EVENTS
June 6-8, 2023, Digital Symposium
June 21, 2023, Digital Symposium
December 6-7, 2023, New York City
All Upcoming Live Events
PARTNER PERSPECTIVES
- content from our sponsors