Amazon Web Services has been the butt of insults from Oracle Founder Larry Ellison, even though Oracle claims AWS is a major customer. Now, Amazon is flipping Oracle the bird, and reportedly planning to move off Oracle databases by 2020.
Amazon.com Inc. (Nasdaq: AMZN), which has its own cloud database that competes with Oracle Corp. (Nasdaq: ORCL), plans to be completely off Oracle's database software by the first quarter of 2020, according to a CNBC report Wednesday.
Ellison's insults are like when the nerdy kid makes fun of the most popular kid in school. AWS is growing at a rate of 49%, while Oracle is about the same size as it was four years ago. (See Amazon Cloud Revenue Leaps 49% to $5.44B and Larry Ellison Laughed at the Cloud, Now the Cloud Is Laughing Back.)
Moreover, Amazon has 34% market share in the cloud, more than the next four competitors combined, and Oracle isn't even one of those other four (Microsoft, IBM, Google and Alibaba, in that order), according to a report released Friday by Synergy Research Group Inc. (See Amazon Still Dominates Cloud Market, Bigger Than Next Four Competitors Combined.)
So, yeah, Oracle gets some good jokes. But Oracle eats its sad lunch of baloney sandwiches alone at a table near the boy's room, while AWS is the Homecoming Queen and class valedictorian.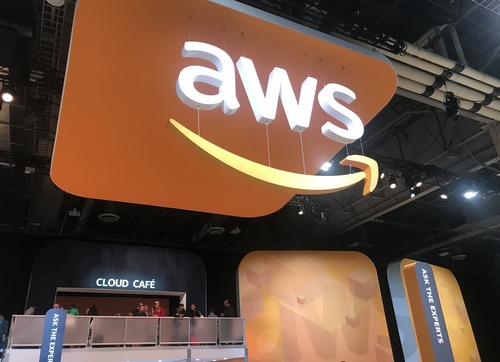 ---
Now entering its fifth year, the 2020 Vision Executive Summit is an exclusive meeting of global CSP executives focused on navigating the disruptive forces at work in telecom today. Join us in Lisbon on December 4-6 to meet with fellow experts as we define the future of next-gen communications and how to make it profitable.
---
Neither Amazon nor Oracle responded to queries at press time.
Amazon began moving off Oracle four to five years ago, according to one of several anonymous sources, says CNBC. Some of its core shopping business still relies on Oracle, and the full migration should complete in about 14 to 20 months. Amazon claims the Oracle technology simply does not scale to meet its performance needs.
Oracle claims AWS spent $60 million last year on Oracle products, just because Oracle is better than anything AWS offers, Ellison said in October. And SAP AG (NYSE/Frankfurt: SAP), another Oracle competitor, is also a big Oracle customer, Oracle says. (See Oracle's Ellison: Amazon & SAP Use Our Database Because We're Better.)
Oracle and SAP countered that Ellison is full of rubbish about Oracle performance. (See 'No Facts, Wild Claims & Lots of Bluster'; Amazon Hits Back at Oracle's Ellison.)
Oracle is getting into the cloud, launching Autonomous Database Cloud, in competition with AWS Redshift, late last year. Ellison claims the Oracle service runs at half the cost of the AWS database, with guaranteed 99.995% uptime, or about a half-hour downtime per year. (See Oracle's Ellison: We'll Beat Amazon Cloud Pricing by Half.)
Reports first surfaced in in early January hat both Oracle and Salesforce were planning to move off Oracle. (See Are Amazon & Salesforce Ditching Oracle?)
Oracle and AWS are also reportedly butting heads over a plum contract from the US Department of Defense. Oracle is leading a Washington push to stop AWS from being sole winner of a lucrative DoD contract that will be rewarded in coming months. Oracle wants in on the deal, and so do other technology companies that have joined forces with Oracle, including Microsoft, IBM, Dell Technologies and Hewlett Packard Enterprise. (See Oracle Leads Lobby Against AWS for Juicy Pentagon Deal – Bloomberg .)
— Mitch Wagner




Executive Editor, Light Reading