Oracle's Ellison: We'll Beat Amazon Cloud Pricing by Half

Comment (3)
Oracle's Larry Ellison threw down the gauntlet to Amazon Web Services on Thursday, debuting a new "autonomous" database combined with flexible pricing that he said will allow Oracle to beat Amazon pricing by half.
Reduced labor costs will be a big part of the cost savings, said Ellison, who is Oracle Corp. (Nasdaq: ORCL)'s co-founder, chairman, and chief technology officer.
Enterprises won't have to pay people to administer their cloud services, and -- because the software won't make mistakes -- enterprises will eliminate the cost of human error as well, Ellison said.
"The database runs itself," Ellison claimed, in a news conference in San Francisco that was video-streamed over the Internet. "Human beings aren't touching the steering wheel. This is completely self-driving. There is no pilot error possible."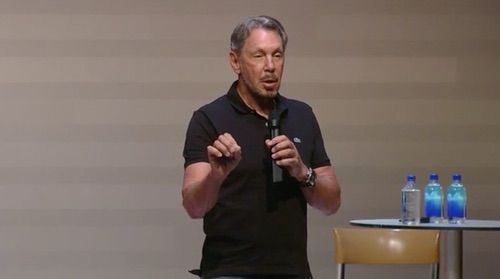 ---
Keep up with the latest enterprise cloud news and insights. Sign up for the weekly Enterprise Cloud News newsletter.
---
Oracle will guarantee 99.995% uptime, for 30 minutes or less of downtime each year -- and all of that downtime will be planned. "The system never breaks," Ellison said. It tunes, configures, updates, and patches itself, and can install patches while still running.
Oracle has historically followed a two-strategy approach to competing with Amazon Web Services Inc. , Ellison said. On infrastructure-as-a-service (IaaS), Oracle matched Amazon's price but offered better performance to beat Amazon's cost to customers. And on platform-as-a-service (PaaS), such as database and analytics, Oracle sees the greatest cost to be labor and human error, rather than hardware and software, and offers automation to reduce that cost.
"Human error. You might say how bad could it be? How bad could a simple little mistake be?" Ellison said. Then he cited Equifax Inc. as an example of an expensive problem caused by human error -- failure to implement a software patch. (See Equifax Breach Won't Be the Last or Worst.)
Oracle's automated database will be available in December, with more details coming at Oracle OpenWorld beginning October 1.
Also, Oracle plans on Monday to introduce Universal Credits, which Ellison described as a simplified means of buying cloud services, compared with Amazon. While Amazon customers have to specify which services they plan to use and in which region, Oracle customers can just buy credit with Oracle and use those credits on whatever service they wish, changing services on the fly.
Oracle will offer discounts for customers who use Universal Credits, compared with pay-as-you-go service. For annual incremental commitments, customers will get 10% savings on PaaS and 5% on IaaS. For annual credits that expire monthly, customers will earn a 30% savings for PaaS and 15% for IaaS.
Ellison's presentation provided further detail on hints he dropped on an earnings call last week which, at that time, seemed more buzzwords than substance. (See Upcoming Oracle DB Hits All Buzzwords.)
On that call, executives said cloud revenues helped drive Oracle to 7% year-over-year growth for the first quarter, ending August 31. Cloud revenue boomed 51% to $1.5 billion, although cloud is only part of Oracle's overall $9.2 billion revenue for the quarter.
And Ellison's announcement comes a day after Amazon made its own streamlined pricing news, offering pay-by-the-second pricing for key services. AWS will charge by the second for services including Linux instances on Elastic Compute Cloud (EC2), provisioned storage for Elastic Block Store (EBS), and more. (See AWS: We Charge by the Second Now.)
Oracle is lagging far behind in cloud market share. Amazon is the faraway leader for IaaS, PaaS, and hosted private cloud, with 34% market share, followed by Microsoft Corp. (Nasdaq: MSFT) at 11%, IBM Corp. (NYSE: IBM) at 8%, and Google (Nasdaq: GOOG) at 5%, according to a study of second quarter 2017 market share released in late July by Synergy Research. Good news for Oracle, though: It's in the top ten, and it and Alibaba.com Hong Kong Ltd. achieved highest growth rates, with lower-ranked cloud providers losing market share. (See AWS, Despite Slowdown, Reigns Over Cloud Market – Report.
As for cloud infrastructure hardware and software, Cisco Systems Inc. (Nasdaq: CSCO), Hewlett Packard Enterprise and Dell Technologies (Nasdaq: DELL) are leaders, with Oracle grouped among "other leading players," along with a half-dozen companies, according to a recent Synergy study. (See Cisco, HPE, Dell EMC Fighting for Cloud Infrastructure Dominance.)
Related posts:
— Mitch Wagner




Editor, Enterprise Cloud News