IBM: Incumbents 'Striking Back' at Business Disruption

Comment (9)
An IBM study strikes at the heart of common wisdom about business disruption and incumbents.
Everyone knows that technology startups and outsiders are hammering incumbent businesses in fields like transportation (Uber), hospitality (Airbnb) and retail (Amazon). But everyone's wrong, according to the 19th IBM Global C-suite Study, released Monday.
IBM Corp. (NYSE: IBM) interviewed 12,800 C-level executives, and nearly three-quarters told it that "innovative industry incumbents take the lead in disruption" (72%).
"Incumbents are striking back," Jesus Mantas, global leader of strategy and offerings, IBM Global Business Services, tells Enterprise Cloud News.
"For the last few years, big companies have been noticeably shaken by start-ups and other disruptors coming from Silicon Valley and beyond," IBM said in an email statement. "But a new study of 12,800 C-suite executives across 20 industries in more than 112 countries found these incumbents are refusing to be disrupted. Instead, they're taking lessons learned from agile start-ups and disrupting from within."
IBM adds, "In fact, only 26 percent of CxO's interviewed now think competitors outside their industry pose a significant source of disruption compared to 54 percent in 2015."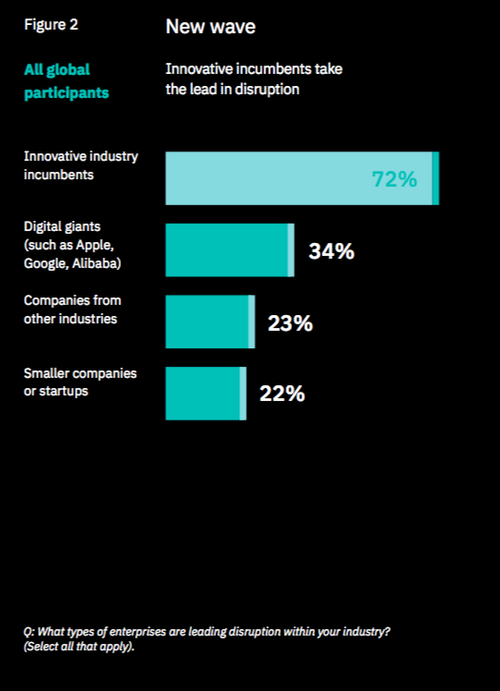 ---
You're invited to attend Light Reading's Big Communications Event  – the one event that delivers fresh perspective on the rapid transformation of the telecom industry and the road ahead. We'll see you May 14-16 in Austin – communications service providers get in free!
---
"What changed?" IBM asks. "One wave of disruption may be abating. Ubiquitous mobility and digital media have already shaken up the most susceptible industries. The Uber and Airbnb phenomena rolled through markets with excess capacity and eroded profits for many."
Also, the US environment for startups is hostile (despite headlines that might lead you to believe the opposite). "The number of business startups in the United States recently reached a 40-year low," the report notes. Investors are looking for safe bets. "Angel and seed funding fell along with first-time financings; investment shifted to existing unicorns and late-stage deals."
And incumbents are buying disruptors, "along with their digital skills and innovator talent," the report says. Financial services firms are snapping up fintech, insurance and regulatory technology companies. "In other industries, Walmart acquired platform retailer jet.com, among other startups, while UPS bought Coyote Logistics, the 'Uber of trucking.'" Airbus, the Virgin Group, Qualcomm and other companies invested in OneWeb, to provide global broadband Internet access. (See OneWeb Raises $1.2B From SoftBank, Others and OneWeb's Satellite Plans Attract $500M From Big Names.)
One of the leading ways that companies are disrupting industries is by transforming into platform providers, IBM says. A platform is a service for sharing assets and information among multiple companies, customers, partners and even competitors.
For example, six of Canada's leading banks -- the Bank of Montreal, Canadian Imperial Bank of Commerce, Desjardins Group, Royal Bank of Canada, Scotiabank and TD Bank -- are cooperating on a digital identity system for customers based on blockchain. (See Blockchain: Can It Solve the Identity Crisis?)
The biggest challenge
In another example, GM's Maven Gig platform offers short-term electric vehicle rentals to "gig" workers who drive for GM's ride-sharing partners, including Grubhub and Lyft.
And shipping logistic company Maersk and IBM are teaming up on a joint venture to use blockchain to build an information platform to cut red tape for the entire global shipping industry. (See IBM & Maersk Set Sail With Blockchain.)
Perhaps the biggest challenge faced by innovators building platforms is learning to cooperate with competitors. "Platform Operators don't simply tolerate competitors participating in their platform; they become invested in each others' success," IBM says.
It's a difficult transition, but the rewards are great.
"On average, platform orchestrators grow revenues faster and generate higher profits than other business models, earning market valuations as high as eight times revenue," IBM says.
People beat tech
People, rather than technology, drive disruption, Mantas says. New technologies come and go; disruptive companies thrive by fostering an environment where workers learn new technologies as they emerge.
"The companies doing better are the companies that are not just focused on the skills, but how do you create a pervasive and continued learning culture," Mantas says. "The only way you get ahead is if you are better than others at continually learning. Whatever the hot skill is today, five years from now it's not going to matter. The sustainable advantage will be that you can learn as fast or faster than anybody else."
The cloud is key to sustaining disruption. It's the technology platform for building business platforms, Mantas says.
Also, by outsourcing infrastructure maintenance to cloud providers, enterprises free up funding and staff to focus on innovation.
Other findings of note:
Data gives incumbents a powerful advantage. Only 20% of the world's data is public, with incumbents owning 80%, IBM says.
Customer experience will be more important than technology in the next two to three years, according to two-thirds of survey respondents, IBM says.
In conducting the survey, IBM and Oxford Economics interviewed C-suite executives from 112 countries and 20 industries, in 2,047 face-to-face meetings and 10,807 live phone interviews. These weren't just multiple-choice questions; respondents gave free-form answers which were analyzed with the aid of -- what else? -- IBM Watson Natural Language Classifier to analyze the unstructured text and identify themes and priorities.
Get the report here: 19th IBM Global C-suite Study
Related posts:
— Mitch Wagner




Editor, Enterprise Cloud News