Shipping logistic company Maersk and IBM are teaming up on a joint venture to use blockchain to build an information platform to cut red tape for the entire global shipping industry.
Around $4 trillion worth of goods are shipped each year, with more than 80% of goods consumers use daily carried by ocean, the two companies say in a statement. But the red tape is huge -- about one fifth of the actual physical transportation costs. Reducing barriers within the international supply chain could increase global trade by nearly 15%, according to World Economic Forum statistics quoted by the two companies.
IBM Corp. (NYSE: IBM) sees blockchain as a great technology to address the business and technical challenges presented by the global shipping industry, in which large numbers of organizations doing business with each other around the world. These organizations include shipping companies, financial institutions, governments and retailers, who rely on shipping to stock their shelves.
"Trusted information sharing and sharing processes across companies is the sweet spot for blockchain, and this is a perfect example of that," Ramesh Gopinath, IBM vice president of blockchain solutions, tells Enterprise Cloud News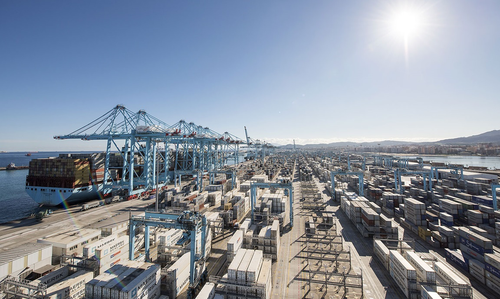 ---
Keep up with the latest enterprise cloud news and insights. Sign up for the weekly Enterprise Cloud News newsletter.
---
Blockchain is useful where no organization in the transaction trusts any other organization -- such as a bank or government agency -- to act as a centralized record-keeper, Gopinath says. "If everybody in the ecosystem trusts company X to run a database, then you don't need blockchain. But that is not the case with this ecosystem," he says. International trade frequently involves US entities doing business in China with companies they've never done business with before, and blockchain provides a great solution to that trust problem.
Blockchain is decentralized -- it doesn't rely on a single bank or government as a central source of truth. Instead, every participant in a supply chain has a copy of the entire ledger of transactions included in that chain. Because of that redundancy, the ledger is immutable -- it can't be changed, only added to -- which makes it secure and tamper-resistant.
IBM sees a blockchain platform as facilitating solutions to multiple business problems in shipping. First is location. "Everyone wants to know where a container is and its status in real time," Gopinath says.
Tracking the location of individual containers enables improved inventory management for retailers and operations improvements for ports.
The blockchain can also become a ledger of paperwork, including compliance and financial records, Gopinath says.
Workflows, such as purchase orders, deliveries and payments, are coded into the blockchain as "smart contracts," for efficiency and security, he says.
Transactions would be nearly instantaneous, where they now take days or even weeks to complete, with some transactions conducted by mail, Gopinath says.
But the entire industry has to participate to get the full benefit, which is why IBM and Maersk have decided to launch the platform as a joint venture.
In addition to blockchain, the IBM/Maersk joint venture will use other cloud open source technologies, including artificial intelligence, Internet of Things and analytics, delivered by IBM services. The services will benefit manufacturers, shipping lines, freight forwarders, port and terminal operators, customs authorities and ultimately consumers, IBM says.
IBM and Maersk began collaborating on blockchain and cloud technologies in June 2016, and their platform has been piloted by multiple parties, including DuPont, Dow Chemical, the Customs Administration of the Netherlands and US Customs and Border Protection.
"The joint venture will now enable IBM and Maersk to commercialize and scale their solutions to a broader group of global corporations, many of whom have already expressed interest in the capabilities and are exploring ways to use the new platform, including: General Motors and Procter and Gamble to streamline the complex supply chains they operate; and freight forwarder and logistic company, Agility Logistics, to provide improved customer services including customs clearance brokerage," IBM says.
Other organizations involved in the project include Singapore Customs and Peruvian Customs, which will explore using the platform to facilitate trade flows and enhance supply chain security; global terminal operators APM Terminals and PSA International, to enrich port collaboration and improve terminal planning; and the Guandong Inspection and Quarantine Bureau for quality traceability along important trade corridors into and out of China, IBM says.
Michael White, former president of Maersk Line in North America, will be CEO of the new IBM/Maersk joint venture. Maersk will own 51% of the organization, with IBM owning the remainder.
Solutions from the joint venture will be available within six months after regulatory clearance, the partner companies say.
The platform is built on IBM Blockchain technology, provided through IBM Cloud and using Hyperledger Fabric 1.0, a project hosted by the Linux Foundation.
IBM made a point of singling out blockchain as a potential growth domain on its quarterly earnings call last week. (See IBM Earnings Lesson: Don't Call the Mainframe a Dinosaur.)
Related posts:
— Mitch Wagner




Editor, Enterprise Cloud News