Oracle, SAP Clash on Blockchain
Oracle, SAP Clash on Blockchain
Oracle is offering blockchain as a cloud service, while SAP plans to integrate blockchain into its Internet of Things, manufacturing and digital supply chain solutions. Two more giant vendors are looking to get in on the blockchain action, as Oracle and SAP launch rival blockchain projects.
Oracle Corp. (Nasdaq: ORCL) is launching Oracle Blockchain Cloud Service on Monday. It's a platform to allow enterprises to integrate blockchain into their business operations.
SAP AG (NYSE/Frankfurt: SAP) last week announced plans to integrate blockchain into Internet of Things (IoT), manufacturing and digital supply chain solutions using the SAP Cloud Platform Blockchain service, along with several blockchain customers and partners.
Blockchain is a distributed, open protocol for keeping a record of transactions. Because blockchain is decentralized, it doesn't require a central authority, such as a bank or government agency, to keep an official record. The complete record is kept by every node on a blockchain record, and the official version is determined by polling each node in case of conflict.
The lack of need for a central authority reduces cost and speeds up transactions enormously. The fact that blockchain is open, with multiple open source implementations, also reduces cost and accelerates innovation.
Blockchain launched with Bitcoin, and is also used by other cryptocurrency, to keep track of who owns which coin. One of the benefits of blockchain is that each digital object it tracks is unique, like paper records before cheap, ubiquitous photocopying. And digital objects can represent physical assets, such as cars, real estate and components used in manufacturing.
Figure 1: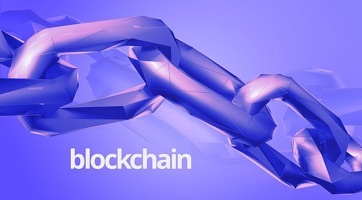 Image by By Davidstankiewicz (Own work) [CC BY-SA 4.0], via Wikimedia Commons
The technology can also be used as a platform to execute applications, known as "smart contracts."
IBM Corp. (NYSE: IBM), Microsoft Corp. (Nasdaq: MSFT) and Cisco Systems Inc. (Nasdaq: CSCO) are among leading enterprise vendors providing blockchain services. Now both Oracle and SAP are looking to get in on the act.
Oracle's Blockchain Cloud Service, announced Monday, runs as a platform for enterprises to build blockchain networks to track business. "We maintain everything -- the plumbing, the guts," Frank Xiong, Oracle group vice president of product development, tells Enterprise Cloud News. "The customer just needs to be focused on developing their own smart contracts and doing the transactions among partners and peers."
Oracle's Blockchain Cloud Service is enterprise-grade and scalable, with the ability to add more peers to a blockchain network as it grows. Information on the network is secured so that only authorized peers can access information -- not even Oracle itself can access that information without authorization, Xiong says.
Oracle is already working with partners Accedian , Oracle's own NetSuite business unit, as well as Infosys Technologies Ltd. (Nasdaq: INFY) and an unnamed Indian bank on blockchain implementations using Blockchain Cloud Service, Xiong says.
SAP last week announced several blockchain customers and partners, as well as plans to integrate the digital ledger system into IoT, manufacturing and digital supply chain solutions using the SAP Cloud Platform Blockchain service.
Partners and customers in the Tuesday SAP announcement include Capgemini, Deloitte, GrainCorp, HCL Technologies, HERE Technologies, Moog Inc., Natura Cosméticos S.A., NetApp and PeerNova.
Defense contractor Moog, for example, is working with blockchain to certify the quality of a part at each step of the manufacturing process, SAP's Gil Perez tells Enterprise Cloud News. Moog plans to use blockchain in its industrial, medical and aerospace businesses, the company said in an SAP statement.
Perez is a senior vice president for SAP Leonardo, an SAP business to help foster innovation, combining professional services and technology to help enterprises come up with fresh ideas for solving business problems, and then implement them. His responsibilities include IoT and digital supply chain, as well as connected vehicles and IoT security.
Additionally, SAP opened registration for the SAP Leonardo Blockchain Early Access program, to give customers and partners access to standard SAP products augmented with blockchain capabilities. The early access program will be open for registration until early Q1 2018.
The early access program focuses on automotive, aerospace and defense, discrete manufacturing and utilities, and other supply chain and business networks including logistics network providers, SAP says.
Other enterprise vendors have also been busy on blockchain projects recently.
Cisco and a group of big enterprises and small software developers launched an alliance last week to standardize essential security, interoperability and other services for Internet of Things applications using blockchain. (See Cisco & Partners See Blockchain Opportunities in IoT.)
IBM partnered with a group of major food distributors to use blockchain to protect the global food supply chain. (See IBM, Partners Using Blockchain to Protect Food Supply.)
IBM is partnering with Sony on a project to store and manage student records and other critical documents and data. (See Sony, IBM Bringing Blockchain to Education.)
And Microsoft launched Coco, an open source platform to improve blockchain scalability, speed, governance and privacy, for business-to-business transactions. (See Microsoft Serves Coco-Flavored Blockchain for Enterprise.
— Mitch Wagner




Editor, Enterprise Cloud News
Subscribe and receive the latest news from the industry.
Join 62,000+ members. Yes it's completely free.
You May Also Like
---