IBM, Partners Using Blockchain to Protect Food Supply
IBM, Partners Using Blockchain to Protect Food Supply
IBM and a consortium of major retail and distribution vendors are planning to use blockchain technology to better monitor and secure the global supply chain for food. Blockchain is making its way inside a number of different markets beyond cryptocurrency, including banking, insurance, government, education and healthcare. However, can the technology protect the global food supply?
IBM and a consortium of food retailers and distributors are going to find out.
On Tuesday, IBM and this group of major distributors are planning to unveil blockchain applications that can better track food, from its origin, to the warehouse to the supermarket shelf. To achieve this Big Blue will help lead a group that includes some of the biggest names in food distribution, including Dole, Golden State Foods, Kroger, McCormick and Company, Nestlé, Tyson Foods, Unilever and Walmart
In addition, IBM plans to release a full version of its enterprise-grade blockchain platform though its IBM Cloud.
Brigid McDermott, vice president of Blockchain Business Development at IBM, told Enterprise Cloud News that it takes too long to report problems within the global food supply chain -- she used a recent example of a salmonella outbreak with papayas -- from its origin with the growers to the people buying the product.
Figure 1: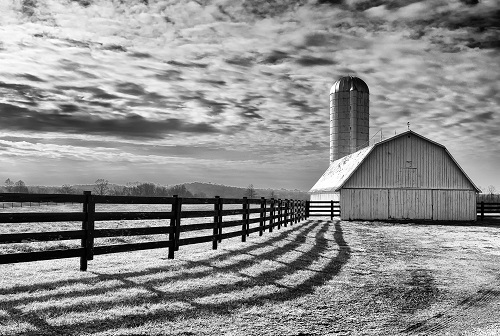 Farm, to table, to blockchain
(Source: MichaelVines via Pixabay)
The World Health Organization estimates one in 10 people fall ill each year due to contaminated food.
"There is a lack of understanding within this network of where the problem is and how to deal with it in a surgical manner, and there a lack of awareness within the public of what could cause health problems," said McDermott in the interview. "What we want to see is can we use blockchain to transform food safety from something that takes months or weeks and reduce it down to seconds, and do a better job of taking containments and fraudulent items out of the food system. This can make faster, safer and better for everyone."
This is where blockchain comes in. Since the technology provides a distributed database or ledger that can be used to track ownership of digital or physical objects, McDermott believes that it can provide the digital records, as well as the trust between the different companies, needed to not only track food but to quickly alert the different parts of the supply chain when and where there is a problem.
"It's really more of a social issue -- how do we get everyone engaged about being comfortable about sharing their information," McDermott said. "How do they understand that they still own the data? The answer is a permissions blockchain."
Keep up with the latest enterprise cloud news and insights. Sign up for the weekly Enterprise Cloud News newsletter.
IBM had previously worked with Walmart to track pork and mangos through the supply chain, and the addition of these other companies, McDermott noted, helps build the ecosystem and increase visibility, as well as insights, within the supply chain.
As with numerous other blockchain projects, IBM and its food supply chain partners are building this platform off the Hyperledger Fabric 1.0 framework developed and support by the Linux Foundation.
The public version of the IBM blockchain platform also uses Hyperledger Fabric 1.0 and is available as of August 22. The platform offers several features, including:
Developer tools to help companies build their own blockchains for different projects. This includes APIs, as well as support for programming languages, such as JavaScript, to help build these platforms.

Governance tools to increase productivity, and allow for the creation of smart contracts and other blockchain projects.

Finally, security tool, including encryption keys, to help protect data.
McDermott noted that by opening up the platform to more users, IBM is helping to bridge the gap between the types of projects companies want to use blockchain for, and the lack of resources and skills needed to build these platforms.
"We can start really getting scale, and see an increase in the number and breadth of solutions that are answering industry problems," she said.
Related posts:

— Scott Ferguson, Editor, Enterprise Cloud News. Follow him on Twitter @sferguson_LR.
Subscribe and receive the latest news from the industry.
Join 62,000+ members. Yes it's completely free.
You May Also Like
---