A company named Carbon is looking to bring 3D printing to industrial scale, and is turning to the cloud to help its internal applications keep up with the pace of innovation.
"We're changing the way people design, make and deliver products," Chris Hutton, Carbon director of operations, told Enterprise Cloud News at the Oracle OpenWorld conference in San Francisco last week. Carbon makes industrial-grade 3D printers, which open up design freedom, unconstrained by traditional manufacturing methods, Hutton says. Carbon claims its devices are 25-100 times faster than normal 3D printing, and can use materials with the same properties as traditional injection molding materials, making 3D printing practical for manufacturing.
Adidas plans in December to sell a line of 3D-printed sneakers based on Carbon technology.
For applications to run the business, Carbon didn't go far from home. Carbon tapped Oracle Corp. (Nasdaq: ORCL), headquartered in Redwood City, Calif., the same Silicon Valley town as Carbon's own HQ.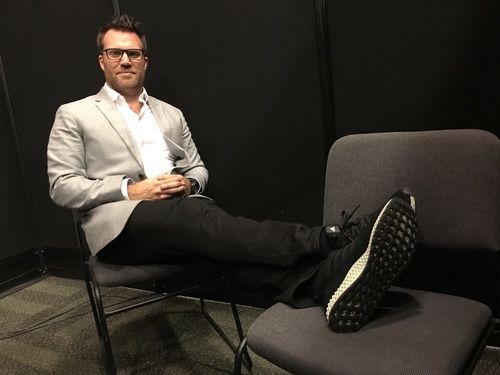 ---
Keep up with the latest enterprise cloud news and insights. Sign up for the weekly Enterprise Cloud News newsletter.
---
Carbon uses Oracle Enterprise Resource Planning (ERP) Cloud, Human Capital Management (HCM) Cloud, Supply chain Management (SCM) Cloud and Oracle Service Cloud.
The cloud is integrated into Carbon's entire business philosophy, says Hutton. He described the company's business model as "hardware-as-a-service," providing its printers as connected, Internet of Things (IoT) devices.
When looking for its own internal systems, Hutton says he was informed by his own experience of nine years at GE, and Carbon CFO Luke Kelly's similar service time at Corning. "We both dealt with big companies stuck with on-prem, and a volume of customization that meant they couldn't upgrade to the latest and greatest," Hutton says. "And we didn't want to manage our own servers." The company was looking to avoid having to test integration of multiple vertical solutions.
"We said 'let's go and find a cloud provider that can offer us a natively integrated set of apps that can provide us everything we need for people, financials, manufacturing and operations,'" says Hutton. "When you look at the full breadth of what we need, there are only two providers." The other option would have been SAP AG (NYSE/Frankfurt: SAP), but Oracle was more focused on standardization and scalability. "And we really just got a better deal from Oracle," Hutton said. Moreover, both Hutton and Carbon's CFO, Luke Kelly, had a personal preference and familiarity with Oracle.
Carbon got its Oracle implementation up and running in six months last year.
"The advantage we had as a young company is we had no legacy, and no heavily embedded process that would be a nightmare to change," Hutton said.
Carbon made the decision to adapt its business process to Oracle software, and stick with the plain-vanilla Oracle service, with no customization. That allows Carbon to take advantage of Oracle's six-month upgrade cycle, Hutton says.
Hutton compares customizing Oracle to jailbreaking your personal iPhone -- sure, you may get some benefit from it, but it becomes difficult to stay on top of vendor-issued upgrades and patches.
And by standardizing on a single-vendor solution, Carbon avoids having to hire people to integrate apps from multiple vendors. "When I was at GE, there were people whose job it was to connect the dots for systems, and do the analytics and reporting," Hutton says.
Standardizing on Oracle also makes the company more agile. Carbon now requires seven days to close a financial period, down from 28 days. It's opened five business units around the world without having to add IT to serve the new businesses.
"We've been able to scale without adding resources," Hutton says.
Related posts:
— Mitch Wagner




Editor, Enterprise Cloud News