'No Facts, Wild Claims & Lots of Bluster'; Amazon Hits Back at Oracle's Ellison
'No Facts, Wild Claims & Lots of Bluster'; Amazon Hits Back at Oracle's Ellison
Amazon and SAP say Larry Ellison's claims against them are baloney. SAN FRANCISCO -- Oracle OpenWorld -- Amazon and SAP aren't going to let Larry Ellison's insults go unanswered.
Following Ellison's swipes at Amazon.com Inc. (Nasdaq: AMZN) and SAP AG (NYSE/Frankfurt: SAP) in a keynote here Sunday, SAP on Monday delivered a measured, factual response to Ellison's claims.
Amazon's comment on Monday was more fun.
In a keynote address Sunday night at Oracle Corp. (Nasdaq: ORCL) OpenWorld San Francisco, the Oracle chairman, co-founder and chief technology officer made a number of claims about his company's two competitors. (See Oracle's Ellison: Amazon & SAP Use Our Database Because We're Better.)
About Amazon, Ellison said that company's Redshift database is nine to 15 times more expensive to run than Oracle's upcoming Autonomous Database Cloud. He reiterated a guarantee that Oracle can cut bills in half or more for Amazon customers migrating to Oracle.
Figure 1: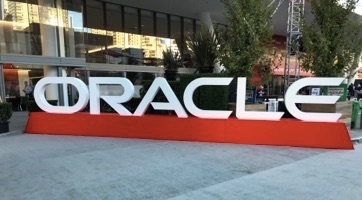 Oracle signage outside Oracle OpenWorld in San Francisco Monday morning.
Keep up with the latest enterprise cloud news and insights. Sign up for the weekly Enterprise Cloud News newsletter.
He also said Oracle beats Amazon on uptime, that Amazon used $60 million in Oracle services last year, and that Oracle beats Amazon on scalability, able to scale infrastructure up and down on the fly to meet changing customer demand.
Amazon fired back at Oracle on scalability and did not respond on the other points:
"Yeah, that's factually incorrect," an Amazon spokesman said in email. "With Amazon Redshift, customers can resize their clusters whenever they want."
Also, enterprises can scale compute separately from storage "against their data in Amazon Simple Storage Service" using Redshift Spectrum, "and pay per query for just the queries they run. But most people know that."
The spokesman added, "This sounds like Larry being Larry. No facts, wild claims and lots of bluster."
As for SAP: Ellison said that SAP, too, uses Oracle services, rather than SAP's own HANA database. Specifically, SAP runs its SuccessFactors human resources service, which SAP acquired in 2011, on Oracle. SAP has two other software-as-a-service (SaaS) cloud apps and runs both on Oracle, Ellison said.
SAP responded Monday morning that SAP is following its own migration plans on its SaaS apps. SuccessFactors will migrate by March, and SAP Ariba supply chain services and SAP Hybris marketing services will be migrated by the end of the year.
Related posts:
— Mitch Wagner




Editor, Enterprise Cloud News
Subscribe and receive the latest news from the industry.
Join 62,000+ members. Yes it's completely free.
You May Also Like
---