Five Signs That the US Cable Industry Is Fracturing
Five Signs That the US Cable Industry Is Fracturing
MSO-on-MSO competition, lawsuits, diverging network strategies, out-of-footprint OTT video threats... this is not your father's cable industry. As 2019 gets underway, it's clear that the US cable industry looks nothing like it did even a decade ago. It's not nearly as collaborative and collegial as it once was.
We're not here to judge if that's a good or bad thing, but this latest (and ongoing) wave of industry consolidation has forever changed the cable landscape. Comcast designs a lot of its own products and has become an industry services company in part through its X1 syndication program. The Cable Show is no more. Cable One Inc. has practically forsaken pay-TV in favor of its higher-margin broadband business. (See Cable One Gets Credit for Putting Pipes Ahead of Programming.)
Things just aren't the same. Hey, that's business. You change or you die. I mean, hell, even Yoda agrees with me! Or at least this meme with Yoda on it agrees with me. And I don't argue with memes!
Figure 1: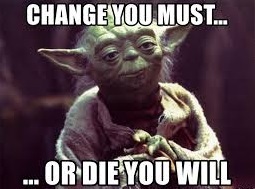 Still, the reality check is that cable's tightknit friendships, alliances and joint ventures aren't all on the verge of completely unraveling tomorrow.
After all, the Society of Cable Telecommunications Engineers (SCTE) and CableLabs still play significant roles in the technology direction of the industry, the NCTA – The Internet & Television Association and American Cable Association (ACA) are still helping to lead the regulatory path for their constituents, and partnerships and joint ventures like Canoe, the Comcast Corp. (Nasdaq: CMCSA, CMCSK)-Charter Communications Inc. mobile operations JV, are still intact. (See Comcast, Charter Launch Mobile Platform Partnership.)
But there has been some fraying around the edges, indications that the chummy US cable industry has become decidedly less collegiate and friendly as business strategies diverge and the industry -- from service providers down to their major suppliers -- continues to consolidate, and scale becomes the name of the game.
What follows is a representative list of five of those signs that I've observed:
Cable operators competing against other cable operators
This is a big one, at least from a symbolic perspective. While incumbent cable operators do tangle with so-called overbuilder MSOs such as WideOpenWest Holdings LLC (WOW) and RCN Corp. , it's rare to see incumbent cable operators compete against each other and breach a "gentlemen's agreement" that goes back decades.
But the essence of that unwritten agreement has been fading, with a prime example being Comcast's recent moves to edge out and pursue franchises in adjacent areas that are already the turf of other MSOs. It's not something that's running rampant, but it's happening, and it's rankling some of cable's old guard.
Multichannel News has an excellent in-depth story about this, centering on recent moves by Comcast to broaden its borders to reach more business and residential customers that have historically been the domain of small mom and pop cable ops. While Comcast, which hasn't made similar actions into territories controlled by major MSOs such as Charter, views these relatively small overbuilding moves is as a way to better serve large enterprise clients in adjacent markets, others see it as a "cultural shift and the first hairline crack in the cable industry," Mike Farrell writes.
Former Buford Media CEO Ben Hooks put it this way to MCN: "When I started in this business, we all helped each other... You don't see that, especially with Comcast. As far as they're concerned, there's them and there's the rest of the industry." Ouch!
CableLabs sues Buckeye Broadband
Last month, CableLabs filed a lawsuit against Buckeye Broadband, suing the Ohio-based operator over allegations that Buckeye is delinquent in paying its dues to the Colorado-based cable R&D organization. Buckeye notified CableLabs in January 2018 that it wanted to pull its membership, but CableLabs notes that the subscription agreement stipulates that Buckeye remains a paying member for three years after notifying CableLabs of its intentions to depart. (See CableLabs Sues Buckeye Over Delinquent Dues.)
There's a couple ways to look at this. Perhaps Buckeye no longer feels it's getting the value out of its membership and feels that money would be better spent elsewhere, and took a chance that CableLabs would just let non-payment slide. On the other end, CableLabs has a right to defend against alleged breaches of the agreement. However, the lawsuit could also be viewed as a deterrent, setting of an example in case any other members might be entertaining similar thoughts. In any case, it's an unusual and surprising battle that, I think, speaks volumes about the state of the US cable industry.
Diverging next-gen network strategies
While there were always nuances in some of the specific tactics, most cable operators have been in lock-step on the evolution of the HFC network from the early days of DOCSIS 1.0, to 1.1, 2.0, 3.0 and, in most cases, with DOCSIS 3.1.
After being on a similar path for years, cable ops are at a crossroads about what to do next on those HFC networks – deploy Full Duplex DOCSIS, an annex to D3.1 that enables multi-gig symmetric speeds; look at the alternative work around extended spectrum DOCSIS; or just take fiber-to-the-premises. (See Full-Duplex DOCSIS Not One-Size-Fits-All and Arris CTO: What's next for DOCSIS?)
Comcast appears to be the big champion of FDX, which requires an N+0 architecture (no amps between the node and the home) as fiber is pulled deeper, while others are not nearly as enthusiastic, viewing N+0 as a deal-breaker and causing them to seek out alternatives. Altice USA, meanwhile, is moving aggressively with FTTP upgrades. (See Altice USA Lights Up FTTH Service in Long Island.)
And with respect to distributed access architectures, there's some different schools of thought with remote PHY and remote MACPHY. Meanwhile, Charter Communications is the heavy behind GAP (Generic Access Platform), an SCTE standard in the works that will commoditize the node and provide a uniform way for modules to be snapped into place. It's a novel idea, but a controversial one that doesn't have complete buy-in and has been met with much skepticism (Light Reading will have a lot more on this topic soon). (See Using a Lego Approach to Cable Node Upgrades .)
Those disparate views could affect vendor roadmaps and cause them to make hard decisions on where to invest. And if one major cable operator zigs, while everyone else zags, is that cable operator big enough to make a market?
Next page: Altice USA pulls its NCTA membership card

Altice USA pulls its NCTA membership card
So, you thought Cablevision Systems was an industry maverick, marching to the beat of its own drum? The actions of Altice USA , which acquired Cablevision in 2016, seem to be saying: Hold my beer. (See Altice USA Exec: We're a 'Challenger Brand' .)
As already noted, Altice USA is eschewing D3.1, save for some small stop-gaps, in favor of FTTP. Altice is also going its own way with Altice One, its home-grown all-services gateway, rather than pursuing a platform that, for example, would tap into open source software from RDK Management, the Comcast, Liberty Global and Charter J.V.
Altice USA, which has its own R&D labs in Portugal, is still a dues-paying member of CableLabs, but don't expect that to last forever, as it told CableFax that it has given notice to preserve its option to leave. (See Altice One Levels Up and Altice USA's Mobile Service to Be 'BYOD-Heavy' .)
And Altice USA is also branching out on its own on the mobile front, teaming with Sprint on a "full" MVNO that is on-track for a mid-2019 launch.
While those are technology-facing, decisions, a big one in the regulatory realm occurred in the fall, when Altice USA withdrew its membership from the NCTA, noting that it will "focus on direct advocacy relating to issues that impact our businesses and our customers," and will work with industry peers and other associations "when our interests are aligned."
"You go your way, we'll go ours," seems to be Altice USA's broader message.
The changing video landscape
There's no doubt that the cable pay-TV sector is struggling in an age of cord-cutting and the rise of virtual MVPDs.
The aforementioned network edge-outs notwithstanding, incumbent operators have thus far held off from launching national OTT-TV services that would compete directly with their MSO peers. Sure, Comcast has a piece of Hulu, but I don't count that as a direct competitive video play for Comcast. And we'll see if Comcast will create a global OTT service following its acquisition of Sky, as some are predicting.
In recent years, Comcast has held that an OTT-TV service offered outside its footprint isn't economical and do not outweigh the benefits of bundling other services, like broadband. Hulu's piling losses back up that argument, but will Comcast's in-footprint-only video stance last forever? With the persistent pressure coming from the current crop of OTT-TV services alongside the ambitious direct-to-consumer plans underway at Disney, which is in position to secure a majority stake in Hulu, I say no. At some point, a scaled OTT-TV service will become economically palatable, and that will start to get cable ops – at least the largest ones – more enamored with the idea of a national OTT offering. (See Disney Dispenses Details About Its New Streaming Service.)
As I suggested back in 2011, it's only a matter of time before we start to see cable operators launch video services outside their own footprints. Once one MSO launches those missiles, others will be forced to do the same, and the results will cause an all-out war that will blow up the foundation of cable's cooperative history. (See Signs of the Video Armageddon.)
Some of the signs are there. In 2017, reports surfaced that Comcast was starting to renegotiate some programming deals to include national, digital streaming rights that they've been granting to other video service distributors.
Some of those discussions factored in "most favored nation" clauses that Comcast is entitled to. Plus, those additional rights doesn't necessarily mean that Comcast is about to launch a video assault outside its boundaries (in fact, there are indicators that any near-term OTT efforts will be focused in-footprint). But, to me, it does indicate that the company is at least preparing itself just in case that day comes. And that day is only getting closer. (See Comcast Vetting Video Streaming Box for Broadband-Only Subs and What Is Comcast Doing With VivaLiveTV? )
Again, these are just five observations and occurrences that suggest that, with apologies to Oldmobile (may it rest in peace), this is no longer your father's cable industry.
What else has happened that amplifies this belief? By the same token, what are the ties that will continue to bind and prevent the cable industry from becoming the telcos, at least from a friendship and collaboration standpoint? Sound off on the message board below.
— Jeff Baumgartner, Senior Editor, Light Reading
Subscribe and receive the latest news from the industry.
Join 62,000+ members. Yes it's completely free.
You May Also Like
---