Comcast Vetting Video Streaming Box for Broadband-Only Subs
Comcast Vetting Video Streaming Box for Broadband-Only Subs
Tests centered on X1-powered device with voice remote capability will integrate Netflix and other OTT content, provide customers an upgrade path to Comcast's pay-TV bundles.
Comcast is testing a streaming video device for broadband-only customers that runs the MSO's X1 platform and integrates Netflix and other OTT-sourced content, while also enabling those customers to upgrade to one of Comcast's pay-TV packages, a person familiar with the plan confirmed.
CNBC first reported on the customer trials, believed to be running in a select set of Comcast markets with a small base of users. CNBC noted that the device will aggregate apps such as Amazon Video and YouTube and give users the ability to rent TV shows and movies from Comcast Corp. (Nasdaq: CMCSA, CMCSK). But it stressed that the cable operator still hasn't decided how it will price the device as it plans to launch it more broadly in 2019.
Comcast isn't commenting on its plans. A person familiar with them said the MSO is still mulling pricing options and what the final version of the device it will pitch to broadband-only customers will look like. However, the MSO is using an IP client device called the Xi6 for the initial batch of trials, a source said.
Figure 1: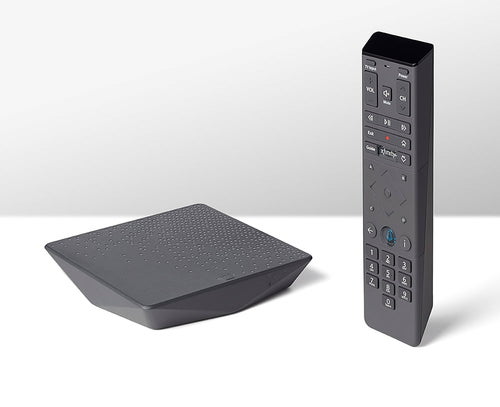 Comcast is using the Xi6 (left), a 4K-capable IP client device that runs the X1 platform, for the early trials. At right is the XR15, Comcast's newest X1 voice remote model.
Designed by Comcast and built by Arris Group Inc. (Nasdaq: ARRS), the Xi6 is an X1 client box that supports the platform's integrated apps, the X1 voice remote and 4K video (starting with Netflix's 4K library). The Xi6 connects to TVs via an HDMI cable but talks to the primary broadband gateway wirelessly. The Xi6 has no built-in tuners, suggesting that Comcast will use the app that underpins its Xfinity Instant TV streaming service for customers who decide to upgrade to a full pay-TV package. The Xi6 doesn't have local DVR storage (Comcast's X1 service does have a cloud DVR offering), but the device does have enough on-board buffer memory to pause and rewind almost 30 minutes of live video. (See Comcast Reveals Instant TV & the IPTV Future.)
Comcast hasn't announced which specific apps will be integrated with the device, but it has already completed or is in the process of finalizing integrations with several OTT services, including Netflix, Amazon Prime, YouTube and Sling TV , the Dish Network LLC (Nasdaq: DISH)-owned OTT-TV service. Comcast has already integrated Sling TV's slate of international video packages with its X1 platform but has not yet woven in Sling TV's primary Orange and Blue pay-TV packages. (See Amazon Prime Video to Stream to Comcast's X1 Boxes.)
Comcast, the person added, views this option as an extension of its X1 platform and as a value-add for Internet-only customers, noting that it will integrate select OTT applications and support X1's voice navigation system. But, as a further step, the device will also enable those customers to control and manage other connected smart home devices and aim to drive out some of the technological complexities involved in digital home setups.
That video-capable device will also work in conjunction with a Comcast gateway such as the xFi Advanced Gateway, a DOCSIS 3.1-based device with built-in WiFi that's also known as the XB6.
Raising X1's platform profile
At its core, X1 is an operating system that is initially focused on set-tops, though it's technically possible that X1 could be integrated into other types of devices, such as smart TVs, that use an OS. However, it's not an area that Comcast is actively looking into at the moment.
That potential aspiration will no doubt draw comparisons to the aims of retail-focused streaming and/or smart home platforms from the likes of Roku Inc. , Apple Inc. (Nasdaq: AAPL) (tvOS), Amazon.com Inc. (Nasdaq: AMZN) (Fire TV) and Google (Nasdaq: GOOG) (Android TV), not to mention those developed internally by TV makers such as Samsung Corp. (Tizen) and LG Electronics Inc. (London: LGLD; Korea: 6657.KS) (webOS).
However, Comcast's angle appears to be more limited in scope given its focus on content aggregation and fewer apps. Plus, the product Comcast has in mind will be targeted to consumers in the MSO's own broadband service footprint, not on a full national basis.
Comcast is expected to explore and experiment much more during this trial phase before it solidifies what will go into a commercial product that's expected to show up sometime in 2019.
Comcast's new product is also starting to surface as the MSO continues to see strong broadband subscriber growth alongside troubling pay-TV losses. In Q3, Comcast lost 95,000 residential video subscribers but gained 334,000 residential broadband customers. (See Comcast Surpasses 1M Xfinity Mobile Lines.)
— Jeff Baumgartner, Senior Editor, Light Reading
Subscribe and receive the latest news from the industry.
Join 62,000+ members. Yes it's completely free.
You May Also Like
---