Appian CEO Sees Low-Code as Digital Transformation Key
Appian CEO Sees Low-Code as Digital Transformation Key
Fresh off its IPO earlier this year, Appian is looking to make low-code mainstream and part of the digital transformation process. Matt Calkins, co-founder and CEO, is leading the way. In Matt Calkins view, digital transformation traps enterprise CIOs between two competing forces.
"The biggest driver is this diversion between two macro trends: One is more software and the other is not having more developers," Calkins, a co-founder and CEO of Appian, said in a recent interview. "Software keeps going up and the number of developers stays stable and the CIO is stuck between the two."
The cure for this, in Calkins' view, is low-code.
Appian has been developing its own low-code platform over the last 18 years since the Dartmouth graduate helped found the Virginia-based company. Low-code, which allows developers to quickly spin up applications with a minimum of hand-coding, has had its supporters over the years, but the technology and its ability to speed up development in an era of Agile and DevOps is gaining additional traction.
Appian, with help from Forrester, recently published a study that found the low-code market could be worth about $10 billion by the end of 2019. In addition, the competition in this market includes some of the bigger stalwarts in tech, including ServiceNow, Salesforce, Oracle and IBM. (See Low-Code: Can It Speed Up DevOps, Agile?)
Carl Lehmann, an analyst with 451 Research, does not consider low-code its own market, but rather a natural extension of software development that started with traditional applications built for the enterprise and eventually moved to software-as-a-service (SaaS), business process management suites and workflow orchestration.
Figure 1: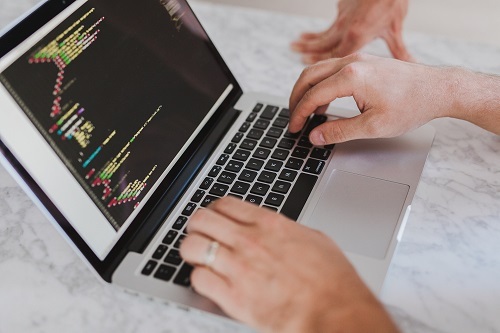 Low-code: New market or natural evolution of software?
(Source: StockSnap via Pixabay)
The key to low-code's growth is that line-of-business (LoB) managers saw some limits in the SaaS model for certain applications but it needs apps to help compete and couldn't wait for IT.
"These vendors have been in the business of helping line-of-business and department leaders quickly bring up applications that overworked IT organizations couldn't get to in a reasonable amount of time," Lehmann said, adding that the simpler these vendors made their tools, the more they sold as companies needed more and more applications in a shorter amount of time.
In his telling, Calkins describes low-code as working like Lego blocks. IT makes the objects and anyone else in an enterprise can then use those objects to make applications. The unique part is that CIOs and their staff still have control since developers create the interfaces, the rules, the process flow charts and the integrations.
"You get to disperse authorships and keep central management," Calkins said.
Since everyone in the business is using the same building block, those developing the code can share data and other resources. At the same time, since everything is sandboxed, low-code provides a layer of security.
While it might seem that Appian falls into the DevOps category of application development, Calkins believes his company's version of low-code is more akin to an Agile methodology.
"We have a deeply agile view of what software should be," Calkins said. "It's to the point where we think it should be organic and adaptive and most software is static. We're hyper Agile."
Years in development
Calkins and his co-founders decided to start Appian in the late 1990s. At the time, he was a "paper millionaire" working at a hot startup, but left before the bubble burst.
For the next 18 years, Calkins worked at building Appian and kept the company private, even avoiding much of the venture capital market. Then, on May 25, the company went public, setting its IPO share price at $12, and ending the day at $15 -- good enough for a $75 million opening day.
"Many CIOs think that if they build a unique piece of software, they will have to write it instead of configure it like they could in the Appian platform," Calkins explained as the reason why the company went public now. "We wanted them to know that low-code existed … By going public in order to bring this option to you -- the CIO -- it's a good awareness move."
Since then, the company's stock price has hit a high of over $22, but has stayed in the $20 range.
Appian has also showed some growth over the past several years. The company went from 173 employees at the end of 2011, to 753 of March of this year, according to paperwork filed with the US Securities and Exchange Commission.
The company has about 280 customers, includes ones in financial services, healthcare, government, telecommunications, media, energy, manufacturing and transportation. The SEC papers list some of the larger ones as Dallas/Fort Worth International Airport, Sprint, Major League Baseball, UPS and AIG. The US Defense Department's Defense Information Systems Agency is also listed.
Figure 2: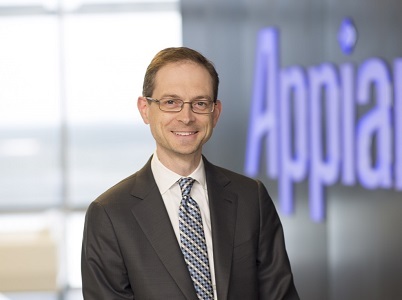 Appian CEO Matt Calkins
(Source: Appian)
451's Lehmann noted that the one difference between Appian and some of the other players is that the company targeted enterprise users and went after bigger accounts.
"Appian was an early pioneer in enabling the low-code phenomenon, specifically for mobile application development and they were early to realize 'we're not just a BPM vendor, we're a development environment' so they migrated their platform to a platform-as-a-service functionality," Lehman said.
Keep up with the latest enterprise cloud news and insights. Sign up for the weekly Enterprise Cloud News newsletter.
It hasn't been a completely smooth ride for the company. In addition to facing competition from Salesforce, Oracle and startup Nintex, Appian sustained net losses of $17.1 million, $7 million and $12.5 million in 2014, 2015 and 2016 respectively, according to the SEC.
However, during its first public quarterly report, Appian reported revenue grew 33% year-over-year from $32.4 million to $43.2 million. Net losses, meanwhile, increased from $4.2 million to $14.2 million year-over-year as the company spent more on marketing and research and development.
Focus on digital transformation
The key to future business is keeping a focus on digital transformation and the CIOs who must make it happen. As Calkins sees it, applications need to get into production faster and once there, work across a variety of platforms, whether it's desktop, tablet, mobile or what the future holds in the Internet of Things, which could mean watches, glasses and virtual reality headsets.


However, the need for more and more applications creates its own software sprawl.
"Digital transformation means more software, as well as security, and reducing the perimeter means more consolidation and these are big trends for CIOs," Calkins said. "The expense of maintaining software is an enormous problem. There are too many applications."
At the same time, CIO have lost a lot of control over IT as cloud services have lowered the barriers. This is where low-code, in Calkins view, becomes the equalizer.
"The CIO fights day-to-day to maintain their authority," Calkins added. "We are a weapon at their side to help them maintain control of their enterprise."
Related posts:

— Scott Ferguson, Editor, Enterprise Cloud News. Follow him on Twitter @sferguson_LR.
Subscribe and receive the latest news from the industry.
Join 62,000+ members. Yes it's completely free.
You May Also Like
---