Vodafone's German Gigabit Plan Piles Broadband Misery Onto DT
Vodafone's German Gigabit Plan Piles Broadband Misery Onto DT
Germany's telecom incumbent has already witnessed ten years of broadband decline at the hands of cable operators. Are things about to get worse?

Brits and Germans have much in common. The English language, for starters, has Germanic roots. So does a large "Anglo-Saxon" chunk of the UK population. And while those hot-tempered southern Europeans favor wine as a tipple, the no-nonsense Brits and Germans can bond over their love of beer, and their ability to guzzle copious amounts in a single sitting.
They are also cursed with some of the lousiest broadband in Europe. Data published by the FTTH Council Europe in September last year ranked the UK the worst of 33 countries on the take-up of full-fiber services. Germany did little better in the 29th spot. But while there are signs the UK may start to haul itself up the ladder, Germany is still teetering on the bottom rungs like a sozzled east European builder.
Figure 1: International Broadband Take-Up Rates (% of Population)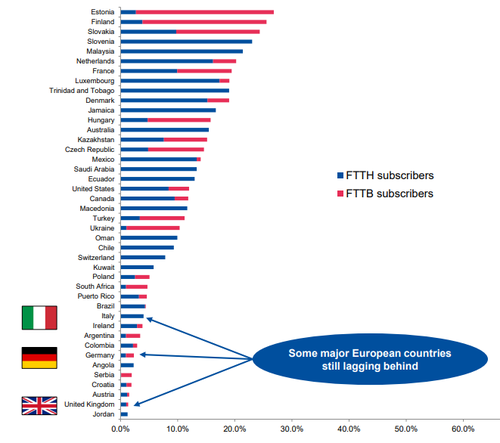 Source: FTTH Council Europe, IDATE.
The chief villains are the countries' linked incumbents: The UK's BT today counts its biggest individual shareholder, with a 12% stake, as Germany's Deutsche Telekom. Historically, both players have been reluctant to spend money on a full-fiber upgrade of their ageing copper lines. Egged on by Boris Johnson, the UK's ambitious new prime minister, and goaded by smaller rivals building full-fiber networks, BT has upped its fiber commitments and promised even more if "investment conditions" are good. Under far less pressure, Germany's Deutsche Telekom is still mainly plugging away at technologies that supercharge its last-mile copper connections.
But another UK company could be the catalyst for a strategic change. Vodafone, which sells mobile and broadband services in Germany, recently bought Unitymedia, a major cable operator previously owned by Liberty Global, after regulators eventually signed off the deal with conditions. Combining Unitymedia's network with Vodafone's cable assets is like fitting together two large finished sections of the German cable jigsaw. And Vodafone's plans for that network may force Deutsche Telekom to rethink its broadband approach.
By taking advantage of a cable technology called DOCSIS 3.1, Vodafone reckons it will be able to market a high-speed "gigabit" service to as many as 25 million German homes by the end of 2022. If speed matters to German customers, this gigabit footprint could be a huge commercial advantage. Supervectoring, a copper-based technology that is Deutsche Telekom's focus, runs out of juice at about 250 Mbit/s.
Deutsche Telekom has started work on some full-fiber projects that would put gigabit fuel in the broadband tank. But its target is to cover only 2 million homes annually. Vodafone CEO Nick Read says this will give Deutsche Telekom all-fiber access to just 8 million homes by the end of 2022. The actual number could be much lower: According to a recent company blog, Deutsche Telekom will not begin targeting 2 million homes a year until 2021, and it currently supports just 1.1 million all-fiber connections.
The dilemma is hard for shareholders to ignore. In the last decade, Deutsche Telekom's share of Germany's broadband market has fallen from 47% to 39%, according to the operator's own statistics. Over that period, cable has accounted for more than 60% of the growth in broadband lines. At the end of 2009, just 2.2 million broadband connections were delivered over cable infrastructure. By December last year, that figure had soared to 8.2 million. Even before Vodafone's €18.4 billion ($20.6 billion) takeover, cable competition was hurting Deutsche Telekom.
Figure 2: Germany Broadband Lines (Millions) and Market Share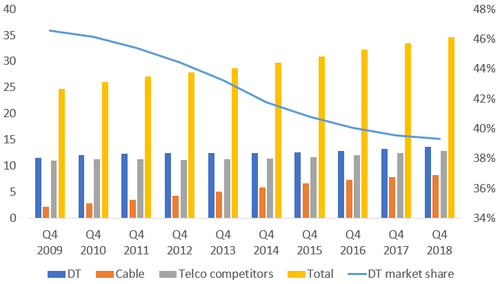 Source: Deutsche Telekom.
So far, however, there has been no talk of revisiting those full-fiber rollout targets. And a "fiber for all" policy that mirrors that of Boris Johnson -- who wants the entire UK to have full-fiber networks by 2025 -- would be an even bigger challenge in Germany. Many of its households are single-dwelling units found some distance from local street cabinets, driving up the cost of fiber deployment. Providing full-fiber connections to every German property would cost between €60 billion ($67 billion) and €80 billion ($90 billion), Deutsche Telekom has previously estimated.
Nor is Germany's biggest operator in a strong position to fund such a huge project. In the US, its plans to acquire and merge Sprint with T-Mobile have generated uncertainty about future dividend payments to shareholders. Net debt increased by €3.8 billion ($4.3 billion) in the last quarter, to €75.7 billion ($84.9 billion), because of dividend payments, tower leases and spectrum costs. That figure is 2.74 times what Deutsche Telekom makes annually in adjusted earnings (before interest, tax, depreciation and amortization) and puts it next to its "comfort zone ratio" upper limit of 2.25-2.75. Sales are rising, thanks largely to the US performance, but capital expenditure in Germany is already at a record high. Even when spectrum fees are stripped out, it has ticked up from 15% of sales in 2013 to around 20% last year.
Figure 3: Deutsche Telekom in Germany ( euro B)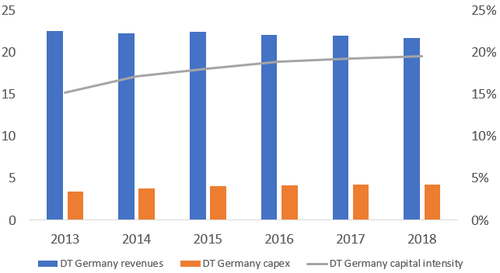 Source: Deutsche Telekom.
Executives may hope Vodafone's Read is all mouth and no trousers, to use a British expression. While more straightforward than a full-fiber deployment, a gigabit upgrade of cable systems for 25 million homes will not be easy to pull off. Deutsche Telekom has also cast doubt over the value of cable as a "future-proof" technology: Cable subscribers must share bandwidth, it has previously noted, whereas old-fashioned DSL offers dedicated connectivity per customer. "I am assuming that policymakers are expecting Vodafone and Liberty to not only upgrade their old network with coax but also invest in FTTH [fiber-to-the-home]," said Timotheus Höttges, Deutsche Telekom's CEO, during a phone call with reporters last week.
Next page: Action needed
Action needed
But customers choosing between a cable service advertised at 1 Gbit/s and a Deutsche Telekom line that promises 250 Mbit/s may not share his coaxial concerns. And the further loss of broadband market share would demand a response.
On the plus side, Deutsche Telekom has nearly finished its long-overdue upgrade to networks based entirely on Internet Protocol technology. "We will then have new funds freed up that can be reinvested," said Höttges last week, when asked what impact "all-IP migration" would have on broadband.
Figure 4: Facing Up to the Fiber Challenge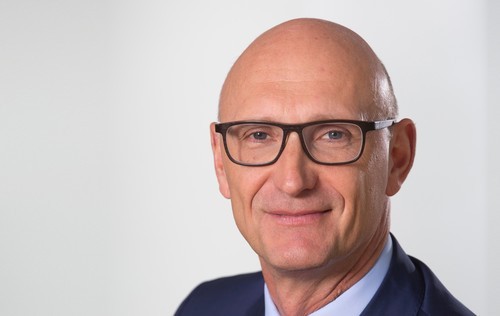 Deutsche Telekom's Timotheus Höttges may come under renewed pressure to do something about Germany's fiber lag.
Yet without more partnerships and government assistance, Deutsche Telekom may limp on. Last year, there was talk of a fiber tie-up with United Internet, one of Deutsche Telekom's wholesale customers. Under a proposed scheme, the companies looked to jointly build an all-fiber network for about 5 million households. But discussions stalled over ownership terms.
More encouragingly, Deutsche Telekom has already teamed up with EWE, a German energy and infrastructure provider, on the construction of an all-fiber network for about 1.5 million households in the states of Lower Saxony, North Rhine-Westphalia and Bremen. Each company is to invest about €1 billion ($1.1 billion) over the next ten years. A partnership with regional authorities in Stuttgart has similar goals.
Outside these ventures, however, Deutsche Telekom has had little to show for its efforts. Its annual budget of around €2 billion ($2.2 billion) for all-fiber rollout provides room for other Stuttgart-like initiatives, it has said. And yet no major partners have been unveiled since Thomas Dannenfeldt, Deutsche Telekom's former chief financial officer, complained this time last year about the paucity of private-sector bidders during the Stuttgart all-fiber tender. "My expectation was that more parties would seriously put a stake into the ground," he told analysts at the time. Continued apathy could even jeopardize the all-fiber coverage target of 2 million homes a year.
For more fixed broadband market coverage and insights, check out our dedicated Broadband content channel here on Light Reading.
The blame could fall partly on Deutsche Telekom if stakeholders believe it has not offered enough incentives to prospective partners. In November, Höttges grumbled that United Internet wanted only a 25% stake in a fiber tie-up, and not the full risk-sharing that a 50:50 joint venture would entail. Its demand for a nationwide mobile roaming deal was also unacceptable, he said. The question for Deutsche Telekom is whether taking deals on sub-optimal terms presents a lower risk than not answering Vodafone's gigabit challenge.
As for the German government, it also needs to consider new ways of closing the giant fiber gap between Germany and other European countries. Vodafone's gigabit plans could spur interest in building all-fiber networks among private-sector companies, but only if conditions improve. Above all, that means scrapping regulations that make fiber rollout more difficult and expensive. Just allowing operators to lay fiber at a shallower depth could reduce civil engineering costs by 40% in some municipalities, said Höttges in October last year. Deutsche Telekom has already suffered ten years of broadband decline. If that slide continues, Europe's biggest economy could pay the price.
Related posts:
— Iain Morris, International Editor, Light Reading
Subscribe and receive the latest news from the industry.
Join 62,000+ members. Yes it's completely free.
You May Also Like
---