 Deutsche Telekom will aim to cover 99% of the German population with more advanced 5G mobile technology by the end of 2025 as it continues to make an annual investment of €5.5 billion ($6.4 billion) in German capital expenditure, CEO Timotheus Höttges announced at a press conference in Berlin on Thursday.
The update on the German incumbent's 5G plans came just a day after Höttges said about 80% of its 27,000 mobile sites are now linked to fiber-optic connections and based on single RAN (radio access network) technology, which allows different radio standards to run on the same hardware. (See DT CEO: 80% of Our Network Is '5G Ready'.)
That makes those sites "5G ready," said Höttges. Swedish equipment vendor Ericsson AB (Nasdaq: ERIC) has used the same expression to mean its latest RAN equipment will be able to support 5G technology after a software upgrade. In Germany, Deutsche Telekom AG (NYSE: DT) currently has RAN deals in place with Ericsson and China's Huawei Technologies Co. Ltd. . (See DT Ditches Nokia From Its German Radio Access Network and DT Poised for 5G Launch as Huawei Antennas Go Up in Berlin.)
Höttges on Wednesday said he expects Deutsche Telekom to begin providing a commercial 5G service in 2020, when handsets are available in "sufficient numbers." Smartphone makers including Huawei as well as South Korea's Samsung Corp. and LG Electronics Inc. (London: LGLD; Korea: 6657.KS) plan to introduce 5G handsets next year, although mass-market device availability is not expected until late 2019 at the very earliest.
Figure 1: Hey, Big Spender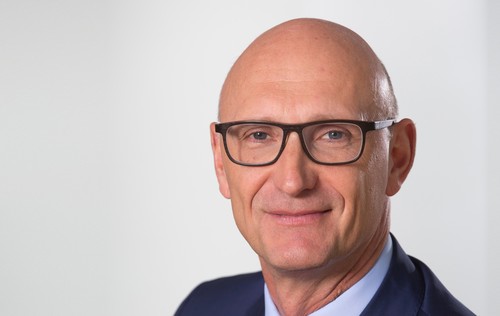 Deutsche Telekom boss Timotheus Höttges says he has invested 40% more in Germany each year than his predecessor Rene Obermann.
The commitment to cover nearly the entirety of Germany came despite ongoing unhappiness with the political and regulatory framework and uncertainty about the 5G investment case. (See 5G Still More Like Rocket Fuel Than a Mission to Mars.)
Höttges acknowledged that Deutsche Telekom would need about 50,000 mobile sites to provide a 5G service across the whole of Germany. One reason for this densification is that 5G will use higher spectrum bands than 3G and 4G: Signals do not travel as far over these frequencies, or penetrate buildings as effectively, as they do in lower ranges.
However, Deutsche Telekom has struggled to obtain the permits it needs to erect new mobile masts because of opposition from interest groups worried about the ecological and health impact. "Out of every ten new towers we have three or four action groups fighting us… and that is a hindrance," Höttges told reporters.
In a lengthy attack on the regulatory framework, he also said that planning regulations had driven up the cost of deploying fiber in Germany. Some municipalities require fiber to be laid at a depth of 1.2 meters. If Deutsche Telekom did not have to lay fiber so deep it would be able to cut the civil engineering costs by 40%, said Höttges.
Despite these hurdles, Deutsche Telekom plans to add another 2,000 mobile sites every year, a sharp increase on the 500 sites it built annually between 2014 and 2017. It expects to have 36,000 mobile sites in operation by 2021.
It is also pressing on with the deployment of optical fiber. Deutsche Telekom now claims to have rolled out approximately half a million kilometers of fiber across Germany to support its fixed and mobile broadband services. It expects to have added another 60,000 kilometers of fiber by the end of this year. (See DT Seeks Fiber Allies to Tackle Germany's Gigabit Lag.)
Starting in 2020 or 2021, Höttges has promised to begin pumping funds into the rollout of a higher-speed all-fiber network serving residential and other properties. The goal, he said, is to connect around 2 million households per year to all-fiber networks providing "gigabit" speeds to customers.
The investment will become feasible as Deutsche Telekom frees up funds that previously went toward supervectoring, which boosts connectivity speeds on last-mile copper links to a theoretical maximum of 250 Mbit/s. Under existing plans, Deutsche Telekom plans to cover about 29 million households with supervectoring by the end of next year. Around 24 million of Germany's 40 million homes are currently able to receive a 100Mbit/s service, it reckons.
The operator is trying to overcome some of the fixed and mobile investment challenges through partnerships and network-sharing ventures with other German operators. "Competitors will have access to the towers in rural areas," said Höttges. "We call upon Vodafone and Telefónica to use them together with us, so we'll rent out space on them and we'll do the same for optical fiber."
Deutsche Telekom has already announced plans to provide fiber optic connections to about 5,000 mobile sites that Telefónica Deutschland GmbH operates. (See Eurobites: Telefónica, Deutsche Telekom Extend Backhaul Deal in Germany.)
Höttges appeared to lash out at critics who accuse Deutsche Telekom of "sweating" its copper assets instead of building a "future-proof" all-fiber network. If the operator had gone down that route, he said, only 20% of the German population would have benefited from higher-speed broadband services. He also pointed out that Deutsche Telekom's annual investments in Germany are now 40% higher than when Rene Obermann, his predecessor, was in charge.
5G ready or not?
Skeptics may take issue with the claims about 5G readiness, especially given the apparent need for thousands of additional sites to provide nationwide 5G coverage. Deutsche Telekom may also face additional investments in 5G radio gear that is compatible with the spectrum it receives in a forthcoming auction. (See Germany's 5G Auction & the Gigabit Dream.)
The potential cost of licenses during that auction is another source of concern after an Italian spectrum auction this month raised about €4 billion ($4.6 billion) more than expected. Deutsche Telekom has previously warned investors that high spectrum fees will leave operators with less money to spend on 5G deployment. "What we have to spend during auctions is money gone," said Höttges, urging regulators to release more spectrum than planned during the next sale. (See Italy's $7.6B 5G bonanza puts telcos on the rack.)
Want to know more about 5G? Check out our dedicated 5G content channel here on
Light Reading.
Perhaps the biggest worry is that Deutsche Telekom ends up with a 5G network suited only to providing higher-speed services for residential broadband and smartphone customers. While this would bring additional capacity for congested networks, it seems unlikely to boost revenues.
Sales growth may come only if Deutsche Telekom can use 5G to support new applications for German business customers. Yet the mobile industry appears to have defined its initial 5G standards without any real consultation with other industries on what their requirements may be. (See Vodafone's Holo Demo Dazzles Crowd, But Is It a Viable 5G Use Case?)
"We talked to IT experts but not to the product marketing people and this means that we have a cacophony of different requirements and no one knows what the actual need is," said Höttges.
He hopes to address that issue through a "publicly transparent" 5G conference with industries including chemicals, healthcare and car making. The goal, he said, would be to "define requirements together and implement and execute these in the framework for the infrastructure."
Technology experts think networks will have to be "rearchitected" entirely if they are to support industrial as well as consumer services. That will mean taking advantage of the software tools that Internet companies like Amazon.com Inc. (Nasdaq: AMZN) have already used to build a global cloud presence. (See Piecing Together the 5G Big Picture.)
Axel Clauberg, Deutsche Telekom's head of IP and aggregation, has been warning telcos for several years that building networks in the traditional way is unsustainable. Traffic on fixed and mobile networks is growing exponentially, he points out, while revenues are barely rising. (See DT's Terastream: A Bigger Splash?)
If the answer is to build networks that look more like cloud infrastructure, the industry is still a long way from realizing this vision. Executives at an industry conference in The Hague this week complained that network functions virtualization -- which is intended to support the transition to a more software-based network -- had still not lived up to the promises that were made six years ago. (See NFV Struggles With Its Six-Year Itch.)
— Iain Morris, International Editor, Light Reading
Subscribe and receive the latest news from the industry.
Join 62,000+ members. Yes it's completely free.
You May Also Like
---