Gloom persists for Europe's long-suffering telco investors
Gloom persists for Europe's long-suffering telco investors
Shares in Europe's 'big six' telcos have fallen sharply in the last few years and 5G holds out little hope for sales growth. Investors in Europe's biggest telecom operators have had a stomach-churning ride for the past three-and-a-half years, as the chart published below indicates. Every one of the region's "big six" telcos has witnessed a double-digit percentage fall in its share price since December 2015, with the long-suffering BT and Telecom Italia experiencing the most vertiginous drops.
Figure 1: Share Price Changes at Europe's Big Six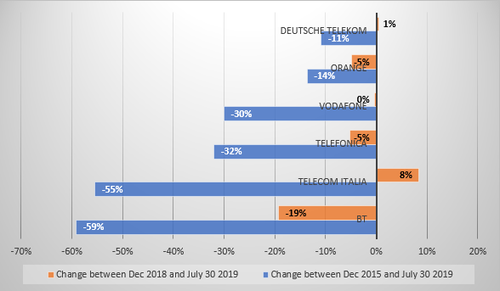 Source: Stock exchanges, Yahoo Finance.
The loss of shareholder value reflects the difficulties companies face in some of the world's most competitive markets, where authorities sticking up for consumer interests remain stubbornly opposed to merger activity. Competition may grow fiercer with the launch of next-generation 5G networks, too. Italy's Fastweb this week secured a license to build a fifth mobile network after Germany's Drillisch recently picked up the 5G spectrum it needs to erect a fourth German network.
In a downbeat assessment of Europe's telecom market, Mark Habib, a telecom analyst with S&P Global Ratings, said the industry had underperformed its broader index by more than 20% in the last three years. In the face of weak growth prospects, operators are aggressively cutting costs to boost profit margins, with some companies now exploring asset sales, he said in a research note issued today.
Source: Stock exchanges, Yahoo Finance.
UK-based Vodafone provides an example of both activities. CEO Nick Read, who took charge in October last year, is taking an axe to headcount in Italy and Spain, where Vodafone has struggled against its rivals, and pursuing the "automation" of customer service and other tasks. Last week he announced plans for a towers spin-off that could be valued at more than €18 billion ($20 billion). "Tower and fixed-line assets can yield mid-teen multiples, double that of integrated telecoms," said Habib. Such divestment efforts are attracting interest from hedge funds and infrastructure buyers, he said, but warned of a "potential loss of differentiation" for operators, with "negative consequences for business profiles."
Want to know more about the Internet of Things? Check out our dedicated IoT content channel here on Light Reading.
The share price weakness also indicates a lack of excitement about 5G, despite a whirlwind of hype around the next-generation mobile technology. "A steady stream of 5G launch announcements belies the fact that current use cases are sparse, and consumer plan pricing shows little to no 5G premium," said Habib. "We think the real 5G opportunity is mid-decade unless enterprise customers can accelerate the arrival of a 5G 'killer app.' "
Shareholders cling to hope that new leadership at the European Commission (EC) could usher in a more investor-friendly regime. Capital intensity (capital expenditure as a percentage of sales) is at a record and unsustainable level, according to some experts, and there is anxiety that Europe could fall behind the US and China in the race to build 5G networks unless the priorities change. If 5G does eventually provide a spur to industrial productivity, as proponents claim it will, then a 5G lag could leave European companies struggling to compete on the world stage. The EC's pronouncements suggest it believes in the importance of 5G. The question is whether authorities are prepared to do something about it.
DT non-US capital intensity

Telecom Italia (domestic) capex

Telecom Italia (domestic) revenues

Telecom Italia (domestic) capital intensity

Source: Companies. Note: Spike in Telecom Italia's capital intensity last year is due to spending on frequency licenses.
Related posts:
— Iain Morris, International Editor, Light Reading
Subscribe and receive the latest news from the industry.
Join 62,000+ members. Yes it's completely free.
You May Also Like
---