Ericsson, Huawei & Nokia Are Facing an 'Oil Crisis' Upheaval
Ericsson, Huawei & Nokia Are Facing an 'Oil Crisis' Upheaval
Years of consolidation have left the global mobile network market largely in the hands of three giant equipment makers that may have the power to make or break 5G-based economies. The backlash has started. It is October 1973 and OPEC, the Organization of Petroleum Exporting Countries, has slapped an oil embargo on major Western economies it believes are sympathetic to Israel. Less than six months later, the price of oil has rocketed nearly 400%, bringing economic misery to nations addicted to the 'black gold.' But the decision ultimately backfires. Determined never again to be at the mercy of the oil-producing club, countries prioritize the development of OPEC alternatives. The concept of "energy security" takes hold. While OPEC remains influential, its stranglehold is eventually broken.
Similar forces are now at work in the telecom sector. Years of consolidation have left the global industry with three all-powerful suppliers of the equipment used in mobile networks: Ericsson and Nokia, from northern Europe, and China's Huawei. Unlike OPEC governments, this profit-seeking triumvirate, riven by commercial interests, is motivated to flood the market rather than block shipments. But the dependency of critical national infrastructure on a handful of big companies has sparked a conversation about "telecom security" with echoes of the 1973 oil crisis. Toppling the triumvirate is becoming a geopolitical objective.
Figure 1:

The 5G and Huawei dilemma
Two linked catalysts are making it so. The first is the recent arrival of 5G and the hype that surrounds it. Where 4G was used to connect smartphones, 5G may eventually support a cornucopia of devices, from industrial equipment and self-driving cars to sensor-equipped contact lenses that make virtual reality the default existence for Generation Z-ers. Because 5G could be the stitching that binds together the digital fabric of future national economies, it has become an issue of national strategic importance. Trusting three foreign players with something this sensitive makes governments nervous.
The second, related catalyst is the ascendancy of Huawei in the 5G market. Were it a Western firm, Huawei's march to 5G pre-eminence would probably have met with no resistance from the US. But its Chinese heritage has set off alarms. US opponents worry the world's other economic superpower may gain the upper hand in 5G, citing China's poor record of playing by international rules. They also fear that over-reliance on Huawei leaves many Western operators vulnerable to cyberattacks directed by Chinese state authorities.
For all the latest news from the wireless networking and services sector, check out our dedicated Mobile content channel here on Light Reading.
Banning Huawei, or excluding it from parts of the 5G market, is seen as a potential answer, despite the short-term pain it would inflict on many operators. Although achievable, swapping one vendor's gear for another's can be costly and time-consuming affair. Operators worry about falling behind 5G rivals and the hit to profitability. Governments are similarly uneasy about lagging in 5G. Under US pressure, some continue to weigh a decision, while a few have already imposed restrictions. Concern about Huawei, including the possibility authorities eventually block it, has driven a few major European operators to limit the Chinese vendor's role: In the UK, BT is stripping Huawei out of its mobile "core," the brain of the EE network it acquired in 2016, to comply with a company policy not to use Chinese vendors in this sensitive area; France's Orange says it will not use Huawei to build a 5G network in its domestic market.
But a full Huawei ban could somewhat ironically leave countries with even less telecom security, giving national networks just two viable options: Sweden's Ericsson and Finland's Nokia. Financial strife for one of those players would then be a nightmare scenario. Unlikely as that may seem, the 2009 bankruptcy of Canada's Nortel Networks, a former industry giant, means it cannot be dismissed. Ericsson racked up net losses for eight quarters before a turnaround plan pushed it back into profitability last year. According to international financial reporting standards, Nokia remains unprofitable, reporting a net loss of €191 million ($213 million) for its recent second quarter. It is thanks only to Nokia's generous cash reserves that investors are sanguine.
The difficulties of the Nordic vendors have been widely blamed on aggressive Chinese competition. One source who preferred to remain anonymous accuses Huawei of "dumping," or selling below the cost of production to secure market share, in violation of World Trade Organization rules and with the support of China's government. The opacity of its financial statements conceals this tactic, he says. Like it or not, the industry in the long term may have to choose between the Nordic vendors and Huawei. That puts it under more pressure to find alternatives.
Figure 2: Where They Work (Distribution of Employees)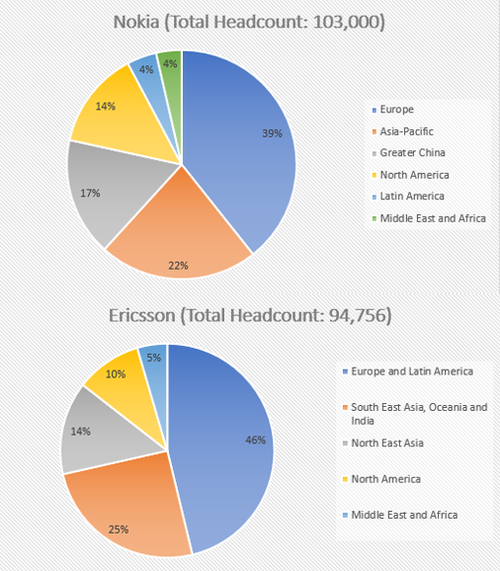 Source: Nokia, Ericsson. Note: Nokia figures are for 2018; Ericsson's are for June 2019.
Concern about the globalization of the telecom supply chain adds to that pressure. Like Huawei, both Ericsson and Nokia source components internationally and maintain large Chinese facilities. Nokia Shanghai Bell, Nokia's Chinese joint venture, counts the state-backed China Huaxin as its local partner and employs around 17,200 people in the Greater China region, about 17% of its entire global workforce. Ericsson had 13,334 employees in North East Asia at the end of June, roughly 14% of the total. Aware of the suspicion that falls on Huawei, China's military is likelier to introduce spyware into equipment made by Western firms on Chinese soil, according to some experts.
This global supply chain is now buckling under the weight of geopolitics. Currently restricted from acquiring US components, Huawei is developing alternative sources, including HiSilicon, its wholly-owned semiconductor business. Reportedly under pressure to make US-bound equipment outside China, Ericsson is pumping funds into US facilities, including a highly automated "smart factory." Nokia says it is prepared for adjustment. "We do have a global supply chain and in that sense the readiness to make shifts is there," says Kristian Pullola, its chief financial officer. "For others with a China-centric one, the starting point is more challenging."
Next page: The end of globalization?
The end of globalization?
The conditions are now ripening for a seismic shift to regional or even local sources of production. The UK has delayed a Huawei decision while it assesses the impact of a US components ban that could leave Huawei-dependent operators high and dry. Before vacating the role of digital secretary in a government shake-up this month, Jeremy Wright told members of parliament that "diversification" in the choice of equipment vendors would have to be a long-term goal. "Part of the reason you want a larger number of suppliers is not simply because it is commercially and economically beneficial but because there is a security benefit too and not overdependence on one supplier," he said.
The diversification imperative is also partly behind a plan by Ofcom, the UK's telecom regulator, to free up 5G spectrum for organizations that are not telcos. Introducing that plan at Informa's 5G World event in June, Mansoor Hanif, Ofcom's chief technology officer, presented it as a potential boost for start-ups involved with the Telecom Infra Project (TIP), a Facebook-led initiative to spur innovation in the network equipment sector. "There has been skepticism about mobile operators buying from start-ups but now it can be a new ecosystem for TIP and that should incentivize more start-ups to go out and build products," he said.
Figure 3: Diversification Holds the Key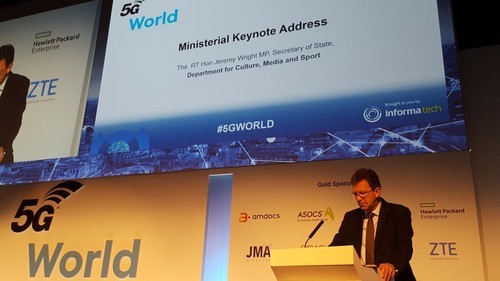 Former UK digital secretary Jeremy Wright, shown here speaking at an Informa event in London in June.
Similar geopolitical dynamics are evident in other countries. Last week, a state-backed Russian company called Rostec said it would begin developing standards-compliant equipment for Russia's 5G market. "We are making developments in the field of 5G and are interested in partnerships with foreign manufacturers, such as from India and China," said Victor Kladov, Rostec's director for international cooperation and regional policy, in a prepared statement. Despite news of a recent 5G partnership between Nokia and Russian mobile operator MegaFon, Russia's gravitation toward China and the emergence of Rostec may limit the role available to Western vendors in the Russian 5G market.
Opportunities are also shrinking in China amid growing support for "local vendors," said Nokia CEO Rajeev Suri on a call with reporters last week. Asked if it had the same concern, Ericsson referred Light Reading to comments in the risk factors section of its latest financial report. "Geopolitical turbulence and trade frictions… could result in material negative impact on Ericsson's global operations, lead to increased, unrecoverable costs and may have a negative impact on the company's profitability," that reads. "It may also be disruptive to Ericsson's international supply chain and export/import activities (including component supply, manufacturing, sourcing and deliveries of products and services)."
Want to know more about 5G? Check out our dedicated 5G content channel here on
Light Reading.
India is another big country showing a determination to be less reliant on certain external parties. Last year, it announced a $77 million funding allocation for local 5G development. Under those plans, authorities are developing a 5G test bed to help telcos and start-ups develop 5G products. In partnership with state authorities, the Indian Institute of Technology (IIT) in Chennai is setting up a development center to work on 5G. Meanwhile, Ericsson is collaborating with Delhi's IIT on a "5G for India" program.
Enthusiasm for the local as opposed to the global is rising in the US, too. A major 5G network built by Dish Networks, as a regulatory condition of the merger between Sprint and T-Mobile, will rely heavily on "American vendors," said Charlie Ergen, the chairman and co-founder of Dish Networks, during an interview with Light Reading shortly after the deal was announced. "I'm unaware of any operator today that uses any equipment from US vendors. It's all European or Chinese or Korean," he said. "Nobody writes better software than in the US, and most of our network will be software. So we know we'll have a much more American-centric set of vendors than the traditional incumbents."
Next page: Open networks, closed doors
Open networks, closed doors
This "software-ization" of the industry may help address skepticism that sub-scale vendors can weaken the equipment triumvirate. Technology executives at major telcos have accused equipment giants of using closed interfaces, and the tight coupling between hardware and software, to shut out competition. The O-RAN Alliance, an operator-led group, is now building what it says will be more open interfaces -- O-RAN stands for open radio access networks -- and taking advantage of "virtualization" to make software independent from the underlying hardware.
Several smaller companies in tune with this development, including US-based Altiostar and Mavenir, are working alongside bigger vendors to construct a mobile network from scratch for Rakuten, a Japanese ecommerce giant. "Our cost for 5G is 50-60% cheaper than traditional telecom networks," said Tareq Amin, Rakuten Mobile's chief technology officer, during a recent industry event in France.
Compelling as that sounds, the operational complexity that comes with this start-up ecosystem has been a turnoff for most big service providers with "legacy" kit. The availability of low-cost and increasingly advanced equipment from Chinese vendors may have been a further disincentive to switch. Nor does the sequence of losses at Ericsson and Nokia point to any price gouging. Despite consolidation, the operating margin at Ericsson's networks business had shrunk to 7.9% in 2017 from 17% in 2000, recovering to 14% last year after hefty restructuring. If anything, competition is growing more intense. Both Ericsson and Nokia have recently warned margins may suffer in the battle for 5G market share.
Figure 4: Disruptive Figure
Rakuten Mobile's Tareq Amin is building a mobile network with a diverse range of old and new suppliers.
If telecom security is the main driver of change, the pricing competitiveness of traditional technology might not hinder a shake-up. The degree to which the industry giants are prepared to budge, and risk ceding market share, could be the real obstacle. Spying an opportunity to be disruptive, Nokia became involved with TIP and the xRAN Forum, an antecedent of the O-RAN Alliance, at an early stage. More resistant to change, Ericsson joined earlier this year under pressure from customers, and critics still question its commitment to open interfaces. Huawei remains firmly on the outside, insisting generic hardware does not measure up performance-wise to its dedicated kit.
John Baker, the senior vice president of business development with Mavenir, sees another reason. "If Huawei goes open RAN in China, it will have tens of new radio manufacturers in China actually cannibalizing its market," he says. Outside China, the strategy is short-sighted, he reckons. "If they came behind open RAN, it would be seen as proactive by operators, scare Ericsson to death and force it to come along," he says. "Suddenly, you would have a widely developed open RAN ecosystem almost overnight."
Whether this surge in competition would be feasible or silence all calls for Huawei's banishment is doubtful. But the diversification it promises could be the answer that authorities in the UK and other markets are looking for. And there have been some encouraging developments for the O-RAN Alliance. Just this week, Japan's NTT DoCoMo began receiving O-RAN-compatible 5G radio units from NEC, a Japanese supplier. The lightweight equipment is intended for rooftops and buildings where traditional gear might be less suitable. DoCoMo and Japanese regulators will undoubtedly welcome the competition NEC brings.
Baker thinks open RAN kit could eventually account for between 20% and 30% of the entire market, with open RAN companies collectively representing a "fourth" alternative to the big three. Currently, it is hard to see which other players could substitute. South Korea's Samsung and China's ZTE, the other mobile-kit vendors that make up the top five, are targeting specific markets and lack any real presence in some of the major economies. Trying to build a traditional kit vendor from nothing would be as counter-intuitive as opening a mainly bricks-and-mortar retail outlet in the ecommerce era.
Figure 5: Operating Margin at Networks Business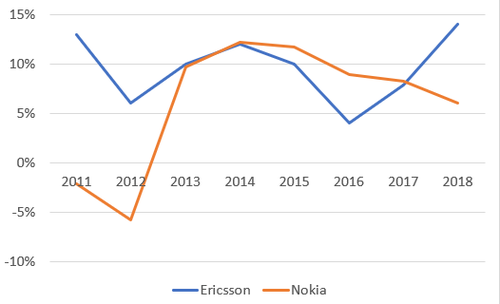 Source: Ericsson, Nokia.
The danger is that a push for diversification is accompanied by a rise in economic nationalism. Working in a more complex ecosystem, open RAN vendors could be even more heavily reliant than traditional suppliers on a global supply chain. Rakuten Mobile is using radio software from Altiostar, a Massachusetts-based start-up that Dish's Ergen may have in mind. But that software runs over remote radio heads assembled by Nokia in the Japanese operator's network. Protectionism could deal a big blow to the ambitions of the O-RAN Alliance.
The world economy recovered from the 1973 oil crisis and went on to build a more resilient energy sector. The same thing might not happen in telecom. The worst-case scenario would be fragmentation of the industry without diversification, as the equipment giants retreat to friendly shores and local authorities raise the drawbridge. Nobody who appreciates the benefits of having a global 5G standard wants to see this happen, but it could be an unintended consequence of the current upheaval.
Bengt Nordström, the CEO of Swedish consulting firm Northstream, sees parallels with the bank-sector turmoil that followed the collapse of Lehman Brothers in 2008, another economic crisis with long-lasting effects. "The world learned the hard way how integrated the banking system is," he told Light Reading earlier this year. "I fear a setback for the whole telecom ecosystem that will take a long time to repair."
Related posts:
— Iain Morris, International Editor, Light Reading
Subscribe and receive the latest news from the industry.
Join 62,000+ members. Yes it's completely free.
You May Also Like
---