BoJo's UK Broadband Plan Looks Barmy, but Don't Write It Off
BoJo's UK Broadband Plan Looks Barmy, but Don't Write It Off
The UK's new prime minister may be chasing perfection in the hope of catching excellence, but the country's operators are demanding action on numerous fronts. "If we chase perfection we can catch excellence," said legendary American football coach Vince Lombardi. Perhaps Boris Johnson, the UK's new prime minister, had the same philosophy in mind when he recently promised zippy full-fiber networks for every property by 2025, eight years sooner than a previous government target. Against multiple odds, nobody seriously expects the UK to go from fiber loser to leader in the next few years. But if it aims high, it might just become a fiber contender.
Johnson's plans prompted guffaws when he first wrote about them in the Daily Telegraph newspaper, weeks before succeeding Theresa May in the UK's top political job. Full- or all-fiber networks, which replace copper in the final drop to customer premises, are currently available to just 8% of UK properties. Covering every home in the country would cost around £30 billion ($36.5 billion), the government estimated last year. A major public-sector commitment might force it to borrow heavily as the economy feels the impact of a "no deal" exit from the European Union in October. Private-sector companies see no business case for building networks in the most remote areas.
Figure 1: Fiber Fanatic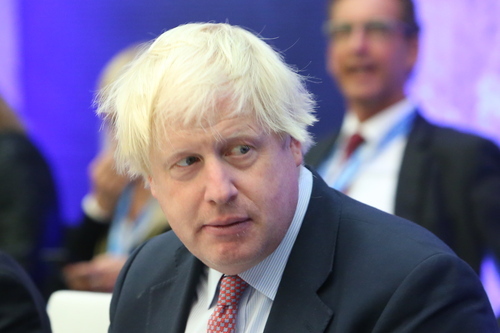 Boris Johnson, the UK's new prime minister, has emerged as a cheerleader for all-fiber broadband networks.
Since then, broadband stakeholders have been eager to show they are in a coalition of the willing. With negativity out of fashion under Johnson, operators worry that persistent grumbling could leave them friendless at the full-fiber party. BT Openreach, the country's infrastructure incumbent, has more reason than anyone to smile enthusiastically. Ofcom, the regulator, has already threatened to separate it entirely from BT, its parent company, if it sulkily drags its feet on making service improvements.
Even before the intervention by Johnson, nicknamed BoJo by the British press, the UK's full-fiber rollout was starting to gather pace. Forced by Ofcom into a "legal separation" of Openreach, and warned that full dismemberment could happen, BT is targeting 4 million properties by March 2021. The emergence of new infrastructure rivals is partly responsible. CityFibre, a fiber investor backed by Goldman Sachs, is targeting 5 million properties by 2025. Hyperoptic, a similar venture that has secured investment from Abu Dhabi, aims to cover the same number a year earlier. Virgin Media, the UK's cable incumbent, is also providing "gigabit" connections using a mixture of fiber and cable infrastructure.
Figure 2: In the Fiber Relegation Zone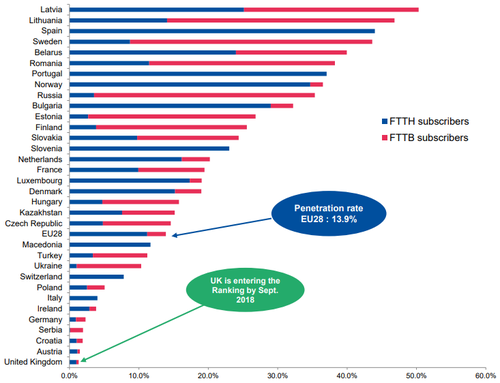 Source: FTTH Council Europe, IDATE.
This would still leave a gulf to reach all 27.2 million or so UK homes (according to UK government figures from 2017). Openreach has dangled plans to cover a total of 15 million properties by the mid-2020s, but only if the "investment conditions" are right. Having recently warned it may have to cut dividends to pay for a full-fiber rollout, it needs above all to persuade shareholders it can make a decent return on investment.
Encouragingly, BT executives have made some positive noises about the future direction of pricing regulation by Ofcom. This includes suggestions BT will have visibility of regulatory plans over a longer investment cycle, a move that might provide "welcome certainty until 2031," said Cathryn Ross, BT's director of regulatory affairs, during last week's earnings call.
Existing customers Existing coverage Long-term ambition Timeframe BT Openreach 352,000 1,514,000 15,000,000 Mid-2020s CityFibre N/A N/A 5,000,000 2025 Gigaclear 19,000 93,000 500,000 2024 Hyperoptic N/A 500,000 5,000,000 2024 Source: Companies, UK government websites, ISPreview.
In other regards, Openreach remains deeply morose. An open letter addressed to Boris Johnson at the weekend -- and signed off by representatives of FCS, INCA and ISPA, three industry groups -- sets out the operator's main concerns and demands. Uppermost is the maligned "fiber tax," which taxes fiber cables as if they were business buildings. Cutting these rates would naturally spur fiber investment, say the letter's signatories. They also want easier access to buildings and land where "unresponsive landlords delay rollout." Mandating fiber rollout to all newly built homes would further help the industry move closer to the latest government target.
The skills gap is another big challenge that needs to be overcome. "Investment in digital and engineering skills needs to be prioritized and our members need to be able to compete for global talent to fill the ever-increasing skills gap," says the letter. Philip Jansen, BT's CEO, reckons about 35,000 people are needed to build the UK's full-fiber network. The UK's looming withdrawal from the European Union could shut off certain labor markets where there is an abundant supply of these professionals. "I'm worried about access to the wider labor pool and that is why we are hiring into Openreach rather than relying on third parties who use European labor," said Clive Selley, Openreach's CEO, during the recent Connected Britain event in London. After a hiring frenzy, BT now has about 5,000 employees dedicated to the fiber job.
Next page: A litany of complaints?
A litany of complaints
Fiber investors also have different priorities. While the missive to Johnson was presented as a "cross-industry" letter, it is no such thing, according to CityFibre, which probably has the highest profile of any UK fiber investor apart from Openreach. "A whole bunch of players refused to sign that despite it masquerading as the industry voice," says a spokesperson for the company. Although CityFibre shares many of the concerns that were raised, it says there is a "critical" need for action elsewhere. Anti-competitive practices, "overbuild," pricing and access to Openreach infrastructure all make its list.
Subscribe and receive the latest news from the industry.
Join 62,000+ members. Yes it's completely free.
You May Also Like
---