 "America first," a jingoistic slogan that sums up President Donald Trump's foreign policy, could also be an assessment of the US position on 5G. Together with Asia's most sophisticated telcos, AT&T and Verizon are widely seen as international frontrunners in the race to launch the next-generation mobile technology. The former has even talked about introducing its first 5G services by the end of this year. (See AT&T's 'Mobile' 5G: What the Puck?)
The Europeans, naturally, are the out-of-shape joggers bringing up the rear. Constrained by difficult regulators and cultural timidity, they will flop over the 5G finish line while their US peers are chugging champagne, according to this narrative. Marketing efforts have spread the word. European telecom observers return from the US looking shell-shocked and whispering of the coming 5G apocalypse, as Europe is crushed by a more advanced civilization.
Fortunately, for Europeans, the reality will be far less cataclysmic. Cultural differences partly explain why Europe is thought to lag the US, for one thing. The typically reserved and often despondent European is less inclined to crow about his 5G credentials than his more assertive, upbeat US counterpart. Contrast the loudmouthed, hyperactive John Legere, the T-Mobile US Inc. CEO, with the more conventionally corporate Timotheus Höttges, his boss at Germany's Deutsche Telekom AG (NYSE: DT). When Legere said he would build a "nationwide" 5G network by the end of 2020, skeptics saw legerdemain. The land of opportunity is really the land of the advertising genius, they say. (See T-Mobile & Sprint: Marriage made in hell and Is T-Mobile's 5G Plan Just a Pipe Dream?)
Figure 1: Chalk & Cheese
Timotheus Höttges, CEO of Deutsche Telekom (left), and John Legere, CEO of T-Mobile US (right) have wildly contrasting management styles.
Market forces might also explain Europeans' limited appetite for promotion. In their super-competitive countries, European operators have seen less financial benefit than US telcos from the rollout of 4G services. They also contend with more stringent regulation. Yet none of the main players is ignoring 5G. In the UK, BT Group plc (NYSE: BT; London: BTA) and Vodafone Group plc (NYSE: VOD) may launch it next year. Deutsche Telekom, the region's biggest operator, is aiming for the slightly later date of 2020. But it is already building 5G foundations through fiber rollout, the installation of new sites and the deployment of "5G-ready" baseband gear. It is even now erecting 5G antennas in Berlin. Fresh from 5G trials in Romania, French incumbent Orange (NYSE: FTE) is making similar preparations. (See BT Kicks Off 5G Campaign With Plans for 2019 Launch, Petty's Grievances: The 5G Hopes & Fears of Vodafone UK's CTO, DT Poised for 5G Launch as Huawei Antennas Go Up in Berlin, Orange's 5G Plan: Definitely, Maybe and Orange Ups 5G Broadband Stakes in Romania.)
In all likelihood, 5G technology will arrive in Europe about a year after it first comes to the US. The real question is whether this will matter by giving Americans an economic edge and services that Europeans would miss. The answer is probably no. For several years, and possibly longer, 5G will be nothing more than an extra lane for the congested mobile data highway. Because 5G is a more efficient way to add capacity than 4G, Europeans plan to use it in busy urban areas, just like Americans. But the commercial readiness of advanced 4G systems means Europe's mobile networks do not face imminent collapse. (See 5G Still More Like Rocket Fuel Than a Mission to Mars.)
What's more, most Americans will not benefit if or when AT&T Inc. (NYSE: T) turns on a 5G service this year. Analyst firm Northstream reckons nationwide rollout will take around seven years, on average, as operators try to maintain capital intensity (or capital expenditure as a percentage of revenues) at 15-20%. An acceleration would occur only if 5G boosts customer spending on mobile services. Given the decline that has taken place in the 4G era, few expect this to happen (although merger activity in the US market could lead to an increase in prices). The current lack of smartphone innovation is a further worry. While the iPhone revolution propelled 4G adoption, there is little prospect of a similar device boost when it comes to 5G. (See EE: New Tech Is Mobile Revenue Savior.)
Next page: Rancid meat
Rancid meat
At best, this means 5G will be available to a higher percentage of Americans than Europeans for several years. Even that might change if infrastructure rivalry triggers a rollout race in the most competitive European markets. Telcos in the region are fond of grumbling about regulatory opposition to merger activity, arguing that too much competition leaves them short of funds for network investment. But France, Europe's most competitive infrastructure market, also has the best 4G and fiber networks in the region. (See French Telcos Gain on M&A Signals From Policy Wonks.)
Comparing mobile services in Europe with those in the US makes the latter's 5G "lead" seem even more like bluster. In its 2016 MobiNEX index, which measures countries and operators on the mobile customer experience, STL Partners ranked the US below a slew of European nations, including France, Germany, Italy, Spain and the UK. One very senior executive at a European telco, who did not wish to be quoted, launched into a tirade when asked about the European lag, complaining that mobile service quality and coverage are often appalling in the US. In this context, garnishing networks with a bit of 5G is like squirting hot sauce on rancid meat to hide the underlying flavor.
Figure 2: MobiNEX Country Ranking of Mobile Network Experience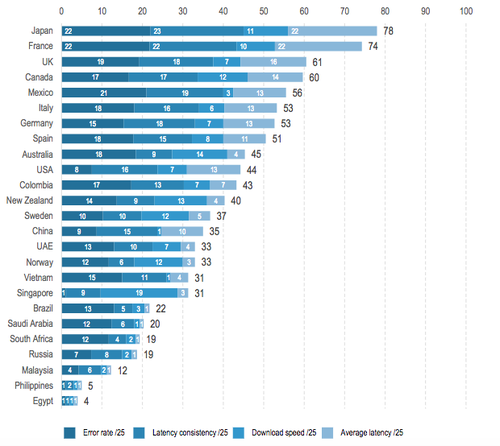 Source: STL Partners, Apteligent, OpenSignal.
US customers also pay dearly for their unappetizing fare. The average revenue per user at AT&T's postpaid business was about $58 per month last year. In France, the average postpaid customer currently spends less than $25 on the haute cuisine served up by Orange. As noted, US prices seem unlikely to fall if a merger between T-Mobile US and Sprint goes ahead, leaving the US with just three big mobile network operators.
In the not-too-distant future, operators hope 5G will create new service possibilities in industrial markets. Providing connections between self-driving cars and street furniture is one much-hyped opportunity. Support for remote-control surgery is another. Such applications might eventually fuel economic growth and even boost operator revenues. But they are not what industry people are referring to when they talk of a US 5G lead. And there are doubts that some of these applications will ever see the light of day, at least where 5G is concerned. (See Does Ericsson's 5G-for-Healthcare Biz Case Need Surgery?)
Want to know more about 5G? Check out our dedicated 5G content channel here on
Light Reading.
If Europe is at risk of falling behind the US in the technology arena, it is not because of its telcos. Both Orange and Spain's Telefónica claim they spent a higher percentage of their revenues on research and development in the last two years than AT&T. Together, they invested about $2.7 billion in R&D over this period, compared with AT&T's $3.2 billion. Nor does Europe lack the vendors developing 5G technology. Ericsson AB (Nasdaq: ERIC) and Nokia Corp. (NYSE: NOK), two of the world's three largest network vendors, are European companies. China's Huawei, the biggest, is also highly active in Europe. Its innovation is unavailable to the main US service providers, by contrast, because of US government restrictions. (See US Ban on Huawei Would Trigger Turmoil in Telecom Industry.)
What Europe is missing are any homegrown technology giants to rival the US FAANGs (Facebook, Amazon, Apple, Netflix and Google) and the Chinese BATs (Baidu, Alibaba and Tencent). With a market capitalization totaling more than $4 trillion, these highly automated companies are the new oil tycoons, and visible in all walks of life. The products and services they provide have turned industries upside down and permanently changed the way people work, play and communicate. That Europe has not produced a single rival should perhaps be a greater concern for Europeans than anything to do with 5G.
— Iain Morris, International Editor, Light Reading
Subscribe and receive the latest news from the industry.
Join 62,000+ members. Yes it's completely free.
You May Also Like
---