BT boss Gavin Patterson may have launched the opening salvo in a UK 5G marketing battle with his revelation that BT plans to introduce a 5G service next year.
Addressing analysts during BT's strategy and earnings presentation this week, Patterson said: "We will look to have a commercial 5G product launched in the next 18 months." (See BT's Patterson May Be Running Out of Time.)
Mike Sherman, who joined BT Group plc (NYSE: BT; London: BTA) as strategy director from Boston Consulting Group in March this year, has been tasked with developing BT's 5G strategy, while technology boss Howard Watson will have responsibility for building the network.
The 5G standard promises faster connections and lower "latency," a signaling delay that occurs on data networks, than today's 4G technology. While full 5G systems including commercial devices are not yet available, the 5G new radio specifications were frozen last December. US operator AT&T Inc. (NYSE: T) is eyeing some kind of 5G service launch at the end of this year. (See 5G Is Official: First 3GPP Specs Approved.)
Europe's operators have been criticized for lagging their US and Asian peers in 5G development. France's Orange (NYSE: FTE) and Germany's Deutsche Telekom AG (NYSE: DT) have talked about a commercial launch in 2020, although both are conducting trials and making network investments to support 5G technology. (See DT Poised for 5G Launch as Huawei Antennas Go Up in Berlin and Orange's 5G Plan: Definitely, Maybe.)
A commercial launch in 2019 could make BT the first of Europe's major operators to bring 5G to market. It might equally trigger a response from UK mobile rivals including Telefónica UK Ltd. (trading under the O2 brand), Three UK and Vodafone Group plc (NYSE: VOD).
Figure 1: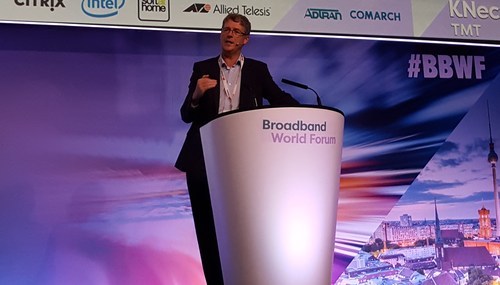 BT's Howard Watson, seen here presenting at last year's Broadband World Forum in Berlin, has been given responsibility for building the operator's 5G network.
EE, the mobile operator that BT acquired in early 2016, was able to build a lead in the UK's 4G market after regulatory authorities gave it a head start over rivals with the early award of 4G spectrum.
BT will not have the same advantage when it comes to 5G. Each of the four mobile network operators picked up 5G frequency licenses during a recent spectrum auction. BT's competitors will be keen to ensure they are not left behind in the battle for the first 5G customers.
In the consumer market, the attractions of 5G technology remain unclear. Current 4G connectivity is fast enough to support smartphone services including video streaming. In Europe, the launch of 4G, while a big improvement on 3G, did not lead to an increase in consumer spending on mobile services, research has shown. (See EE: New Tech Is Mobile Revenue Savior.)
That said, operator marketing has traditionally focused on network capability and sophistication, and consumers are typically drawn to the latest and greatest technologies, whether new iPhone models, 4K TVs or the next G from a telco. The cost efficiency that operators associate with 5G could also support the launch of "unlimited" data tariffs, giving customers an incentive to upgrade from 4G.
Although there seems more potential for sales growth in using 5G to support new services for business customers, BT has indicated that its initial focus will be on providing a connectivity boost.
"We're confident the first application will be enhanced mobile broadband," said Watson during BT's earnings presentation. "The key thing in terms of deploying 5G is ensuring we have a great 4G starting point. We have had success through EE in building up a great base and are pleased with our success in recent auctions in terms of acquiring initial spectrum."
Want to know more about 5G? Check out our dedicated 5G content channel here on
Light Reading. BT picked up 40MHz of spectrum in the 3.4GHz band for a fee of £303 million ($411 million) during the auction that finished in early April. Such "mid-band" spectrum is reckoned to provide a good balance between high-speed connectivity and decent coverage (higher spectrum bands provide a bandwidth boost, while lower ranges are better for coverage). (See UK's £1.4B '5G' auction looks bad for industry.) The operator this week said it would invest £3.7 billion ($5 billion) in capital expenditure in the current fiscal year, up from £3.5 billion ($4.7 billion) in the previous one, as it bolsters investments in both fixed and mobile networks. Its ownership of Openreach, which provides fixed-line infrastructure throughout the UK, gives it a key asset in the 5G market because of the fast broadband links needed for "backhaul," the connections between basestations and core network systems. Mobile operators that lack their own fixed-line networks may be forced to rely heavily on wholesale arrangements with BT for this backhaul connectivity. (See Europe's Backhaul Black Hole Looms Above 5G.) Besides extending 4G infrastructure, BT plans to bring all-fiber connectivity to around 3 million UK premises by 2020. Those networks could reach 10 million homes and businesses by 2025, says Patterson, if regulatory conditions prove favorable. Watson told analysts that 5G would also bring lower connectivity costs than 4G. Johan Wibergh, the chief technology officer at Vodafone, previously said 5G would be ten times as cost-efficient as 4G. (See Vodafone CTO: 5G Is Overhyped & It's Mainly About Cost.) While the initial focus of a commercial launch is on enhanced mobile broadband, BT is exploring the development of low-latency applications, said Watson. "Over the next two years, we will start to develop a business case for that," he said. "Part of the new capex guidance is about getting the network ready for 5G." — Iain Morris, International Editor, Light Reading
Subscribe and receive the latest news from the industry.
Join 62,000+ members. Yes it's completely free.
You May Also Like
---