UK's £1.4B '5G' auction looks bad for industry
UK's £1.4B '5G' auction looks bad for industry
The results could leave operators short of cash to invest in 5G networks, warns a leading analyst, while the UK's spectrum imbalance persists. In 2000, when the UK government sold licenses for the spectrum that would support 3G services, it bagged a budget-boosting £22.5 billion ($31.6 billion) and went off on a public sector spending spree. It is a measure of just how much the telecom industry's outlook has darkened that today's "5G" auction, some 18 years later, has raised just less than £1.4 billion ($2 billion). The proceeds will barely extend to a few infrastructure repairs.
Indeed, they work out at just £0.11 ($0.15) per MHz per capita (a common industry measure), compared with the £2.75 ($3.85) that operators spent in 2000. Yet the companies that won spectrum in the auction forked out more than some analysts had expected. Fierce competition for the 3.4GHz band, which operators plan to use in future 5G networks, appears to have driven up the price. Those airwaves ended up raising about £1.15 billion ($1.6 billion). Bernstein, an analyst firm, had reportedly been expecting between one half and two thirds of that amount.
2.3GHz spectrum (MHz) 2.3GHz fee 3.4GHz spectrum (MHz) 3.4GHz fee EE 0 0 40 GB pound 303 million Telefonica UK 40 GB pound 206 million 40 GB pound 318 million Three UK 0 0 20 GB pound 151 million Vodafone UK 0 0 50 GB pound 378 million Source: Ofcom. That operators spent so heavily on these frequencies should perhaps not have come as a big surprise. Expectations were low because the experience of 3G and 4G suggests that 5G, which promises even faster mobile Internet connections, will not boost service revenues for telcos. Yet no operator wants to be at a 5G spectrum disadvantage to its rivals. (See Ericsson: 5G Unlikely to Kickstart Telco Spending and The Growing Pains of 5G.) "The 3.4GHz spectrum band is hugely important for 5G, as it lets operators add extra capacity to their existing networks without having to add many new basestation sites," said Bengt Nordström, the CEO of the Northstream consulting business, in emailed comments. "This explains why the operators' bids for this band were so much higher than expected." Unsurprisingly, all four existing network operators picked up licenses, while a prospective new entrant called Airspan came away empty-handed. The biggest spender by far turned out to be Telefónica UK, one of the country's weakest players. Splashing £318 million ($446 million) on 40GHz of 3.5GHz spectrum, it also coughed up £206 million ($289 million) for a 40MHz concession in the 2.3GHz band. That should help to improve its position in these mid-band spectrum ranges, where Telefónica UK Ltd. has looked badly off compared with its rivals. Vodafone UK also spent heavily, investing £378 million ($531 million) in 50MHz of 3.4GHz spectrum, while BT Group plc (NYSE: BT; London: BTA)-owned EE secured 40MHz in that band for the fee of £303 million ($425 million). Three, a subsidiary of Hong Kong's Hutchison that operates the smallest of the country's four mobile networks, spent just £151 million ($212 million) on a 20MHz license in the 3.4GHz band. Added to its existing holdings, that leaves it with 60MHz of spectrum in the 3.4GHz band, on top of 84MHz between the 3.6GHz and 3.8GHz ranges, and means Three UK holds more 5G-suitable spectrum than any other player. Want to know more about 5G? Check out our dedicated 5G content channel here on
Light Reading. The auction results will reinforce one concern about the UK market and leave another to fester. The first is that, along with some other European markets, the UK is in danger of lagging other parts of the world on the rollout of 5G services. As Nordström puts it: "That operators paid higher than expected prices is good for HM Treasury but not so good for consumers, as it leaves the operators with less money to invest in their 5G networks and services." In Nordström's view, UK regulatory authority Ofcom was wrong to auction spectrum and should instead have agreed a license fee with each operator. China's regulator has previously followed that approach. By awarding spectrum to operators at minimal cost, it has ensured companies have more to spend on network deployment. In the UK, the unlikelihood a 5G auction would bring a new entrant into the market, and its failure to do so, makes "the idea of a competitive spectrum auction even more strange," according to Nordström. Figure 1: Spectrum Holdings in UK (MHz)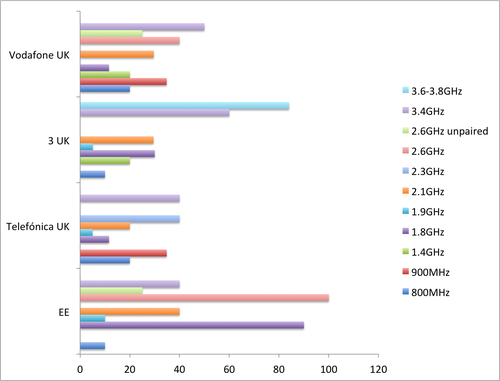 Source: Ofcom, Light Reading. The other concern is the broader spectrum imbalance in the UK market. Even though Telefónica closed some of the gap with its rivals, and Three has looked better off since a takeover of spectrum-rich UK Broadband last year, each holds less spectrum than market leader EE, and far less in some of the most useful bands. Based on Ofcom data from last summer, and Light Reading's own calculations, EE controls about a third of the available airwaves following today's auction, while Telefónica has less than a fifth. Although it now has just less than a quarter of the available spectrum, Three has long complained about this imbalance. A dispute with BT previously threatened to hold up the 2.3GHz and 3.4GHz auction for much longer. That led some to worry the UK risked falling even further behind parts of Asia and North America on 5G development. Expect to hear similar spectrum grumbling before the next auction is due. (See Hot Air: UK 5G Spectrum Dispute.) — Iain Morris, News Editor, Light Reading
Subscribe and receive the latest news from the industry.
Join 62,000+ members. Yes it's completely free.
You May Also Like
---