 Market watchers apparently cannot decide if 5G is essential to a country's digital competitiveness or a solution in search of a problem.
Some observers in the UK are currently in a tizzy over an airwaves battle that could delay the rollout of 5G services. If the wrangling persists, we are told, the UK risks falling behind other European countries on the launch of the next-generation mobile technology, with dire consequences for its digital economy.
This is the same 5G technology that for a good number of years will fail to deliver any services its older 4G sibling cannot already handle, we have also heard. Because it stands little chance of spurring revenue growth at telcos, it is moreover a technology that will probably co-exist with 4G for quite some time, simply providing a bandwidth boost in the busiest hotspots. At least, that appears to be the assessment of Ericsson AB (Nasdaq: ERIC) and Nokia Corp. (NYSE: NOK), two of the world's biggest makers of mobile network gear. (See Ericsson: 5G Unlikely to Kickstart Telco Spending and 4.5G Sets High Bar for 5G.)
You can't have it both ways, of course. Unless 5G improbably ushers in a wave of new digital services in the next two or three years, the UK's latest spectrum battle seems unlikely to have much impact on the country's digital competitiveness. That does not mean there is nothing at stake for the UK's scrapping telcos, however.
So what is going on, exactly? The squabble is over frequencies in the 2.3GHz and 3.5GHz bands that regulatory authority Ofcom had hoped to auction this year. As before previous sales, network minnow Three UK has urged Ofcom to restrict the amount of spectrum available to its bigger rivals, arguing that a frequency imbalance hinders its competitiveness and is bad for mobile consumers. (See Eurobites: Ofcom Imposes 5G Spectrum Auction Caps.)
According to Light Reading's calculations, market leader EE (whose parent company is UK fixed-line incumbent BT Group plc (NYSE: BT; London: BTA)) controls about 45% of the chief spectrum bands that mainstream mobile operators currently use, while 3's share is less than 13%. In a 5G future, spectrum constraints could prevent 3 from delivering the very highest-speed mobile services to its customers -- or so 3 insists.
Ofcom has agreed to introduce some bidding restrictions, which would prevent an operator from controlling more than 37% of all airwaves, although it has not gone as far as 3 would like. Now, BT/EE is reported by the Sunday Telegraph newspaper to have threatened Ofcom with its own High Court challenge. According to that report, it wants plans for spectrum caps torn up, and thinks Ofcom should consider holding a 5G "super auction" that includes airwaves from a number of spectrum bands earmarked for the higher-speed technology.
Figure 1: Spectrum Holdings in UK (MHz)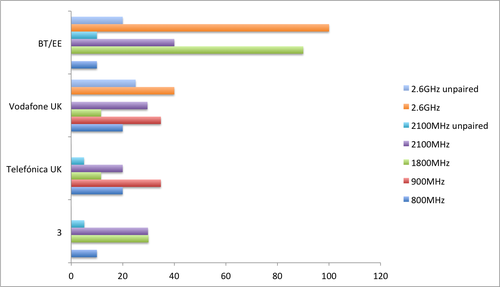 (Source: European Communications Office) Ultimately, operators have much to gain and lose from the auction. As "mid-band" spectrum that could support higher-speed connections than sub-GHz airwaves, and cover more terrain than very high "millimeter wave" frequencies, 3.5GHz has been widely identified as an ideal range for the deployment of 5G technology. If 3 can maximize its holdings, it could start to think about more seriously challenging the UK's mobile market leaders. In other words, the spectrum is important for the same reason spectrum is important today -- as a finite resource, and the lifeblood of mobile telecom. Whatever the rights and wrongs of caps, if an operator's spectrum holdings are dwarfed by its rivals', it has good reason to be worried. Want to know more about 5G? Check out our dedicated 5G content channel here on
Light Reading. Nevertheless, any fear the UK could fall behind Europe in the digital stakes because of an auction delay seems overblown. The 5G standard that some operators begin to roll out in the 2019/20 timeframe will simply be a better mobile broadband technology than 4G. In the absence of mobile services requiring much higher-speed connections, consumers and businesses without access to 5G are unlikely to be at a big disadvantage. It will not be until much later, with subsequent iterations of the technology, that 5G networks will have the capabilities needed for new types of service outside the consumer domain. Those could include remote surgery and connected car applications. Of course, there is no guarantee these will take off, or that 5G will underpin them. But if it does, and the UK lacks that technology, the country's competitiveness could certainly take a hit. Freeing up spectrum for mobile services should be a priority for any policymaker or regulatory authority. But it is by no means the only action they must take to foster market development. Regulations that encourage investment in fiber networks for mobile "backhaul" will be equally important. And following successive waves of spectrum liberalization, allowing any band to be used with any technology, there is far less riding on specific frequencies than in the era of 3G, when billions of dollars were spent on licenses. Only if the dispute involving BT/EE, 3 and Ofcom spills over into other bands, and drags on for much longer than anyone expects, will the UK's digital competitiveness really be in danger. — Iain Morris,

, News Editor, Light Reading
Subscribe and receive the latest news from the industry.
Join 62,000+ members. Yes it's completely free.
You May Also Like
---