For those who've wondered why Cisco Systems Inc. (Nasdaq: CSCO) is doing the Cius tablet by itself, rather than enlisting a smartphone partner to build it, Cisco has a pretty good explanation.

"From a hardware design perspective, those vendors we talked to -- they really were not interested," Roberto De La Mora, a Cisco senior director, told Light Reading during a casual press event Cisco hosted Wednesday night.

The event was a summary of a few developments at Cisco, especially for the sake of reporters who hadn't gone to Cisco Live in July. De La Mora, chief marketing officer for the IP communications unit, was the evening's headliner, demonstrating the Cius.


What scared tablet makers off were Cisco's hardware requirements.

Cisco wants the Cius, which began production shipments on July 31, to become a serious enterprise tablet, especially for attending meetings remotely. That means flipping into other applications, such as email and Web browsing, while running a WebEx or telepresence session. So, the thing had to do some serious multitasking, and tablet makers weren't interested in designing a device that had that powerful a processor.

Cisco's insistence on hardware-based security was likewise unappealing to tablet vendors. To top it all off, Cisco admits that an enterprise tablet will sell at lower volumes than a consumer device.

Cisco was disappointed but not heartbroken. "We're really good at doing these kinds of things," said De La Mora, indicating the Cisco phone that was being used with the Cius demo.

And it sounds like he's willing to give it another go, once tablet hardware catches up to the level Cisco wants.

"It doesn't mean we're not going to have a pure software play when the hardware is available," De La Mora said, double-negatively.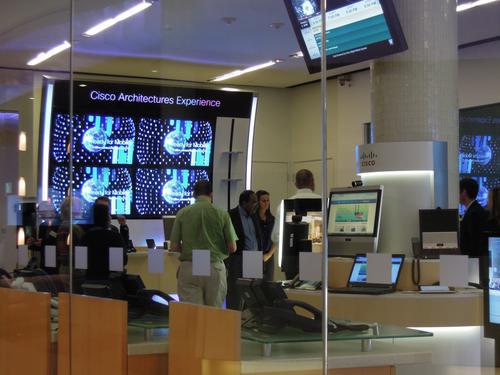 — Craig Matsumoto, West Coast Editor, Light Reading