War With Iraq: Readers Weigh In

Comment (108)
The war with Iraq continues to generate global controversy. On a smaller scale, that's reflected in the results of this month's
Light Reading
Research Poll
.
A total of 251 respondents have weighed in so far, most prior to the outbreak of hostilities. And judging by their answers, it looks as if they are just as divided on the need for the war as the rest of the public.
A full 38 percent of respondents think war with Iraq is not justified; 31 percent said it was; another 31 percent said it was justified only if backed by UN approval.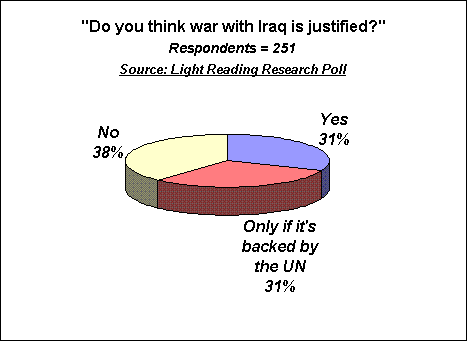 Respondents seem generally unified, though, on the potential impact of war on the telecom recession. Most think it's a negative: 67 percent of respondents said the outbreak of war would deepen and prolong the recession. Of those, most thought this effect would be minimal: 40 percent said war would deepen the recession "a bit," while 27 percent thought it would do so "a lot."
Respondents were divided on whether war could hurt the
OFC Conference
next week in Atlanta. A full 58 percent said it won't have much impact, but 39 percent said if war broke out before the conference, plans would likely continue but "hardly anybody" would turn up.
NOTE: There's some evidence that the war
has
had some impact on OFC. See today's news analysis:
OFC: The Show Must Go On
.
Separately, readers continue to join several threads of discussion about the war and the telecom market generated by a story published earlier this month (see
The Effect of War on Telecom
). Check it out. But beware: Some threads have gone far afield of the original topic and reflect the conflicting feelings the war continues to fuel.
— Mary Jander, Senior Editor,
Light Reading
For up-to-date information about the coming
OFC Conference
,
please visit
Light Reading's Unauthorized OFC Preview Site
.