Vitesse's160-Gbit/s Sales Toy
ATLANTA -- Supercomm 2001 --
Vitesse Semiconductor Corp.
(Nasdaq: VTSS) is showcasing a 160-Gbit/s optical add/drop multiplexer evaluation platform here at
Supercomm 2001
(see
Vitesse Has Evaluation Platform
).
But the box is not for sale. It's a tool designed to speed up Vitesse's own product development and help its customers slash their time to market, according to Andrew Schmitt, Vitesse's director of product marketing.
It's a bit unusual for a chip maker to go to the lengths of building a box in which to demonstrate its products. Doing so requires some intensive up-front effort and draws on skills outside a chip-maker's core competencies.
But Schmitt says its worth it. "When we took on this development, we encountered -- and solved -- a lot of problems many of our customers face when building complex systems," he says. "Now that it's done we have a greater appreciation of our customers' problems. So we won't suggest something that's impossible."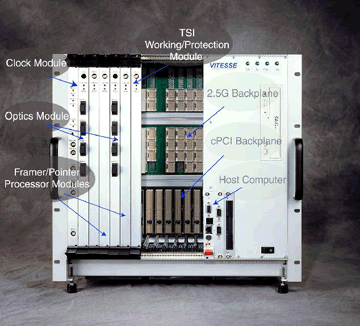 It's a cool sales tool, too. When a customer approaches Vitesse with a specific configuration in mind, the chip maker can quickly build a mockup of what's required using the evaluation platform. "Everyone's saying they want an end-to-end solution, but no-one's put it all together and shown it working [until now]," says Schmitt.
If everything's approved, then Vitesse gives away the board layout, software drivers, and backplane layout as a freebie. "Quite often our customers want to optimize things more than we have, but at least they have a base line from which to work," he says.
The box has three main types of slot: optics slots, framer slots, and a switch slot. Different switch fabrics, framers, and optics cards can be mixed to illustrate interoperability of all Vitesse's components. Different kinds of optical interconnects, such as very short range (VSR) Sonet, forward error correction (FEC) schemes, and return-to-zero transmission, can also be implemented.
At Supercomm, the evaluation platform was running a single OC48 (2.5 Gbit/s) port crossconnected at the STS1 (51.8 Mbit/s) level. It can also support OC3 and OC12, says Schmitt, though these weren't shown. When the platform is configured with a grooming switch like the one in the demo, the maximum system size is 40 Gbit/s -- not 160 Gbit/s, which is only the case when it's configured with asynchronous wavelength switching fabrics. Vitesse says all its new chipsets will be demonstrated on the evaluation platform in the foreseeable future. And it gave a few hints of what's in store this year -- OC192 (10 Gbit/s) and OC768 (40 Gbit/s) line speeds, and a VT/TU (sub-STS1 connections) time slot interchange switch fabric.
— Pauline Rigby, Senior Editor,
Light Reading
http://www.lightreading.com
For more information on Supercomm 2001, please visit the
Light Reading
Supercomm 2001 Site
.
PARTNER PERSPECTIVES
- content from our sponsors