Forgetting everything else that's happened in 2016, this year has been bracketed by two major global video announcements. In January, Netflix expanded service to 130 new countries, bringing its reach to 190 nations in total. And now as the year winds to a close, Amazon has announced that it will launch Prime Video service in 200 new countries come December.
The announcement comes in the form of a YouTube short with the hosts of Amazon's new show The Grand Tour stating that "in December, we will be launching the show globally, which means you will be able to watch The Grand Tour in over 200 countries around the world."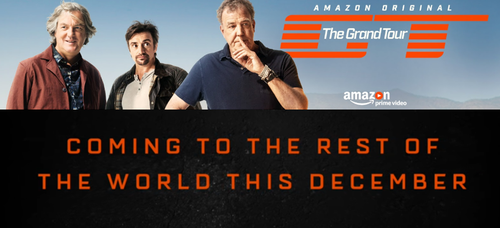 The analyst firm Jefferies was quick to jump on the financial implications of Amazon.com Inc. (Nasdaq: AMZN)'s global expansion, estimating in a research note that the company's spending on content rights in 2017 will be in line with Netflix Inc. (Nasdaq: NFLX)'s roughly $6 billion content budget. While spending is projected to be high, however, the benefit of those content investments is that both Amazon and Netflix can reap the rewards of new revenue from a massive and far-reaching audience.
Considered another way, Internet streaming initially trashed the traditional US television model that was built on regional cable franchises. Now, it's going a step further and blasting through national barriers to bring TV competition to a global field of battle.
The moves by Netflix and Amazon do help put the consolidation of media and distribution companies into perspective. If old-style pay-TV companies now have to compete internationally, they need the content rights and technology and distribution scale to do so.
Related posts:
— Mari Silbey, Senior Editor, Cable/Video, Light Reading