Comcast Boasts Global Plans for X1
Comcast Boasts Global Plans for X1
Comcast CEO Brian Roberts wants to license X1 to the world.

BOSTON -- INTX -- It was an easy statement to miss. Brian Roberts didn't make it from the main stage during his keynote address at the Internet & Television Expo, and when he did drop the bomb during a press conference afterwards, he moved on quickly to highlight the company's first HDR-enabled set-top coming later this year.
But it was an important statement from the Comcast Corp. (Nasdaq: CMCSA, CMCSK) CEO nonetheless, and a definitive one about the future of the X1 platform.
Asked about Comcast's international aspirations with X1, Roberts declared, "We want to make this platform available around the world."
Figure 1: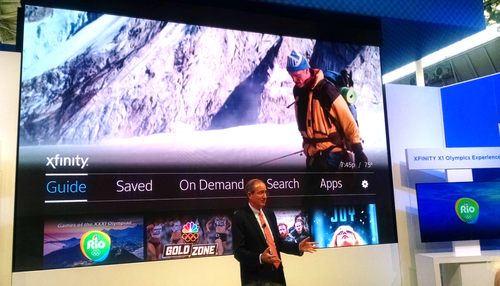 Brian Roberts demonstrates the X1 Olympics experience
So far, Comcast has licensed X1 to Cox Communications Inc. in the US and Shaw Communications Inc. in Canada. Both licensees scrapped earlier multiscreen TV products in order to take advantage of Comcast's scale and success with X1. Now the offer is open for others to do the same. (See Cox Takes Comcast X1 Platform National and Shaw 'Hatches' Free Range TV.)
According to Roberts, about 35% of Comcast subscribers have X1 today, and that number should jump to nearly 50% by the time the Olympics start this summer. Even without Cox and Shaw in the mix, more than 10 million customers will be using X1 before fall.
Comcast is leveraging the volume of X1 deployments to learn from its customer base and to innovate rapidly. The Xfinity voice remote that the cable operator introduced last year has now shipped 7 million units, and Comcast is collecting data from 180 million voice commands every month. (See Cable's Cloud-Based UI Makeover.)
The X1 sports app that Comcast has tweaked repeatedly since 2014 saw a fivefold increase in usage last winter and is set to become the cornerstone of the X1 experience for the 2016 Olympic Games. (See Comcast Scoops Up OneTwoSee.)
For more on video market trends, join us at the Video Summit, part of our upcoming Big Communications Event in Austin, Texas, May 24-25. Register now!
Few if any other pay-TV providers in the world can match Comcast in the resources it dedicates to the X1 platform, which is why the licensing option is a compelling one. By licensing X1, Comcast also proves that it has an alternative means of expanding its footprint beyond trying to offer online video services outside of its cable franchise markets. In fact, Roberts blithely dismissed the idea of launching out-of-market video services at INTX saying, "We don't have any plans to do that," and "If something is working, I'm not sure you need to change it."
Comcast has no need and little incentive in the near term to sell its video services everywhere. Instead it can license X1 to the world. (See also Comcast Eyes Global Moves, BYOD & More.)
— Mari Silbey, Senior Editor, Cable/Video, Light Reading
Subscribe and receive the latest news from the industry.
Join 62,000+ members. Yes it's completely free.
You May Also Like
---