Liberty Global Ready to Lock Horns With Comcast
Things could get interesting in Europe now that Comcast is buying Sky. While Liberty Global may partner with Sky in securing and licensing content, including live sports and movies, the companies are also "healthy competitors," Liberty Global CEO Mike Fries acknowledged to Bloomberg in an interview in which the exec weighed in on the implications of Comcast's pricey play for the UK-based video and media giant.
"We're excited for the competition" with Comcast, Fries said. (See Will Comcast's Pricey Play for Sky Pay Off?, Comcast Boosts Cash Offer for Sky and Comcast Outbids Fox for Sky With Offer of £17.28 Per Share.)
And while Liberty Global Inc. (Nasdaq: LBTY) doesn't tangle with Sky in markets such as Italy and Germany (Liberty Global has been selling off German assets), its Virgin Media Inc. (Nasdaq: VMED) unit does face off with Sky in the UK and Ireland. "In the UK is where we'll square up," Fries stressed, adding later that Virgin Media is Liberty Global's top growth engine in the region. (See Liberty Global: A Tale of Two Companies? and Liberty Stages European Retreat.)
And he's confident that Liberty Global -- which is a partner of Comcast Corp. (Nasdaq: CMCSA, CMCSK) in some respects (they are, for instance, part of the RDK Management LLC joint venture for set-top box and gateway software) -- will remain strong in its footprint, where it generally has about half of the video and broadband market.
"We feel really solid and secure" in Liberty Global's existing service footprint, Fries said. (See RDK Management clears path for apps on set-top boxes.)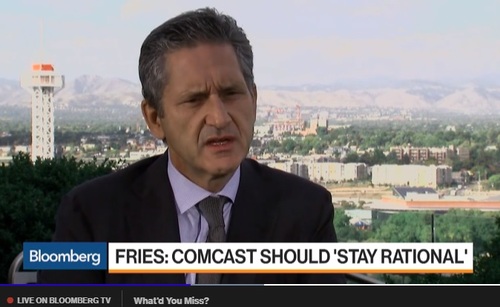 Fries also said Comcast is paying an "extraordinary price" for Sky, providing a "great outcome for Sky shareholders."
At the same time, the premium that Comcast is paying for Sky "validates, to a large degree, the value of European pay-TV and broadband" and Liberty Global's own business model, he added. "There's this huge disconnect between public and private multiples."
---
Home in on the opportunities and challenges facing European cable operators. Join Light Reading for the Cable Next-Gen Europe event in London on November 6. All cable operators and other communications service providers get in free!
---
He also imparted some guidance to Brian Roberts, Comcast's chairman and CEO, as the company now moves to seal up the Sky acquisition and dive deeper into Europe.
"My advice to Brian would be to stay rational," Fries said. "The UK market is a highly rational market -- very competitive, very promotional and transactional, but rational … I think you have to stay rational when you put that kind of money out."
— Jeff Baumgartner, Senior Editor, Light Reading