Should Orange Buy Vivendi?
Should Orange Buy Vivendi?
As aggregators pile into the market, old-fashioned convergence runs out of steam and US firms eye European assets, a French move reminiscent of AT&T's Time Warner deal could be in the cards. As Europe's telecom executives hang up their suits this August and slip into something more beach-friendly, a few may wonder about AT&T's recent $85 billion takeover of Time Warner, and whether a deal of similar size and shape could happen on their side of the Atlantic. (See AT&T Starts to Milk the Time Warner Cash Cow .)
Love it or loathe it, the AT&T Inc. (NYSE: T) deal is arguably the most significant takeover by a telecom operator this century. The new-look entity is a telco, content owner and production company all meshed into one. It could explode disastrously, like a badly constructed engine, or burn competitors in its tracks. For sheer scale and scope, Europe has no real equivalent. (See AT&T's Stankey serves up a stinker at HBO.)
Given the doubts about the AT&T takeover, Europe's telecom giants may be wary of any similarly audacious move. Diversification into the TV business has not always gone according to plan. Skeptical of major M&A activity outside the core market, some analysts think telcos should double down on their networks business. Nor are there many obvious takeover targets.
Figure 1: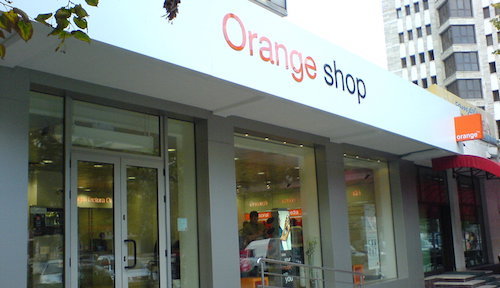 Is Orange in the market for a media company? But two companies spring to mind as potential dealmakers. French incumbent Orange (NYSE: FTE) is perhaps the fittest and healthiest of Europe's telecom giants. It is already a dab hand at "convergence," with fixed and mobile networks across its main European markets, and runs a TV business, too. On the other side is Vivendi, another huge French company with a sprawling media empire and telecom interests in Italy. Could Orange and Vivendi become the AT&T and Time Warner Inc. (NYSE: TWX) of Europe? Merger activity has been rumored before now. Less than a year ago, Orange CEO Stephane Richard was reported to have ruled out buying a stake in Vivendi. In an interview with Les Echos, a French newspaper, he pointed out that some Vivendi assets, including its music business, are not "relevant" to Orange. Previously, Orange downplayed interest in Canal Plus, Vivendi's pay-TV and movie production company. But strong links have been forged between Orange and Canal Plus. Under a deal announced in July 2017, Orange has been distributing Canal Plus content to its broadband customers. It also has a distribution deal with HBO, a part of the Time Warner empire, and has promised to spend €100 million ($113.7 million, at today's exchange rate) over five years on producing new TV series under the Orange brand. (See Orange's New €100M Content Plans Reflect CFO Wariness.) In the context of markets such as France and Spain, where several companies have started offering packages of fixed, mobile and TV services, such content moves have a defensive logic. And in less converged markets, where analysts fret about the prospects for operators with a narrow focus, content may be a valuable addition to the telco arsenal. "Anyone can offer mobile or fixed-line services through wholesale deals, but how are you going to differentiate other than on pricing alone?" says Paolo Pescatore, an independent analyst formerly at CCS Insight. "If you are a pure-play provider, you will struggle to be relevant in this new world." The question is whether partnerships and distribution deals will be sufficient in the long run. Pescatore thinks they might not. In his view, competition could eventually whittle away the attractions of being a content aggregator, as everyone joins the party. Even where aggregation holds appeal, his worry is that telcos are often ill-equipped to run a media operation and manage the relationships this entails. A takeover would bring "an established business that understands the media market," he says. At some point, then, Orange may have to take the plunge and "make a big content play." And given their respective backgrounds and existing relationship, Orange and Vivendi could be a natural fit. Other factors might drive Orange to look seriously at a deal. Among them is the spiraling cost of premium content, including the rights to screen popular sports events. Orange bought rights for French soccer matches in 2008, at a time when access to exclusive content seemed a company priority. Since then, it has changed tack, casting itself as an aggregator while bemoaning the lavish spending on exclusive rights by competitors. But analyst doubts about aggregators could force a reappraisal of this strategy. With no desire to splurge on rights again, Orange might see a Vivendi takeover as an alternative that could ultimately prove more economical. "If you own an asset like Vivendi, it gives you the power to invest in your own blockbuster shows," says Pescatore. That could lead to profitable opportunities in retail and wholesale markets. Next page: America is coming America is coming
Competition from online giants could also drive takeover activity, according to Ed Barton, an analyst with the Ovum Ltd. market research firm. "I don't see it as a telco thing but more about consolidation between content and distribution to scale up and compete more effectively against Google, Netflix, Facebook and Amazon," he says. "Of course, there is no guarantee this will work." As Barton points out, addressing the entirety of Europe, with its cultural diversity and multitude of languages, could be much tougher than operating in the US. But he does anticipate further consolidation. And while he has not looked closely at the possibility of a deal between Orange and Vivendi, he agrees it would "make sense in the context of what competitors are doing." For evidence of that, look to the £26 billion ($33.2 billion) bid for Sky by US cable giant Comcast Corp. (Nasdaq: CMCSA, CMCSK). (See Fox's Sky Offer Doesn't Trump Comcast's, but Could Extend Bidding War.) With Netflix Inc. (Nasdaq: NFLX) and Amazon.com Inc. (Nasdaq: AMZN) hammering traditional TV companies, Comcast's move for Sky seems bound to have rattled European telcos as a further sign of US overseas ambitions. Even before Comcast's latest bid was announced, there was some concern that Europe's telecom markets, with their squad of subscale operators, might one day be vulnerable to a US- or Chinese-led assault. Regulatory opposition to "horizontal" mergers, between companies in the same sector, has stopped European operators from adding muscle in the form of telecom assets. But a largely "vertical" transaction, such as Orange buying Vivendi, should not encounter the same hostility. Comcast's Sky bid already proves European media assets have caught the attention of US operators. If Orange does not acquire Vivendi, a US company might, warns Pescatore, citing Verizon Communications Inc. (NYSE: VZ) as a potential buyer. (See Orange Rules Out M&A Moves in France, Returns to Growth.) No Orange deal for Vivendi would be straightforward, though. With a market capitalization of about €28.3 billion ($32.2 billion), Vivendi has watched its share price rise about 13% in the last year. The market value of Orange, currently worth around €38.1 billion ($43.3 billion), has barely changed over that period. Beyond Canal Plus, it is unclear whether Vivendi's assets would hold much attraction for the French operator. Judging by Richard's earlier comments, Orange would not want Vivendi's music business. But its gaming assets, through Gameloft, could help Orange appeal to a younger audience, says Pescatore. Meanwhile, a 24% stake in Telecom Italia (TIM) would make Orange the Italian incumbent's biggest individual shareholder, although boardroom battles and political drama in Italy could dampen enthusiasm. (See Telecom Italia Names Genish CEO After Boardroom Battle and Telecom Italia Molders as Shareholders Feud.) Want to know more about the impact of Web services on the pay-TV sector? Check out our dedicated OTT services content channel here on Light Reading. Nevertheless, no other big European operator looks in a position to countenance a move. Germany's Deutsche Telekom AG (NYSE: DT) is taking on extra debt to merge its T-Mobile US Inc. business with local rival Sprint Corp. (NYSE: S). Vodafone Group plc (NYSE: VOD) is similarly focused on a takeover of cable asserts owned by Liberty Global Inc. (Nasdaq: LBTY) in Germany and eastern Europe. Both Spain's Telefónica and France's Altice are trying to cut debt. BT Group plc (NYSE: BT; London: BTA) is slashing jobs and does not have interest in the residential market outside the UK. (See T-Mobile & Sprint: Marriage made in hell, Vodafone Pounces on Liberty Cable Assets in €18.4B Deal, Altice to Sell French, Portuguese Towers for €2.5B and BT: It's Good to Talk About Profits, but Not Customers.) Orange's net debt is currently just twice its annual earnings (before interest, tax, depreciation and amortization), giving it a stronger balance sheet than most rivals, and its sales and profits are growing. That is testament to the company's investment in networks and service quality, and its avoidance of daredevil content moves, say supporters. But what has worked in the past will not guarantee success in the future. As convergence competition becomes rife, a bold M&A move could be just what investors seek. — Iain Morris, International Editor, Light Reading
Subscribe and receive the latest news from the industry.
Join 62,000+ members. Yes it's completely free.
You May Also Like
---