AT&T's Stankey serves up a stinker at HBO
AT&T's Stankey serves up a stinker at HBO
Telco wades into successful content business and tells award-winning staff to get their act together. McDonald's buys Le Bernadin, a Michelin star restaurant in New York City, and promptly rips up the menu. Chefs are given strict instructions to get with the fast-food program and be more productive. The all-you-can-eat buffet lunch is prioritized over the balsamic-truffle vinaigrette.
Something like this has just happened at AT&T Inc. (NYSE: T). Fresh from landing its $85 billion takeover of Time Warner Inc. (NYSE: TWX), the telco has marched into HBO, the media company's finest content kitchen, and ordered mass catering in preference to a candlelit dinner for two.
John Stankey, the newly appointed boss of "WarnerMedia" (as AT&T is calling its latest acquisition), served up a stinker at a recent HBO "town hall" when he told staff about his quantity-over-quality plans, according to mainstream press reports. Creative types who have concocted award-winning shows like The Wire and The Sopranos were essentially told they don't produce enough. Look at Netflix Inc. (Nasdaq: NFLX), the fast-food giant of the content industry, was the obvious subtext. (See Netflix Kicks Tires on Pricier 'Ultra' Tier.)
If HBO is the haute cuisine of televisual fare, then Netflix is the master of cheap eats. With its Adam Sandler happy meals, and sugary snacks like Stranger Things, it has added more than 40 million customers worldwide in the last two years, and had nearly 125 million people hooked on its output in March.
Figure 1: TV Subscribers (000s)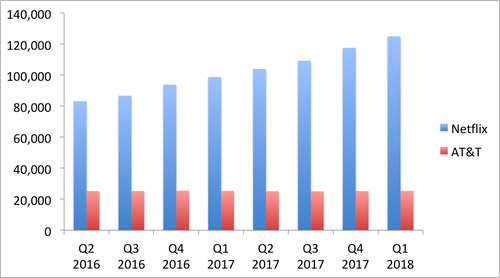 Source: Companies. AT&T, whose own TV business has barely grown over the same period, is seemingly terrified of its Internet rival. It even dangled the bogeyman of Netflix before regulators when trying to win backing for its Time Warner takeover. If you don't approve this deal, Netflix will eventually reign supreme, was AT&T's rationale. (See AT&T Closes $84B Time Warner Takeover, AT&T Wins Big, Gets Bigger: Judge Approves AT&T-Time Warner Merger and AT&T's $85B Time Warner Takeover Is a Media Game Changer.) An Internet company generating huge volumes of data traffic on broadband and mobile networks might sound like a good thing for a telecom operator, especially as Netflix does not (so far) own last-mile infrastructure. But not to AT&T, whose TV services reach into more than 25 million homes. As a growing number of adults and children become addicted to Netflix, more families may see little need for AT&T. This partly explains why AT&T was so desperate to buy Time Warner. But if Stankey is serious about challenging Netflix on quantity, he may have to find some extra money for it. Netflix reportedly intends to spend between $12 billion and $13 billion on shows this year alone. HBO spent just $2.5 billion on content in 2017. Want to know more about the impact of web services on the pay-TV sector? Check out our dedicated OTT services content channel here on Light Reading. Ever heard the story about the telco that tried to mimic the Internet companies and totally screwed it up? When AT&T said it would buy Time Warner, pundits worried about such a "diversification" blunder expressed hope that telco executives would not get their dirty hands on the gourmet dishes, instead allowing HBO to continue doing what HBO has done best. With the ink barely dry on that deal, one of AT&T's most senior managers is behaving in exactly the way they feared. In the best-case scenario, HBO gets additional funds for programming and is able to maximize output, to AT&T's satisfaction, without losing its reputation for quality. This seems about as likely as a Michelin star for McDonald's. A more probable outcome is that HBO loses some of its most creative employees, who decide they don't much fancy working on the AT&T production line, and quality suffers. This might not hurt AT&T's chances of becoming a more serious rival to Netflix. After all, the lack of decent content has not dampened enthusiasm for the Netflix service, judging by customer numbers. Thanks to some helpful anti-net neutrality moves by US legislators, steering consumers away from Netflix and toward AT&T may also become much easier. But for those who prefer the occasional delicacy to bingeing on junk food, it would be a depressing end to the drama. (See Senate Vote Says Net Neutrality Can Stay Around a Little Longer.) — Iain Morris, International Editor, Light Reading
Subscribe and receive the latest news from the industry.
Join 62,000+ members. Yes it's completely free.
You May Also Like
---