AT&T Wins Big, Gets Bigger: Judge Approves AT&T-Time Warner Merger
AT&T Wins Big, Gets Bigger: Judge Approves AT&T-Time Warner Merger
The new, new AT&T starts now. A federal judge approves the $84 billion merger between AT&T and Time Warner, creating a media, telecom and entertainment giant. The first company to make phone calls and the movie studio that debuted "talkies" are combining in a deal that could change media well into the next century.
Following a six-week trial, Judge Richard Leon of the US District Court for DC today announced that he has approved the $84 billion merger between AT&T Inc. (NYSE: T) and Time Warner Inc. (NYSE: TWX) with no restrictions.
The court's ruling ushers in an era of US media companies reaching unprecedented vertical integration and scale, pitting AT&T as a likely competitor on the world stage as both the key distributor of digital content and, soon, the owner of the content itself.
Analysts say this is also likely to kick off a merger frenzy as companies with original content, that reach audiences at scale, are now considered prime real estate. In a call with Light Reading today, Ed Barton, chief analyst for the Ovum Ltd. entertainment practice, sets the scene:
"You've got Sprint waiting at the starting line. You have a whole confab between Disney, Comcast, and 20th Century Fox to sort out as well," says Barton. "I think you can safely say that every other large-scale telco or distributor or network operator in North America will be looking around at every single owner of large content of any significance, and going, 'Can we do something here?' "
The merger of AT&T and Time Warner has been compared to a similar deal by Comcast, but the scale is much different.
In 2011, Comcast Corp. (Nasdaq: CMCSA, CMCSK) bought a 51% stake in NBC Universal from General Electric, creating what was then a $30 billion media behemoth. Also at the time, Comcast had a combination of about 23 million video subscribers and 17 million Internet subscribers. AT&T, which bought DirecTV in 2015, had around 47 million video connections through its DirecTV, DirecTV NOW and U-verse services last year. The company had 141.6 million US wireless subscribers by the end of 2017.
Figure 1: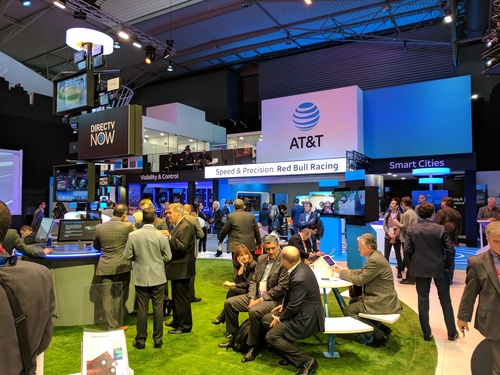 Photo credit: Mari Silbey
AT&T first announced it would buy Time Warner in October 2016. The deal was approved by Time Warner shareholders and passed regulatory muster everywhere but in the US. Then President-elect Donald Trump said he opposed big vertically integrated media mergers. (See AT&T & Trump Tangle Net Neutrality's Web.)
In November 2017, after months of back-and-forth between AT&T and regulators, the Justice Department sued to block the merger. Justice asked AT&T to divest certain media properties as a merger condition and AT&T took the fight to the courtroom (and elsewhere). (See DoJ Sues to Block AT&T/Time Warner.)
AT&T maintained throughout its defense of the deal that it needed scale, and the reach of its mobile and broadband networks, to make content less expensive to distribute. Its large mobile and Internet customer base, along with the carrier's focus on lowering the cost to deliver each bit of data, potentially provides AT&T the flexibility to develop more varied and profitable bundles of content and technology for consumers.
This merger is also about big data and who controls it. AT&T, armed with Time Warner's media properties, TV channels, Hulu and other assets, can form a more complete picture of who its subscribers are, and target advertising accordingly. Also, since the mobile industry in the US is near saturation, having a 5G network with a viable content source under one roof gives the company a way to fend off competitors and keep subscribers, with more targeted advertising, widen the margins it can make on each customer, device and video stream on its network.
What are the biggest architectural and technology options network operators face as they update and build new transport networks to support 5G? Find the answers at the 5G & Optical Transport breakfast workshop at NGON & DCI Europe in Nice, France on June 26. The event is free for all attendees! The deal will be unlike anything AT&T has done before and will require careful execution to make sure the content studio and distributor work together well. Though AT&T has integrated big technology mergers before, it has never really been a studio owner. "I mean, if we're going to be really unsympathetic, you could think, if you tie two rocks together, sometimes they just sink faster," says Barton. The cultural differences between tech and telecom companies and entertainment providers are not trivial. "[Telecom and tech companies] don't look at audiences. It's a very, very different relationship with someone to say, 'I'm going to give you a broadband connection,' or, 'I'm going to give you a mobile phone subscription,' to, 'I'm going to entertain you.' There are many, many other things you have to bring to the party. Of course, there's a level of trust you need with your audience, especially if you're going to do things like news broadcasting, or if you're going to provide programming to people's kids," says Barton. — Phil Harvey, US News Editor, Light Reading
Subscribe and receive the latest news from the industry.
Join 62,000+ members. Yes it's completely free.
You May Also Like
---